THE RED MOUND AREA IN HENDERSON COUNTY, TENNESSEE
Jonathan Kennon Thompson Smith
Mr. Jonathan Kennon Thompson Smith of Jackson has published seven genealogical miscellanies for Henderson County. He wishes to share this information as widely as possible and has granted permission for these web pages to be created. We thank Mr. Smith for his generosity. Copyright, Jonathan K. T. Smith, 2001
In the early settlement of Henderson County an area in the northern section of the county became one of the best developed communities in the region. A post office, Pleasant Exchange, was established there in 1826 and a village grew up around the post office bearing its name. Eastin Morris' TENNESSEE GAZETTEER (Nashville, 1834), page 172 contains an entry about Henderson County that indicates the importance of Pleasant Exchange at that time:
Henderson, a county in West Tennessee, erected in 1821. It is bounded on the north by Carroll, on the south by McNairy and Hardin, on the east by Perry, and on the west by Madison. It is 271/2 miles long N. and S., and 25 wide, containing about 665 square miles. It is watered by Forked Deer, Beech, and Sandy rivers. Beech river runs east through the centre of the county, past Lexington, the seat of justice. There is a post office at Pleasant Exchange. It is a thriving county, and contained a population in 1830 of 8,741. Cent. lat. 350º 38' N., long. 11º 18' W.
About a mile and a half, as the crow flies, from Pleasant Exchange and to the west a main stage road was laid out very early leading south from Huntingdon in Carroll County to Lexington in Henderson County and about 1.9 mile south of the Carroll-Henderson counties line the 400+ acre farm of Dr. JOHN PARKER straddled this road at a point where another main road crossed the north-south road; this was known as the McLemoresville (sometimes the Trenton) Road, running east and west; the juncture of these roads became known naturally enough, as Parker's Cross Roads. Dr. Parker was a practicing physician and a Baptist preacher who was frequently called Elder or Reverend Parker.
About a mile and a half south of Dr. Parker's residence, reportedly a log dwelling, and 1.1 mile south of today's Interstate 40,over basically the same old stage road (although straighter), now Highway 22, rising on the west side of the latter highway is a high hill known since the early settlement of Henderson County as RED MOUND. It was only in 1837 that a post office was established in this immediate neighborhood, its postmaster being one of the Parkers and it is quite likely the post office itself was located close to Dr. Parker's residence, in a storehouse kept by some of his family at the cross roads. Several of his sons were merchants. This post office was simply called Red Mound by the name given to the natural geographic feature.
It has been stated in print that Red Mound received its name from Red Mountain, a post office and community in what is now Durham County (formerly Orange County) ,North Carolina, the back-home of the Carringtons, one of whom, WILLIAM DAVIS CARRINGTON, became postmaster at Pleasant Exchange in 1831. (He and his family settled there in 1824.) Indeed, a letter written by WILLIAM D.CARRINGTON (born 1813), from Pleasant Exchange to his brother, NATHANIEL MACON CARRINGTON of Orange County, dated April 10, 1825 has been unfortunately quoted as having borne the addresses: To NATHANIEL M. CARRINGTON, Red Mountain, North Carolina, From WILLIAM D. CARRINGTON, Red Mountain, Tennessee. This is purely a fabrication, as a copy of the original letter reveals, which is in the Carrington Papers, those of the late Dr. EVELYN M. CARRINGTON, in the Texas State Library in Austin, Texas. This letter was sent from Henderson County, Tennessee to Orange County, North Carolina and by courtesy of this library the vital parts of the 1825 letter are here reproduced — first the writer's address and date, then the writer's signature, followed by the name of the person to whom the letter was addressed and his address: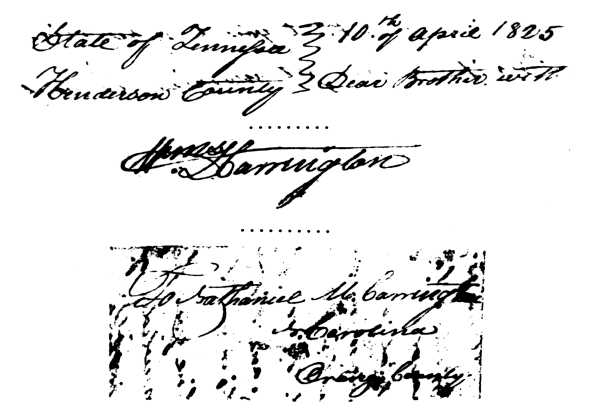 From the same collection, photocopies from letter written by WILLIAM D. CARRINGTON, Pleasant Exchange, Tennessee to his father, NATHANIEL CARRINGTON, Orange County, North Carolina:

It may very well be that Red Mound received its name from an association with some of the settlers from the Red Mountain, Orange County area. Records in the Historian's office, United Postal Service, Washington, D.C. reveal that JOHN J. CARRINGTON, a brother of NATHANIEL M. and WILLIAM D.CARRINGTON, served as postmaster at Red Mountain Post Office, Orange County, North Carolina from about 1828 to 1831.This probability has been claimed as fact in print and on a historic marker now at the location of Red Mound near Parker's Cross Roads. However, until more substantive evidence can be presented towards that claim, this given origin for the name Red Mound in Henderson County remains a theory, not a fact. [Note: This is not to cast aspersion, on anyone, much less the Carringtons who did not make this claim. It is a statement of regret for slack research.]
It may also be mentioned that one of the first mail routes in west Tennessee ran from Columbia in middle Tennessee to Perryville, Purdy's, Pleasant Exchange, Lexington and Mt. Pinson in 1829-1830. (JACKSON GAZETTE, Jackson, Tennessee, September 26, 1826)
Just off the Huntingdon-Lexington stage road, near Dr. Parker's residence, a small schoolhouse was erected wherein the Parker's Cross Roads Male and Female Academy was held.(Henderson County Court Minute Book,1860-1866, page 357) The local leaders petitioned the state legislature for a charter for this school, an appeal that was granted December 14, 1859. PUBLIC ACTS OF TENNESSEE, 1859-1860, Chapter 24, page 184:
Sec. 14. BE IT FURTHER ENACTED, That DUDLEY H. WILLIAMS, W. H. UTLEY, B. H. BROWN. THOS. STANFORD, DAVID WILSON, WM. PEARSON, HIRAM BRITT, J. C. PARKER, C. J.BRITT, PETER PERSON /PEARSON/ and HENRY KIRBY, and their successors in office be and they are hereby constituted a body corporate and politic by the name and style of the trustees of Parker's Cross Roads Male and Female Academy, and by that name may sue and be sued in any of the courts of law and equity in this State, and by that name shall be capable to obtain by purchase, gift or otherwise, real and personal property, and to hold the same to themselves and their successors for ninety-nine years.
Sec. 15. BE IT ENACTED, that said trustees, a quorum of them being present, shall have power to elect a President and such other officers as they may deem necessary; and when a vacancy occurs in any of the offices, to fill the same in the same manner; and that said trustees and their successors shall have all the rights and privileges, powers and immunities which by law and usage appertain to institutions of learning.
A map drawn by federal engineers during the Civil War shows Parker's Cross Roads as Red Mound: ATLAS TO ACCOMPANY THE OFFICIAL RECORDS OF THE UNION AND CONFEDERATE ARMIES, 1861-1865, compiled by Calvin D. Cowles, 1891-1895, Plates CXLIX (149) and CL (150):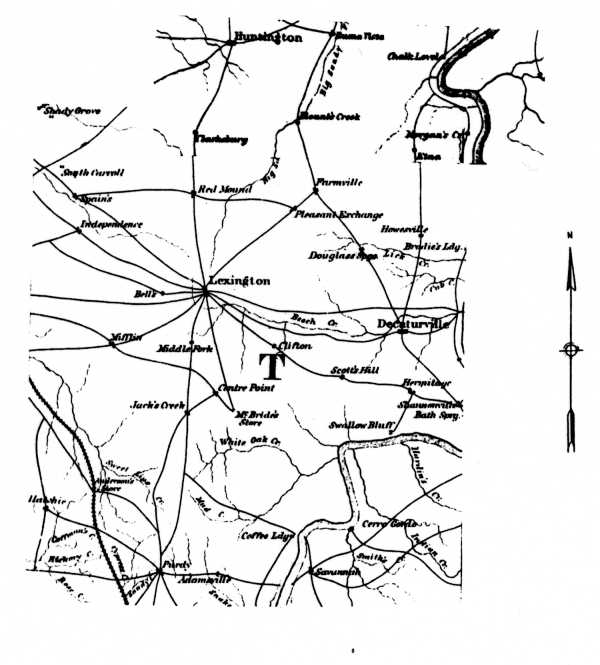 A significant battle was fought at Parker's Cross Roads during the Civil War; he basic facts of this engagement are known from official reports of the officers, Confederate and Federal and from a few private accounts of what transpired there.
Late in 1862 Brigadier-General NATHAN BEDFORD FORREST, the legendary cavalry officer of the Confederate army was ordered to take his troops into western Tennessee to destroy railroad bridges, trestles and depots. Well into this successful campaign, Forrest's forces focused their destructive attention on the railroad linking Union City with McKenzie, Tennessee and then from the latter village the Confederates moved south, towards Lexington, a route their spirited leader hoped to use in withdrawing from this part of the state.
The Confederates left McKenzie in the morning of December 28, 1862, traveling southward, hoping to avoid a confrontation with the Federals by withdrawing through Lexington. Having to move through difficult terrain, creek and bottomland, slowing them up, they reached and encamped at Flake's store six miles from Clarksburg and four miles northwest of Parker's Cross Roads; this during the 29th. Forrest's troops basically rested on the 30th and moved to within a mile and a half of Parker's Cross Roads, the main force located just north of local farmland called Hicks' field.
Colonel CYRUS L. DUNHAM, 50th Indiana Infantry, had left Huntingdon on December 30, reaching Clarksburg where early the next day he learned of General Forrest's forces a few miles away. Very early the same morning these Federals marched towards and reached Parker's Cross Roads. Colonel Dunham left one unit at Parker's as guards and marched the remainder of his men over the McLemoresville Road (also called the Trenton Road), over what is now Rock Springs and Cecil Wall roads west of Parker's Cross Roads. The intention was to intercept and give battle to the Confederates many of whom were still breakfasting in the Hicks' field locality.
Some of the Confederates were breakfasting near the C. J. BRITT residence and years later his son, WILLIAM RAYBURN BRITT, a little boy at the time, recalled that the confrontation of the two adversaries first occurred near his family's homeplace. In the 1860 U.S.census (Henderson County, page 259) this Britt family was listed a short distance from Dr. Parker's, a "short distance" as understood in that day and time when in rural areas homeplaces were located considerable distances apart.
The Confederates and Federals fired back and forth at each other at Hicks' but when the Confederates got all or most of their cannon in line and firing towards their enemy, Colonel Dunham's troops withdrew from this ground, moving back towards Parker's. During this time the dwelling of Dr. DUDLEY WILLIAMS, on the hill opposite (south) of the juncture of what is today Rock Springs and Cecil Wall roads, received a cannonball from a Federal gun "which exploded in the inner ceiling" but members of the family were not injured by this blast or from small arms fire being exchanged all around their homeplace.
The Federals lined up just south of Parker's, chiefly on the east side of the Huntingdon-Lexington road, some of them close to where Interstate 40 now crosses the former road which is now known as Highway 22. The Confederates advanced west to east towards these lines and a heavy engagement ensued. A good many of Forrest's men had dismounted to fight as infantrymen would, leaving their horses in and around the orchard just north of Dr. Parker's residence, guarded and kept in control by "horse-holders. "The battle raged for several hours in what was a flat land some of which had been cultivated in season as fields of cotton, with wooded hills to the south, resulting in Forrest nearly encircling Dunham's forces which were in two groups, one close to Red Mound to the south and another in the vicinity southeast of Parker' s.
Before the battle Forrest had dispatched four companies to Clarksburg "to protect and advise me of any advance from Huntingdon and finding that we were able to whip the enemy /so he wrote/, dismounted a portion of my cavalry to support my artillery and attack in front while I could flank them on each side. "These troops missed the Federals moving south from Clarksburg towards Parker's and failed to alert Forrest of their "impending" presence. They were Colonel JOHN FULLER's and General JEREMIAH C. SULLIVAN's troops who swarmed down on the Confederates from the north over the Huntingdon and Lexington road and environs during which many of the horses left at Dr. Parker's were killed by cross fire. Numerous Confederates were captured and a few killed, at this point, being unable to get back to remount their horses. General Forrest could hardly believe this was happening because he had believed that the companies he had sent to the Clarksburg area would have intercepted or at least alerted him to the presence of the advancing Federals. Effecting a powerful and sudden charge towards their enemy, the Confederates managed to check the Federal advance and to withdraw from the field of battle, riding east to southwest, gaining the Huntingdon-Lexington road near Red Mound, going on to Lexington where they rested briefly, watered their horses and then struck east for Clifton on the Tennessee River where at three different crossings they escaped into middle Tennessee. The Federals gave a half-hearted chase, soon returning to Parker's where other troops had been left and at day-light January 1 moved towards Lexington from which Sullivan's and Dunham's troops left for Jackson while those of Fuller pursued the Confederates unsuccessfully.
W. R. Britt wrote of holding grease lamps on the evening of December 31 "for the long whiskered surgeon to probe into the wounds of the dying men brought into the hall /of the Britt residence/ for first aid. "JOHN IVY PEARSON, nicknamed Duke, a teenager whose family lived in the neighborhood of the battle later spoke of having viewed parts of the battle from the woods and later being forced to carry buckets of water for the Federal soldier's horses. Although the figures may be unreliable, shortly after the battle it was reported that the Federals lost 33 men killed, 63 men wounded and 62 men taken prisoner; the Confederates lost 37 men killed, 255 wounded and 450 taken prisoner, along with 400 horses and six cannon. The Confederates and Federals both downplayed their losses but the battle was technically a victory for the Federals.
In 1930-1931 the Tennessee Highway Department relocated the Huntingdon-Lexington road just to the west at Parker's Cross Roads about 150 feet in an attempt to straighten out the old road. This work was completed at Parker's by late March 1931 with the road having been given a solid gravel base. It was almost a decade later before this highway was hard-surfaced.
The actual highway plans showing the relocation of the old road is reproduced on the next page to illustrate the changes made. Dr. Parker's old residence was located just to the east of the highway designated on the map as "old road no. 22" between what is presently a bank building and the post office on the north side of the Wildersville highway at Parker's Cross Roads.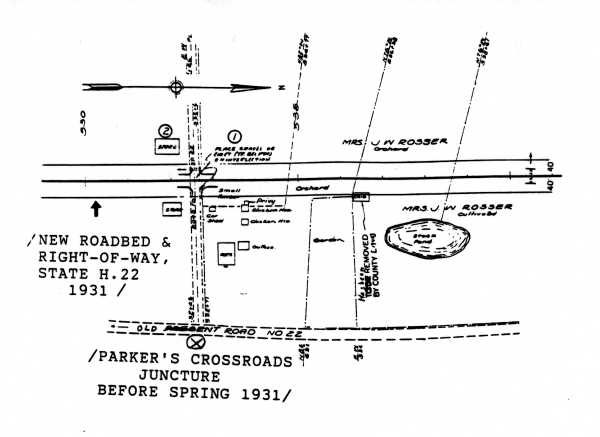 SOURCES
WAR OF THE REBELLION RECORDS OF THE UNION AND CONFEDERATE ARMIES, Series I, volume 17, Part I. Especially reports:
Pages 595-597, N. B. Forrest to George William Brent, Ass't. Adj .General, from Brigadier Headquarters, Clifton, Tennessee, January 3, 1863;
Pages 579-585, Cyrus L. Dunham to Brig.-General J. C. Sullivan, Commanding Division, from Parker's Cross Roads, Headquarters Third Brigade, Dec. 31, 1862;
Pages 568-572, John W. Fuller to Captain George E. Spencer, Ass't. Adj. General, Department of the Tennessee, Corinth, Mississippi, January 20, 1863;
Pages 585-588, John I. Rinaker, colonel, to Colonel A. L. Chetlain, from Headquarters of 122 Illinois Inf. Reg., Saulsbury, Tennessee, August 25, 1863.
THAT DEVIL FORREST: Life of General Nathan Bedford Forrest, by John Allan Wyeth (New York, 1899), pages 107-117.
FIRST WITH THE MOST FORREST, by Robert Selph Henry (Jackson, 1944), pages 113-121.
THE DAWN OF LIGHTNING WAR, by Dan Kennerly (Houston, 1992), pages 25-51.This by far is the best account in print of the battle at Parker's Cross Roads with fine illustrations of troop deployments during the battle. He may have relied too heavily on hearsay for some of his incidental commentary.
TENNESSEE DEPARTMENT OF TRANSPORTATION, Survey and Design Division, "Plan and Profile of Proposed State Highway, Federal Aid Project No.251, Section A(2)", from the Carroll-Henderson Cos. boundary, south,5.8 miles. Approved Jan. 1931.
TENNESSEE STATE LIBRARY AND ARCHIVES, NASHVILLE. "Report of the State Highway Commissioner" for the two years ending June 30, 1932 (Nashville, 1933), page 181.
"Reminiscence of the Battle of Parker's Cross Roads," by W. R. Britt (April 17, 1858-July 8, 1941), a son of C. John Britt and Mary (Douglass) Britt. (Griffin Funeral Home Record Book, 1939-1944, page 263; Jackson, Tennessee) This article appeared in THE LEXINGTON PROGRESS, October 19, 1929;a copy of it used by the present writer is in the Betts collection, Tennessee Room, Jackson-Madison County Library, Jackson, Tennessee.
Conversation (interview), Jonathan Smith with Dora Lillian Pearson Davis, November 1955, Lexington, Tennessee. Mrs.Davis, a niece of John I. (Duke) Pearson, had heard him tell of his experiences at the battle on December 31,1862.
See the Carrington Letters
Other works by Jonathan K. T. Smith can be found at the Madison County Records Repository at TNGenWeb.