SELECTIVE TOMBSTONE INSCRIPTIONS FROM THE OLD MIFFLIN CEMETERY
Jonathan Kennon Thompson Smith
Mr. Jonathan Kennon Thompson Smith of Jackson has published seven genealogical miscellanies for Henderson County. He wishes to share this information as widely as possible and has granted permission for these web pages to be created. We thank Mr. Smith for his generosity. Copyright, Jonathan K. T. Smith, 2001
(Page 39)
The village of Mifflin now located in northeast Chester County, Tennessee, was before 1879 an integral part of Civil District Three of Henderson County, hence the lives of people buried in the old cemetery at Mifflin were integrated with the life and politics of antebellum Henderson County and for sometime afterwards.
In the spring of 2001, Jonathan Smith and George Nathan Kendrick read the inscriptions on some of the older tombstones in the old Mifflin Cemetery located about. 3 mile from Miff lin of f Highway 197.
Graves of several of the PURDY family are located here and their tombstone inscriptions are given on page 38 of this publication. [click here]
MILLY GREENE
Born June 11, 1763
Died June 14, 1850
Aged 87 yrs. & 3 ds.
Blessed are the dead that die in the Lord.
U. R., Jackson (stonecutter)
The 1850 Mortality Schedule indicates that she was born in No. Carolina and died of "old age."
JOHN HULAND
son of A. H. & Lucy A. LANTRIP
Died June 14, 1849
Aged 9 ms & 10 ds.
(born Sept. 4, 1848)
Sweet Babe thou liveth in heaven.
U. R., Jackson (stonecutter)
SAMUEL ROBERT
son of A. H. & Lucy A. LANTRIP
Born May 8, 1852
Died Sept. 28, 1853
Aged 1 yr. & 4 ins.
U. R., Jackson (stonecutter)
L. F. CAWTHON
Died May 27, 1872
Aged 49 ys. 8 ms 6ds
(fallen tombstone)
(Lemuel F. Cawthon was a farmer.)
WILLIAM RUPERT
son of John & Martha E. WEST
Born Aug. 27, 1850
Died May 7, 1851
Aged 8 months & 10 days
ANNA
Dau. of G. B. & M. C. DAWS
Born Mar. 2, ____
(a fallen tombstone some of which is missing)
J. M. COOPER
Born Mar. 7, 1826
Died July 21, 1859
S. B.
Wife of J. M. COOPER and B. H. BROWN
Born Oct. 18, 1833
Died Mar. 23, 1883
She was a kind and affectionate wife, a fond mother and friend to all.
JOSEPH F.
son of J. M. & S. B. COOPER
Born May 12, 1853
Died Mar. 15, 1854
MINNIE C.
Dau. of J. M. & S. B. COOPER
Born Feb. 5, 1855
Died Oct. 5, 1860
Beautiful lovely she was but given a fair bud to earth to blossom in heaven.
ALICE C.
Dau. of J. M. & Sarah B. COOPER
Born Aug. 7, 1832
Died Sept. 28, 1853
Aged 13 mos. 4 dys
ELI ZABETH
wife of W. T. LEE
Born Apr. 4, 1836
Died Mar. 6, 1872
Aged 35 yrs. 11 ms 2 ds
She was a kind and affectionate wife, a fond mother and a friend to all.
Ramage, Hickman, Ky. (stonecutter)
SARAH BARR INGER
Born Apr. 18, 1842
Died Nov. 22, 1889
Aged 47 years 7 ms. & 2 ds.
A voice we loved is still, a place is vacant in our home.
MARY ELIZABETH
Daughter of John L. & Martha D. CAWTHON
Born June 26, 1847
Died Apr. 24, 1857
C. C. STUTTS
Born May 27, 1814
Died May 10, 1895
Aged 80 y., 11 m. 13 d.
Our father & mother are gone, they lie beneath the sold.
Dear parents we miss you much. We hope you rest with God.
(Christopher Stutts was a gun-smith. )
(Page 40)
SARAH ALMEDA CAWTHON
Born March. 19, 1851
Died Aug. 4, 1851
Aged 4 mos. 16 dys.
This lovely bud young and fair, called home by early doom,
just came to show how such a flower in Paradise would bloom.
F. C.
Husband of I. C. ROGERS
Died Feb. 23, 1902
Aged 66 yr. 7 m. 28 ds.
MARTHA A.
wife of C. C. STUTTS
Born Mar. 27, 1824
Died May 20, 1(chipped)
/Beside C. C. Stutts/
WILLIAM REAGAN
Aged
76 yrs. 9 ms. & 10 dys.
MARY A.
wife of F. A. HITE
Born Sep. 17, 1828
Died Feb. 24, 1858
(F. A. Hite, a native Indianian, was a painter-farmer.)
HANNAH
Consort of Jas. JOHNSON
Born April 29, 1832
Died July 17, 1853
next to her, a tombstone:
Infant son of J. J. &H. I. /Johnson/
S. G.
son of S. B. &M. G. CARMACK
Born Jan. 29, 1849
Died Aug. 14, 1853
ARAMANTHA S.
wife of J. H. SMITH
Born Sept. 19, 1833
Died Jan. 13, 1878
A loved one has gone from our circle,
on earth we will meet her no more.
She has gone to her home in heaven
and all her afflictions are o'er.
Dr. H. B. BROWN
Born Nov. 23, 1828
Died Nov. 28, 1887
Our father, may he rest in peace
ELI ZABETH
wife of Dr. B. H. BROWN
Born Sept. 18, 1827
Died Jan. 13, 1874
Gone but not forgotten. GONE HOME
JIMMIE A.
wife of W. C. BROWN
Died June 8, 1883
Aged 23 ys. 3 ms. 26 ds.
JAMES SMITH
Born Mar. 10, 1810
Died Feb. l, 1878
A kind father and a faithful friend.
J. LAFAYETTE SMITH
Died July 31, 1867
Aged 20 yrs.
Love' s remembrances last forever.
J. DEKALB SMITH
Died Dec. 11, 1881
Aged 38 yrs.
Rest, soldier, rest,
Thy warfare o'er.
JOHNNIE
son of J. & V. SMITH
Died Jan. 27, 1877
Gone to a better land.
Infant dau. of
J. &V. SMITH
Died May 15, 1871
SAMANTHA E. BUCKLEY
Born Sept. 23, 1852
Died Mar. 24, 1878
She riseth also while it is yet night, and giveth meat to her household,
and a portion to her maidens.
MARTHA E.
daughter of W. L. &. A. STEGALL
Born April 5, 1838
Died Aug. 28, 1870
Many daughters have done virtuously but thou excellest them all.
MARION G. STEGALL
Born Mar. 5, 1834
Died Jan. 9, 1864
Blessed are the dead that die in the Lord.
ALCY
wife of W. L. STEGALL
Born June 4, 1811
Died July 20, 1871
Her children rise up and call her blessed,
her husband also and he praiseth her.
(This is a broken, fallen tombstone.)
MATTIE J.
Dau't. of Dr. T. J. & S. KILPATRICK
Died Feb. 10, 1867
Aged 24 yrs. 8 mos. 5 ds
Lo the pain of life is past, all her suffering now is o'er.
Death and hell behind are cast, grief and suffering are no more.
My beloved sister, I've laid you dearly down to sleep. Ada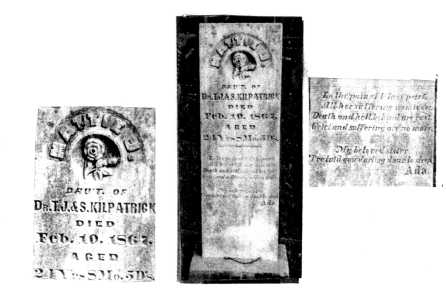 (Page 41)
WM. L. STEGALL
Born in Union Co., N. C.
Nov. 20, 1809
Died Feb. 15, 1897
Aged 87 yrs. 2 ms. & 25 ds.
A member of the Primitive Baptist Church for over 50 years.
Blessed are the dead who die in the Lord.
An honest man is the noblest work of God.
JANE B.
wife of C. BEAVER /Carroll Beaver/
Born Nov. 5, 1834
Died Nov. 16, 1883
All thy works shall praise thee 0 Lord and thy Saints shall bless thee.
M. A.
daughter of A. G. & Mahala PICKENS
Born Nov. 7, 1858
Died Sept. 10, 1874
REBECCA
wife of C. C. STUTTS
Born Apr. 15, 1816
Died Sept. 6, 186l
Aged 45 yrs. 4 mos. 21 dys.
Our mother in God's own morn her orb will be once more a star in paradise.
(Apparently Stutts' first wife)
Ann M.
wife of A. J. McIlwain
Died Jan. 23, 1880
Aged 77 yrs. 6 ms. & 18 dys.
Here she awaits the Saviour's call.
WILLIE H. BUCKLEY
Born Sept. 17, 1873
Died Jan. 15, 1891
Aged 17 yrs. 3 ms. 28 ds.
AMANDA A.
wife of C. R. SCOTT
Born Dec. 3, 1842
Departed this life, July 14, 1878
A loving wife, a mother dear, a faithful friend lies buried here.
(Charles R. Scott was a school-teacher.)
A. G. PICKENS (Alexander G. )
Born May 16, 1814
Died Dec. 30, 1882
He is at rest.
MOTHER PICKENS /Mahala/
no dates given
| | |
| --- | --- |
| Alcy Stegall | Mary E. Cawthon |
| Milly Green | Mary Hite |
(Page 42)
One of those persons buried in the old Mifflin Cemetery, Dr. Blackmon H. Brown, is featured in Weston A. Goodspeed's HISTORY OF TENNESSEE, Chester County, 1887, pages 862-863:
Dr. B. H. Brown, physician and surgeon of Mifflin, is a son of David W. E. and Clarissa (Anthony) Brown, both natives of North Carolina. The father was born in 1803 and reared in his native state where he received but a limited education. He immigrated to Maury County with his father in the early settlement of that county and was married there about 1825. He came to Henderson County in 1833 or 1834 and located about ten miles north of Lexington where he cultivated the soil until 1866. He then removed to Mifflin and in a few years after removed to Mississippi where he died in 1874. The mother was born in North Carolina in 1805 and died in 1861. Her father, Philip Anthony, served as a soldier during the Revolutionary war. Our subject was born in Maury County, Tenn., in 1828, was reared at home and educated in the common schools of the county. At the age of eighteen he began the study of medicine and in 1849 entered the medical department of the University of Louisville, Ky. where he graduated in 1850. He immediately began the practice of his profession at Pleasant Exchange, in Henderson County, and afterward at Red Mound where he was located at the breaking out of the war. He organized a company of sharpshooters of which he was made captain and at the organization of the Twenty-seventh Tennessee Regiment, was promoted to the rank of lieutenant-colonel. After the battle of Shiloh he was promoted to rank of colonel for gallantry. In the same engagement he was considered mortally wounded and was discharged from the service. He did not sufficiently recover to again enter the ranks. Previous to the war in 1851 he married Miss Elizabeth A. Taylor, daughter of A. and F. Taylor and to this union six children, four of whom are living: Cornelia S. (Mrs. C. F. Howard), Dr. Willis C., Andrew E. and Jessie E. (Mrs. R. C. Cooper). Mrs. Brown was born in North Carolina in 1827 and died in January, 1874. In February 1875 he married Mrs. Sarah B. Cooper, daughter of Richard W. and Mary E. Hudson. She died in March, 1883. In 1866 the Doctor located at Mifflin where he has since continued his practice with his usual energy and success, being now one of the leading practitioners of the county. He is a man of good information and has the confidence and esteem of all his acquaintances. He is a life-long Democrat and cast his first presidential vote for F. Pierce. He is also an active member of the Methodist Episcopal Church South.
Other works by Jonathan K. T. Smith can be found at the Madison County Records Repository at TNGenWeb.