J. B. AND FRANCES JACKSON WELCH HISTORY
Chapter XIV
Mrs. Mattie Welch Majors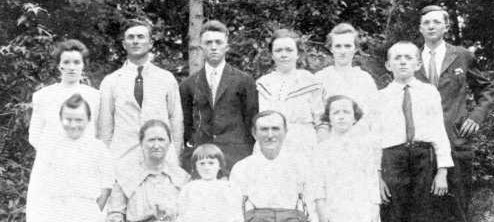 Felbert Lee Welch family, l to r: Lucy, Mrs. Welch, Mattie, Felbert Lee, [father], Edith.
Second row, Nettie, Troy, Claude, Maude, Flossie, Charley and Dewey.
J. B. Welch and wife Frances Jackson were he parents of Felbert Lee Welch, Nicholes Welch, Maggie Welch Lockhart, Sallie Ann Welch Harmon, Frances Welch Lacy, Donna Welch Parsons, Mahalie Welch Long, Edwin Welch and Troy Welch.
It is not known the date the Welch family came to Decatur County however J. B. Welch bought a one hundred acre farm from John W. Delaney in Decatur County, located in the Garrett Community for $300. on January 4, 1851.
His son Felbert Lee Welch bought this homeplace on August 6, 1896. He married Nancy Addie Chumney, daughter of John and Martha Smith Chumney of Scotts Hill on December 13, 1888.
To this union 12 children were born., Seven girls and five boys namely; An infant son, born and died August 18, 1889. Troy Welch, a school teacher. born July 10, 1890 and died in 1969, Sally Maude Welch Wade, born August 6,1892 and died February 26,1937, Alpha 0. Welch born Nov. 12, 1894 and died August 29, 1895. Clyde Welch, born June 13, 1896 and died August 1960, Dewey Welch born January 12, 1900. Flossie Welch Aaron, born December 21, 1901 and died September 6, 1963, Nettie Welch Brigance, born Oct. 11, 1903 died January 9,1965, Charley Nicholas Welch, school teacher, born Nov. 25, 1905, Lucy Adeline Welch Haggard born October 18, 1908; Edith Lee Welch Bartholomew born June 4, 1911, Mattie Frances Welch Majors, born January 19, 1913.
Troy Welch married Robbie Cooper, Sallie Maude married Leonard Wade and they had two children, Louise Wade Lomax, who married Floyd Lomax and Willie Wade who married T. J. Carver.
Clyde Welch married Cecil Majors, they had no children, Dewey Welch is single. Flossie married Edward Aaron and they had three children, Wilma Lee who married Dr. Maurice Moore, Nancy who died in early childhood, Joan who married Dr. Joe Crosby.
Nettie married Nunnry Brigance and they had three children, Mariene who married Pearson Riggs, Bill married Anita Scott and Charles Brigance single.
Charley married Bertha Gathings and they had two children Jackie who married Orba Aldred and Linda who is single.
Lucy married Voyd Haggard and they had four daughters, Dean, who married Swain Howell, Bobbie Jean who married Doris Perry, Nancy who married Pete Shutt and Diane who married Dr. John Rhyn., and one son James Coy who married Edda Coffman. Family Deed, possessed by Mattie Welch Majors.
Edith married L. A. Bartholomew and they had three sons, Thomas who married Margaret Hays, Joe Welch married Sue Autry, Jerry Lynn married Marilyn Houston and a daughter, Betty Joyce who married Alfred Wilson.
Mattie married Rev. R. R. Smith who died February 11, 1960. She later married J. L. Majors and they have no children.
History compiled by Mrs. Mattie Welch Majors.