THE BAILEY FAMILY OF HENDERSON COUNTY
Ernest Wesley Bailey was a teacher, manager of the Stegall gin and store, and rural mail carrier at Huron. He was born in Henderson County on October 1, 1877. He was the son of William Merrill Bailey and Mary Elen Byrd Bailey. He had two brothers, Robert Edward Bailey and James Elbert Bailey, and two sisters, Margie Caroline Bailey and Mary Bailey. In his early years, he lived near Hinson Springs, two miles southwest of Lexington. The water from Hinson Springs was believed to be healthful, and E. W. Bailey often stopped there to drink the water.
E. W. Bailey graduated from Lexington High School, where he won the J. O. Brown Medal for Debating. Professor Brown once asked him to present the medal. He graduated from Sardis Normal School in 1905. He taught for a time and then became manager of the Stegall gin and general store.
He married Minnie Esterlee Smith on March 14, 1917, at the Smith home at Jack's Creek. They held their Golden Wedding Anniversary Celebration there; more than two hundred guests called. Receiving with them were their brothers and sisters, Martha E. Smith, Will Smith, Mrs. H. O. McCall, Mrs. Walter McAdams, Mrs. Ed Bailey, Mrs. Bert Bailey, and Frank Wadley, and their children, Mr. and Mrs. Eugene Turner and Mr. and Mrs. Webb Helm. Their two grandchildren, Steve Turner and Carole Helm, kept the register, assisted by great nieces Sherrill McCall and Andrea Bailey.
Mr. Bailey began work as a rural mail carrier at Huron about 1920. On good weather days, he carried the mail in a Model T Ford; in bad weather, he drove a horse and buggy. He retired after thirty-one years of service. He always wanted to give good service to the patrons of the route. Every Christmas he gave each child on the route an orange. Years later, one of the recipients remarks [the oranges] were the best he'd ever tasted. During World War II, he made special trips to deliver letters from servicemen to their families when the letters came on holidays. He was President of the Henderson County Letter Carriers in 1924; and he served as President of the Tennessee Rural Letter Carriers Association in 1936.
Mr. Bailey enjoyed reading newspapers and subscribed to the Memphis Commercial Appeal, the Nashville Tennessean, the Jackson Sun, and the Lexington Progress. At a Farm Bureau meeting, an out of town guest said that county newspapers were not worth much. Mr. Bailey replied, "You wouldn't think so if you ever happened to lose one."
About one-half mile from the Huron post-office, there was a sand-bed about two hundred yards long with deep ruts worn by cars. Mr. Bailey used to drive slowly through the sand-bed and read the newspaper headlines while the ruts kept the car in the road.
After his retirement, Mr. Bailey took an active part in community affairs. He was a member of the Lexington Rotary Club, the Henderson County Farm Bureau, the Lexington Masonic Lodge, and the Woodmen of the World. He was a member of the Lexington Henderson County Hospital Board, where he received an award for his work. He was a member of the Henderson County Court, where he was a member of the Building Committee for the Henderson County Courthouse.
He was a devoted family man and was always interested in education. One of his interests was land conservation; he planted many pine trees and kudzu vines.
Minnie Esterlee Smith Bailey was the daughter of William Levi Smith and Martha Elizabeth Benson Smith. She was a teacher and home maker. She graduated from Pinson High School and attended West Tennessee Normal School, now the University of Memphis. One of her teachers there was the mother of Richard Halliburton, Memphis explorer and author. One of his exploits was to swim the Hellespont. Mrs. Halliburton was the author of the Halliburton Readers, which emphasized the use of phonics. She was active as a 4-H Club leader for many years, and she also was a member of the Huron Home Demonstration Club. She won msny prizes at the Lexington and Jackson Fairs for cooking and sewing.
E. W. Bailey's great-grandfather, John Bailey, came to Henderson County before West Tennessee was opened for settlement in 1819. The family tradition is that he left his home in South Carolina and floated down the Tennessee River on a raft and "poled" up Beech River to what is now Henderson County. G. T. Stewart, in his book Henderson County, states:
In the spring of 1817, John Bailey, a fifteen-year-old boy, left his home in the foothills of (South) Carolina and headed west on foot. He carried with him only his muzzle-loading rifle, a powder horn, and a hunting knife. Undoubtedly, a boy with a spirit of adventure, he continued west until he joined a group of Chickasaws near where Reagan Community is now located. After living with them for a year, he returned to (South) Carolina, remained there for a year, and then went to Kentucky for two years. Unable to forget West Tennessee, he came back, married, and became an ancestor of one of the counties famous families (p. 10).
John Bailey was born in South Carolina on August 11, 1800. He married Jemima W. Burns, who was born in Kentucky on April 4, 1799. Their children were: Jim, Thomas, Frederick, Felderia, Robert T., Margaret, Barbara, and Truman. Holoway and Harriet are listed in their household in the 1850 census. Jim married a Shepard; Thomas married Bethsheba Long and Sarah Holly; Frederick married Mary A. Burns; Felderia married Robert Washburn; Margaret married a Stevens; Barbara married E. A. Washburn and B. C. Winfree; Truman married Jane Thompson and Missouri Burns.
Robert T. Bailey was born November 14, 1834; Parthenia Stewart was born May 10, 1837. They were married September 14, 1856; they moved to a home near Piney Creek in 1860.
Parthenia S. Bailey's parents were Alfred Merrill Stewart, Sr., and Catherine Richardson Stewart. A. M. Stewart, Sr., died ten days after his son, A. M. Stewart, Jr., was born. Catharine Stewart and her children left Anson County, North Carolina, and came to Tennessee. On a narrow road in the mountains, they met one wagon. There was no room to pass; so they took the single wagon apart, piled the parts on the mountain side, and drove on. Then they put the single wagon together, and all went on.
The children of R. T. and Parthenia Bailey were Edgar W., Margaret, William Merrill, James T., Flora, Susan, John F., Albert Milton, Theodore, and Harriet. Edgar married Margaret Holly; Margaret married George Beacham; William M. married (1) Mary Elen Byrd and (2) Josie Bray; James T. married Clara Heath; Flora married Miles Little; Albert M. married Tancy Scott; Theodore married Etta Alexander; and Harriet married Arthur Scott.
A newspaper article of December 1921 states that R. T. Bailey was the oldest man in Henderson County. The article states that he never had a lawsuit, was never on a train, and was never out of Tennessee. The article speaks of his useful and eventful life.
R. T. Bailey was a singing master and conducted many singing schools. His grandson, Ernest Bailey, once brought him a battery radio. R. T. Bailey listened politely and said, "When you leave, take that squawking thing with you."
Parthenia Bailey enjoyed reading, a liking she passed down to her descendants. She used to rise early, get her housework done, and pace up and down the porch, waiting for the mail carrier to bring the newspaper.
Two of her daughters, Margaret and Susan, were very fond of animals. They used to warm the water they gave the cows on a cold morning. Susan liked to spin and taught her great niece how to spin.
William Merrill Bailey was named for his grandfather, Alfred Merrill Stewart, Sr. He was a farmer. He was kind-hearted; he refused to allow a granddaughter who poured water in his shoes to be punished. He married Mary Elen Byrd, daughter of James Thomas Byrd, born June 7, 1825, and Caroline Mary Connally Byrd, born March 11, 1824. Their granddaughter said they were cousins but did not know each other before they met at a party and fell in love. Caroline's father was said to have been wealthy and objected to the marriage.
J. T. and Caroline Byrd came to Madison County, Tennessee, and settled at Five Points. Mr. Byrd built water mills at Pinson, at Jack's creek, and between Huron and Luray. The family moved to a place by Piney Creek, near Lexington. He built a water mill that powered a carding mill to card wool and cotton. It was said that he could plane two pieces of wood so smooth that they could stick together. He was a great talker and a jovial man. Caroline's father, John Connally, died in the early 1900s.
Minnie Smith Bailey was the granddaughter of Joseph D. Smith, born in 1829, and Lucinda Woods Smith, born July 23, 1825. She was the daughter of Archibald Woods, born in Georgia in 1797. He was always called "Dutch." During the Civil War, Lucinda W. Smith was working in the yard when a soldier came up and asked for J. D. Smith. She said, "Come in. I'll hold the gate for you." When he started through the gate, she closed the gate on his foot and yelled, "Run!" This event was told by her grandson.
The children of J. D. and Lucinda Smith were: Jane, Louisa Catharine, Lucinda Elizabeth, Mary Elender, Marian Tennessee, William Levi, Martha Susan, Joseph Lee, and Mazyann.
William Levi Smith was born October 25, 1860; he was the son of J. T. and Lucinda Smith. On November 8, 1888, he married Martha Elizabeth Benson; she was born October 19, 1868, the daughter of Wiley Benson and Mary Melissa Sheppard Benson.
He was a farmer on a large scale; he owned more than five hundred acres at Jack's Creek. The tenant farmers worked as a unit; he would send all the workers to the field which needed work at the time. All the tenants came to the house on Christmas morning to call, "Christmas Gift" and receive presents. He had a large garden and many fruit trees. In the fall he supervised gathering chestnuts, black walnuts, and hickory nuts. He became a member of the Clark's Creek Primitive Baptist Church in 1902 and became a deacon in 1904. During revivals many spent the night at his home.
Martha Benson Smith was always very hospitable. She liked to give every guest a jar of jam or jelly when they went home. She was expert at knitting, crocheting, and tatting. She had a separator and sold dream5 she gave her grandchildren money when they visited. The children of W. L. Smith and Martha Smith were: Minnie, William Lee, Cinda Melissa, Grace Dexter, Martha Eliza, and Monnie Arlene.
Minnie Smith married Ernest W. Bailey; Will Smith married Mary Ward; Dexter married H. O. (Oscar) McCall; and Monnie married Glen Sims. The grandchildren were William and Charles McCall and Mary and Estelle Bailey.
Minnie Smith Bailey compiled a list of the children and grandchildren of J. D. and Lucinda Woods Smith. Names of the persons the grandchildren married are given in parentheses. Jane, called Jennie, married Steve Stinson. Their children were Conda (Pierce); Cora (McCoy); and Zula (Herndon). Louisa, called Sis, married George Henry Buck. Their children were Joe (Laura); William (Fanning); George; Malcolm (McPeake); Jordan (Gilliam); and Daisy (Dickson). Tennessee married Ike Buck. Their child was Cinda (Wright). William Levi married Martha Bendon. Their children were Minnie (Ernest Bailey); Willie Lee (Mary Ward); Cinda; Dexter (Oscar McCall); Martha Eliza; Monnie (Glen Sims). Two girls died in infancy. Joseph Lee Smith married Mattie Stanfull. Their children were Hallie (Thompson); Dee (McClendon); Frank (Dyer); Jake (Zimmerlee); Exie (McPeake); Lee (Benson); Eula (Delaney); and Claude (Richardson). Serena married Kye McCallum. Their children were Esterlee (Bailey) Hetzar; Bill (Bingham) and Kit (Patton). Other children of J. D. and Lucinda Smith were Martha Susan; Mary Ellen; Mazie Ann; Lucinda Elizabeth; and Archibald.
Mrs. Bailey describes Lucinda Woods Smith as being physically strong and very intelligent and capable.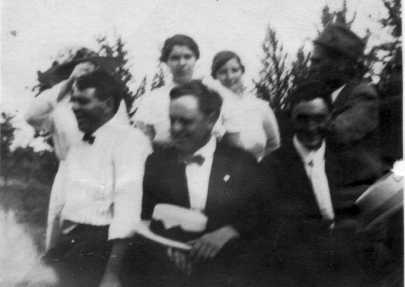 Ernest Wesley Bailey in Group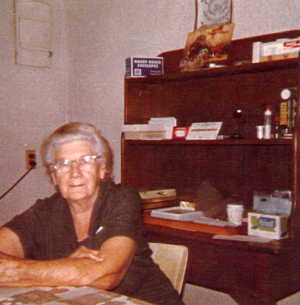 Minnie Smith Bailey