EUGENIA RUSHING
Doris Jarrett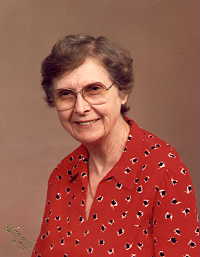 Mary Eugenia Rushing
August 6, 1986
Lexington Progress
Interesting People
By Doris Jarrett
The subject for our Interesting People feature this week, Miss Eugenia Rushing, is worthy of this belated honor which is certainly due her. She has taught many of our children in her 40 years as a teacher at Lexington High School and another year prior to that period at Scotts Hill School.
She taught English and history in the high school here and says she was a fill-in teacher at Scotts Hill where she might be teaching anywhere from the first through the 10th grade. She retired in 1982, but she is not really retired after all because she finds herself involved in church and community work as well as serving as a Volunteer at Lexington Methodist Hospital from 2-3 hours a week. She works with Mrs. Joe Lewis Leslie from 4 o'clock until the supper plates have been taken up. She may also feed any patients who are unable to feed themselves
She is a member of First United Methodist Church here and belongs to the Deborah Sunday school class where her knowledge of the Bible is appreciated. She is a member also of the Women's Society.
She belongs to the Retired Teachers' Association of Henderson County and of the Tennessee Education Association.
Recalling her days at the high school, she tells us she served under four principals: the late W. L. Bobbitt, K. C. Rumfelt, Bill Shelby and Ira C. Powers Jr. Reminiscing a little further, she remembers the news of Franklin D. Roosevelt's death and John F. Kennedy's assassination. They used transistor radios since there was no PA system at that time.
She and her brother, Richard, live in the Shady Hill community. Sharing their home is a cousin, Mrs. Fairey Essary Johnson. After a lifetime of nursing and working in doctors' offices, Mrs. Johnson, a widow with no children, came from her home in Indiana two years ago to live in the Rushing home as a member of the family.
Eugenia and Richard are the children of the late George Rushing and Margaret (Tinie) Dyer Rushing. The third child in the family, the late Dalton B Rushing, was a soil conservationist working in Williamson County until his death in an automobile accident in 1977. He was the father of two sons: Dr. Van Rushing who practices medicine in Memphis and Dick Rushing who works in food services in Santiago, Calif. Their mother is the former Martha Van Dyck.
Richard, Eugenia's brother, is a retired teacher also. He taught agriculture in Indiana and Tennessee; now farms in the Shady Hill community.
Both Richard and Eugenia are graduates of the University of Tennessee at Knoxville. Richard remained to obtain his master's degree after World War II. Eugenia says that as they were born rather late in the lives of their parents, 3 children in a period of 3 years, they were probably quite spoiled.
In grade school, the 3—teacher Shady Hill School, they enjoyed such teachers as Mrs. Burgess Dyer, Miss Lena McPeake, Seaborn Middleton, Mr. and Mrs. Dewey Howell. Mrs. Howell (Verdie) taught them how to diagram long sentences. The highlight of those grade school years, she says, was the eighth grade trip, riding on a flat-bed truck, to Perryville to see the half-finished Alvin C. York bridge.
Her 4 years of high school here are recalled. She especially enjoyed the English classes taught by Mrs. Coby Threadgill Conger and Miss Ivy Holland. A short time ago, at my son, Ben Jarrett's funeral, Rev. John Archer quoted lines from "Thanatopsis" by William Cullen' Bryant. It was given at my request and Eugenia says that she and Mrs. Conger remembered it as one of their favorites also. She memorized it in Mrs. Conger's 11th grade English class and was kind enough to say it was appropriate for me and my son at this sad time.
Eugenia grew up during the depression years, and as there were only dirt roads in the rural communities, the Rushing children lived for most of the school year with an uncle and aunt, Sam and Sallie Smith who were childless. In turn, the Smiths spent their last years living in the Rushing home.
The college years at UT were great years, she says, even though they included the last of the depression and the beginning of World War II. A cousin, Augustine Davidson, shared those years with them. They still remember the long, nauseating bus rides home for summer vacations and Christmas holidays, or maybe sometimes longer train rides which carried them through Chattanooga. When they arrived at the Lexington station after a long train ride that first Christmas, they could see in the half-light the remains of a snow, now dingy with train smoke and whatever hit the ground around the depot. The ten or twelve homecoming students were over joyed. She remembers Jack Armstrong yelling above all the din, "This is the prettiest sight I have seen since last September, and they were all in full agreement.
During the early days at UT before they were fully established with jobs and loans, Eugenia, Richard and their cousin, Augustine, lived two weeks on a box of oat meal and some shriveled turnips. However, Richard has a friend who claims to have lived a week on a box of raisins. College students today can hardly believe such deprivation — they are well fed, well housed and well dressed.
Eugenia says her favorite class in college was an English class with an elderly teacher, Dr. Kirk, who loved folklore. This appealed to her because of the folklore in Henderson County. Sometimes he read her themes in class. Her really bad class was swimming which she failed three times, and never learned to do the Australian Crawl, whatever that is.
They lived in an apartment, 1533 Highland Ave., Knoxville, where Augustine's cousin, Dr. Chester L. Davidson had lived before World War I. Also many students from here have lived there during the years. The building still stands.
After graduation she began her teaching career which has spanned the years. Looking back, she says they were quite ordinary except for the extraordinary people she knew. At Scotts Hill, she recalls such great teachers as Cecil Milam, and the late Miss Nellie Blevins. It was there she learned more than she taught. Sharing a home at Scotts Hill with Mrs. Ethel Overman and Mrs. Flora Powers was a pleasant experience. After work or after school, people stopped by to share their griefs, their jokes and the small town gossip, their opinions about the war and all government affairs. The meetings were usually on the front porch of this home.
Before the end of World War II, roads were poor and cars were not yet on the market. As a new teacher at Lexington High School, Eugenia was befriended by the late Miss Sula Muse who sort of "took me in", she says. Her boarding house, as she called it, was an experience in education, Eugenia recalls, At the long dinner table, the late Robert E. White could answer all questions she needed answering to prevent her from ''being too ignorant at school." Those are her words, not mine. Then there was Dr. Maxwell telling the weather forecast along with his opinions of world affairs. Little Billy Brooks, as she called him, was usually unhappy about his spelling lesson. Somehow I can't seem to connect that Billy Brooks with our congenial and efficient lawyer of today. People from the stores and banks often came for meals and conversations was lively. The cook, Aunt Nancy, was busy in the kitchen and Mrs. Muse was busy everywhere.
For a while Eugenia lived with Mr. and Mrs. Dewey Howell, and their daughter, Anne. Living there also were the Rhodes twins, Pauline and Aline.
Those were war years and building was at a standstill. More people were put into small places. That was true of classes too. Many high school teachers had more than 40 students, even English and social science classes.
After the war ended, roads were still dirt roads and automobiles were quite scarce. During the school year, she lived with the Jim Page family. They had a roomy new house on Broad Street. Mrs. None Ringold was the mother of the family and Miss Eula Mae Ringold, both now deceased, was a teacher as were Mr. and Mrs. Page. Charline Romans, librarian at the nearby high school, shared a room with Eugenia.
The passing years have brought the usual changes. Classes have become somewhat smaller and teacher turn-over is not so rapid. She says, "Those of us who worked so long together are like family now. I wish I could remember each student better, but after graduation so many of them are far away. It is good to see so many students coming back into the county to teach."
Between their army discharges and their return to UT, her brothers built their house. They had had no previous building experience and had no electricity for power. Building materials were scarce and expensive. They had for help two small cousins, Bill Powers and Bruce Dyer, to do odd jobs and run errands. The house is still their home and they love it.
Since Richard is a not-yet-retired farmer, their hobbies are still almost on the back-burner, so to speak, but when Eugenia really completely retires, she plans to do more reading, quilting and traveling. Her one trip to England with a Lambuth College class left her both surprised and humble.
As Tennyson had Ulysses say when the aged warrior returned home from the Trojan War, "I am a part of all I have met."
[The photograph used at the top is one of several of the family of George W. and Tinie Dyer Rushing provided by Mary Eugenia Rushing as part of an even larger series of photographs of the Dyer family.]