JACOB F. FISHER (1815-1907)
from the photograph collection of Wanda Tillman Maness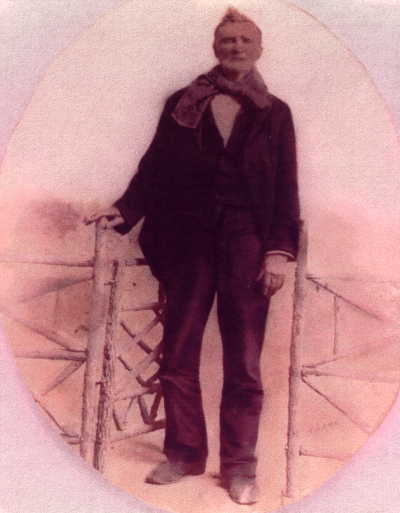 Jacob F. Fisher 1815-1907
This image was scanned from a photographic copy of the original photograph. The copy comes from the photograph collection of Wanda Tillman Maness, who now has the photographs which once belonged to her grandparents.
What is most interesting is not the photograph itself, which is not very sharp, but the note on the back from an unknown writer, probably from Missouri. Jacob F. Fisher is one of the Fishers in Decatur County whose ancestral line is not known. The note lists three or four siblings:
Jacob F. Fisher
Jun 8, 1815-Aug 13, 1907
Buried at a small plot near Fisher's Landing on the TN River Decaturville TN.
His brother Michael is buried in pville [Portageville} Mo. That cemetery is unattended and grown up. His grave was marked with a large cotton gin part at his request. It was stolen during World War I. Ive been unable to find his grave. His brother Charles also came to Mo but I havent found him. His sister Martha married a Rone their descendants live here. Martha and her husband were taken back to TN Mt Zion. Sarah was still with her mother in 1850 census.