JAMES HARRISON THOMAS
This page presents an article and photograph that probably appeared in the Henderson County Times on March 19, 1980. This web page was made from clippings in a scrapbook labeled "Henderson County Historical Society 1982-1983" compiled by Virginia Butler, President 1982-1983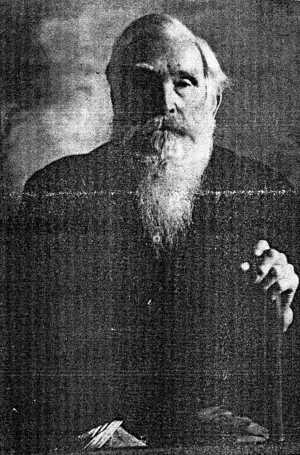 James Harrison Thomas
A Henderson Countian who stood for his beliefs is perhaps an appropriate description of James Harrison Thomas, Civil War veteran who spent over 200 days in the infamous Andersonville Prison.
Born Jan. 4, 1844, Thomas enlisted at the age of 18 in the Union Army, fighting in the 7th Regiment of the Tennessee Calvary.
Thomas, according to his own handwritten note, fought at the battle of Lexington.
He was later captured in Union City, Tn. along with his regiment and imprisoned for 241 days at Andersonville.
Thomas summarized the experience in this fashion, "Stayed there 241 days, had one brother to die there from starvation and diseases and one brother to die at LaGrange, Tn."
Great-grandaughter, Bonnie Cannon, reports that her great-grand father mentioned the conflict felt after the war between those who fought for the Union and the Confederacy.
James Harrison Thomas lived to see many changes in the South and in Henderson County.
He was buried May 5, 1934, having lived to age 90. Thomas was the son of Stephen Thomas and Annie Rhoads Thomas.
Surviving relatives include Mary Francis Brooks and Bonnie Cannon.