DR. CURRIE PORTER BOYD
from the funeral program collection of Margaret Mallard Beach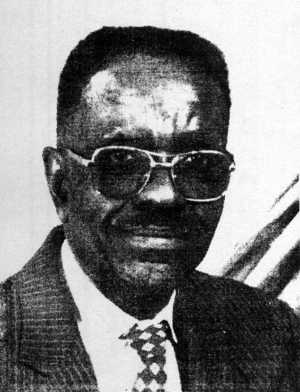 Dr. Currie Porter Boyd
August 17, 1924-October 25, 1997
Homegoing Celebration
of
Dr. Currie Porter Boyd
2:00 pm
Church of Christ
1458 East Main St.
Brownsville, Tennessee
Bro. John Somerville
Officiating
Dr. Currie Porter Boyd was born to the late Hester Currie Boyd and the late Porter Boyd in Haywood County, TN on August 17, 1924. And sadly on October 25, 1997, Haywood County lost a man of great character and vision.
Bro. C P. Boyd confessed faith in Christ at an early age and united with the Beech Grove Church of Christ in Brownsville, TN, where he served faithfully until his death.
Bro Boyd was always an inquisitive person. He rejoiced to learn something whenever he could. He attended the public schools of Haywood County and graduated from Merry High School in Jackson, TN. He had a fondness for poetry and was the poet laureate at Tennessee State University in Nashville, TN. He even wrote some poems as part of his thesis for his masters and doctoral degrees
Bro C. P. Boyd had many hobbies which included amateur boxing, pitching baseball, he was a band leader, he enjoyed traveling and seeing new and exotic places, and he was a prodigious lecturer.
In 1948 he married and to this union one daughter was born, Margorie Boyd. He later remarried and then subsequently, divorced in 1985.
Dr. Boyd holds a B. S degree in Agriculture and Science from Tennessee State University and a Masters degree in Vocational Education and Plant Pathology from Iowa State University.
He received his Doctoral degree in Educational Administration and Supervision from the University of Tennessee in Knoxville. He even studied law at the University of Memphis for a short time.
Bro. Boyd was a retired professor from Jackson Stale Community College and Lane College in Jackson, TN. He has been listed in The Outstanding Educators in America in 1973. His desire for learning inspired his students to further their educational pursuits. He taught them to never accept the status quo, but to continue to question the environment around them.
He was active in local politics, having sought the 26th District Senate Seat. He even hosted his own weekly talk show: The HCL Talk Show, where he discussed a wide variety of subjects from agriculture to religion.
At the time of his passing, he was working on two books simultaneously: The Sociological Implications of Louie Jordan's Music and a History of the Haywood County Civil Rights Movement of the Sixties.
He was always against injustices in society, especially racism. His zeal for racial justice encouraged him to help establish the Haywood County Civic and Welfare League, Inc. in the late l950's, which was responsible for obtaining the right to vote and economic clout for African-Americans.
He leaves to mourn his passing: one daughter, Margorie Boyd of Nashville, TN; 2 aunts, Corine Boyd Woodland of Stanton. TN and Alma Boyd Kirby of Washington, DC; two aunts-in-law. Tessie Boyd and Emma Opell Boyd, both of Stanton, TN.; one step-sister, Doretha Campbell of Memphis, TN; two brothers. Randolph Boyd (Katherine) of Nashville, TN and Sgt. Eugene Boyd (Nazarene) of San Antonio, TX, both preceded him in death; two step-children, Howard (Joann) McClellan of Dallas, TX and Izetta (David) Wrushen of Knoxville, TN; four step-grandchildren; and a host of nieces, nephews, cousins and friends,
A man of vision has left us but his legacy of loving, learning and living life to the fullest will remain with us forever.
Internment
Beech Grove Church of Christ Cemetery
Brownsville, TN
Arrangements
Rawls Funeral Home
36 South Jackson Avenue.
Brownsville, TN 38012
Go to My Years Teaching at Decatur County Training School, by Currie Porter Boyd
Return to Obituary List (Decatur County)
Return to Funeral Program List (West Tennessee)