JEWEL YARBRO CRAIG DUCKETT PARHAM SCOTT
from the obituary files of Novella Tole
Services In Loving Memory of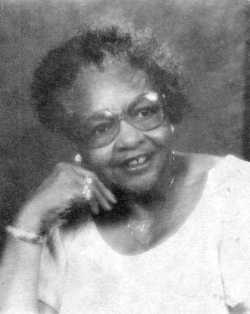 Jewell
1922-1991
Tuesday. May 21, 1991
7:00 p.m.
Hicks Tabernacle Baptist Church
Nashville, Tennessee
Rev. W. L. White, Pastor
Wednesday, May 22, 1991
3:00 p.m.
Parham Mortuary
Lexington, Tennessee
Interment
Family Plot
Decaturville Cemetery
Decaturville, TN
Obituary
Mrs. Jewel Yarbro Craig Duckett Parham Scott was born March 6, 1922 in Perry County, Tennessee, the only child born to the union of the late Ashley and Gretchen Yarbro Craig. She departed this life on Friday morning, May 17, 1991 in Nashville, Tennessee.
She was reared in Decaturville, TN and attended the public schools in Decatur and Davidson Counties, graduating from the Decatur County Training School. She later attended Jackson State Community College, Jackson, TN.
To know Jewell was to love her! She confessed hope and faith in Christ at an early age. For the past fifteen years, she was an active member of the Hick's Tabernacle Baptist Church. She was a current member of Excelsior Chapter, O.E.S., Nashville and a former member and officer of the O.E.S. Chapter in Decatur County. She was also co-owner of the former Parham Funeral Home and Jewell's Tea Room in Parsons, TN. She was a retired employee of the Tennessee Department of Education (T.P.S.) where she worked with special youths from all over the state.
She reared her four children, instilling in them, the olden rule and belief that they were as good as anyone, but better than none.
Jewell leaves to cherish her presence here, four devoted children, Peggy O. (Vernice) Scruggs, Nathaniel (Patty) Parham, Pamela J. Parham and Anthon R. Parham; thirteen grandchildren; eleven great grandchlildren; a special aunt, Mrs. Bernice Hicks of Nashville; a dear friend, Mazie McGlorie of Nashville; a host of loving cousins who lovingly felt as sisters and brothers; and a multitude of friends and acquaintances.
Flower Bearers: (granddaughters) Sharon Wordlaw, Jacqueline Whitaker, Peggy Anderson, Natalie Parham, Nicole Parham, Valery Parham
Casket Bearers: (grandsons) Steven Scruggs, David Scruggs, Darrell Scruggs, Vernes Scruggs, Michael Scruggs, Marcus Scruggs, Steven Parham, Jackie Alsup
Honorary Casket Bearers: Hicks Tabernacle Baptist Church Deacons
Honorary Flower Bearers: Hicks Tabernacle Baptist Church Progressive Ladies
Return to Obituary List