CLARA MONTGOMERY HARDIN
from the collection of Novella Tole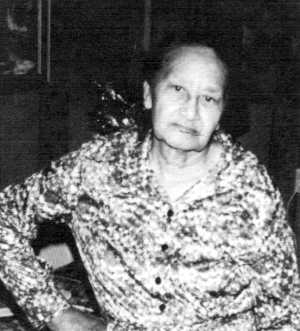 Homegoing Celebration
for
MRS. CLARA MONTGOMERY HARDIN
Tuesday, April 5, 1994
2:00P.M.
Freedman's Chapel A .M. E. Church
Decaturville, Tennessee
Rev. John Moore, Pastor
Obituary
On Wednesday morning, March 30, 1994, after a span of ninety years, the guardian angels came down and visited Westwood Manor Nursing Home in Decaturville, Tennessee and kindly sealed the lips of Mrs. Clara Montgomery Hardin. Her soul took flight to an unknown world, where there will be no more pain, no more tears, where skies are always blue, where there's joy without sorrow and peace without pain.
She was born March 18, 1904 in Perry County, Tennessee. At an early age, the family moved to Decaturville, Tennessee. She was the daughter of the late Charlie Sr. and Margie Montgomery. She was married to the late Rev. C. H. Hardin.
Her educational background began in the public school systems of Decatur County and upon graduation from high school, she attended Tennessee A&I State University in Nashville, Tennessee where she received a B.S. Degree in Math and History. She taught in several public school systems until retirement.
Mrs. Hardin was a faithful member of Freedman's Chapel A. M. E. Church until her health failed. During the years, she served her church in many capacities. Mrs. Clara was loved by everyone with whom she came in contact. She was highly respected and will be sadly missed by everyone in the community.
She leaves to mourn her passing, a devoted sister, Maude Tole of Decaturville, Tennessee; a devoted brother, William (Ophelia) Montgomery of Chicago, Illinois; devoted nieces and nephews, Charlyne (Joe) Coupet, Barbara Douglas, Dorothy Miller, Roxie (Dover) Scott, Julia Smith, Louise (Arthur) Williams, George Craig, Herbert Craig, John Craig, Alonzo (Sandra) Montgomery, James (Ann) Montgomery and R. T. Montgomery, Jr.; a devoted great nephew, James Lamont Montgomery; devoted friends, J. B. McElrath, Novella Shannon and Iris Evans; a host of other great nephews and nieces, other relatives and friends.
Ushers
Zenobia Pettigrew, Sophia Brasher, Lacula Tole
Pallbearers
Family and Friends
Flowerbearers
Family and Friends
Committal and Interment
Decaturville Cemetery
Decaturville, Tennessee
Arrangements by
PARHAM MORTUARY
Lexington, Tennessee
Return to Obituaries