CROWDER HIGH SCHOOL GIRLS AND BOYS WIN DISTRICT
Crowder High School Girls and Boys Win District
Newspaper Clipping
Source Unknown
Saturday March 4, 1965
In the District IV Basketball Tournament held at Montgomery. High School, Lexington, February 26-March 1st Crowder High School boys and girls won in the finals.
In the opening game Friday night Crowder girls downed Selmer, girls 42-35. Myrtle Moody and Georgia Brasher tossed in 18 and 14 points respectively for the winners. Pollard of Selmer was leading scorer with 10 points- for the losers.
On Saturday night the Crowder Hornets beat Montgomery Tigers of Lexington for the third time this -season by a score of 81-76. Scoring in double figures were Larry C. Tinsley 34, Thomas (Jip) McElrath 15 and Ressley Dabbs 14. Joe Parker, Earnest Melton and Thomas Earnest tossed in 24, 16, and 14 for the losers.
In the finals Monday night Crowder girls met Montgomery High girls. With the superb performance of guards Hazel Brasher and Ruby Johnson supported by Beulah Funderburk, the forwards Myrtle Moody, Georgia Brasher, Joyce Brasher, and Barbara Casey out scored Montgomery 54-48. Georgia Brasher was high scorer with 26 points, Myrtle Moody followed with 18 points. Barbara Casey added 6 and Joyce Brasher 4 to clinch the Championship title. Delois McDonald and Lula Pearson scored 20 and 16 points for the losing team.
Crowder High boys showed their superiority over Selmer by leading all the way and winning by a score of 65-42. Robert Posey was outstanding play maker of the game. Garry Walker and Thomas McElrath led in rebounds. High point makers were Garry Walker, 22; Larry Tinsley, 17 and Thomas McElrath 16 points. Robertson and Stackkins were leading scorers for Selmer with 19 and 10 points respectively.
All Star players from Crowder High are Myrtle Moody, Hazel Brasher, Ruby Johnson, Thomas McElrath and Larry Tinsley. Season record for girls 15-6 boys 11-10. The proud coaches of Crowder teams are Miss Carolyn Musgray, Mr. Henry H. Sanders, Mr. S. F. Dobbins.
This is the first time in the history of the school that both teams have won the Championship in the District.
Individual Scoring for year:
Girls:
Myrtle Moody 310
Georgia Brasher 207
Joyce Brasher 99
Barbara Casey 49
Ruby Johnson 26
Alma Scott 4
Hazel Brasher 1
Catherine Johnson 2
Margaret Craig 2
Boys:
Thomas McElrath 292
Larry Tinsley 259
Garry Walker 177
Darnell Johnson 156
Ressley Dabbs 78
Robert Posey 70
Mack Tole 30
James Casey 4
Dale Scott 4
Charles Pettigrew 4
T. R. Mays 2.
Both teams will play in the Regional Tournament at Merry High School in Jackson March 9-13.
Coach Henry F. Sanders and Coach Carolyn Musgray beam proudly at trophies won by cage teams of Crowder High School in district tournament held last week.
From the photograph collection of Viola Brasher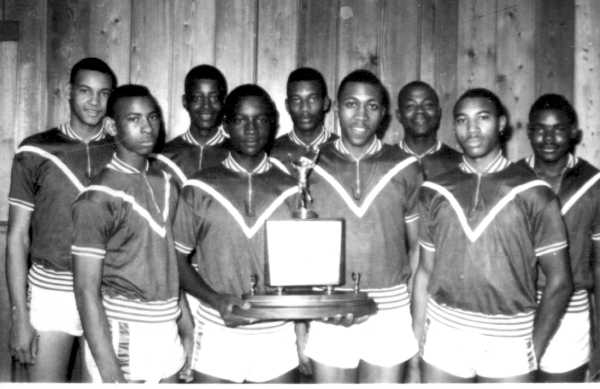 1965 Boys Basketball Team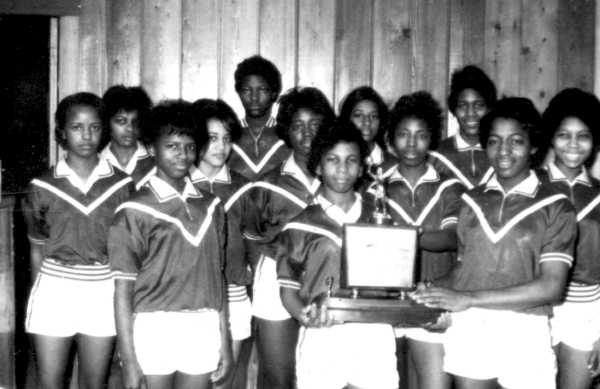 1965 Girl's Basketball Team
Return to DCTS/Crowder High School Home Page