"DEAR OLD GOLDEN RULE DAYS"- BETHEL SCHOOL & THE SAFFORD COMMUNITY
Brenda Kirk Fiddler
Lexington Progress, Wednesday, June 3,1992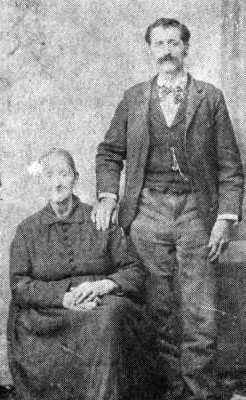 Dr. Hendrix, shown here with his mother, Nancy
Elender Harris Hendrix, cousin of Tennessee
Governor Isham G. Harris. (Photo courtesy of
Mrs. Mary Ella Burke.)
On the 20th day of February in 1886, Dr. John W. Hendrix demonstrated his love and concern for his community of Safford by giving a parcel of land for a building to serve as the meeting place for school and church. In deeding the land to the Cumberland Presbyterian Church, he instructed that it be "free for all denominations to organize and hold religious worship and also for school purposes, but they are by no means to conflict with each other's time. Be it understood that the following named Denominations, the Presbyterian and Baptist Christian Denominations and Methodists are the principals of said church known by the name of New Bethel."
A building was soon erected in Safford; the record of the Christian Chapel Church of Christ states that the congregation met at Bethel from 1894 to 1898, after their church house burned. Dr. Hendrix's large home located near the school/church still stands, now the property of E. L. Taylor. Hendrix was the grandson of Henry Hendrix, a native of South Carolina, who settled here on several hundred acres soon after the opening of the Western District in 1821.
In his mid-thirties, John Hendrix decided to become a doctor. Catching a train at Wildersville, he traveled to Nashville, where he studied medicine. After returning to his home in the late 1880s, he spent the rest of his life caring for the sick in portions of Henderson, Carroll and Decatur Counties.
Well before the turn of the century, Safford, located in the eastern part of the sixth district, was a thriving village with a gristmill, blacksmith shop, post -office and a large general store operated by Druggist J. M. Hendrix, brother to Dr. Hendrix.
The business area served as the center of community activity with barbecues, square dances and holiday celebrations. 92 year-old Loy Hamilton says there was no Christmas program at school, since everybody gathered at the general store where a tree was put up. "You could not find any kid with 15 cents to spend for presents." Candy sold for three sticks of a penny and was a rare treat, so all students were present on the last day of school when the teacher passed out candy.
"Jim Hendrix's store was well stocked. Kathleen Tolley would carry a two-gallon bucket to the store to get it filled with sauerkraut dipped from a barrel. Money was spent on "store bought" essentials as flour, sugar, domestic goods, snuff, coal oil and shoes for the family. Children, knowing they had to make their shoes last from one fall to the next, would go barefoot in the summer and even pull their shoes off to cross the creek in the winter. Of course, they had to be careful not to cut their feet on ice.
Bethel School drew students from a wide area with as many as 100 students enrolled at one time and taught by one teacher. Because of contagious diseases which regularly swept across the communities curtailing school attendance, state records indicate that the average daily student attendance in 1900 did not exceed two-fifths of the eligible population.
Often the diseases resulted in death, as in the case of little eight-year-old Ethyl Maxwell. In August 1899, she became ill at school and was sent home accompanied by two older girls to help her cross the creek and then up the steep hill to her home. Two days later she died of a high fever and was buried a t Pleasant Grove Cemetery.
Clifford, Velta, Ray and Roby, children of Fred and Lucy Dennison Fiddler, and great great grandchildren of Henry Hendrix, walked to Bethel, crossing the bottom on the "walking bridge"--an elevated plank walk about three hundred yards long. Greasy Creek would overflow after heavy rain, and their father riding a horse and leading another would ferry the children, including the Hawkes and Johnson children, across the flooded bottom.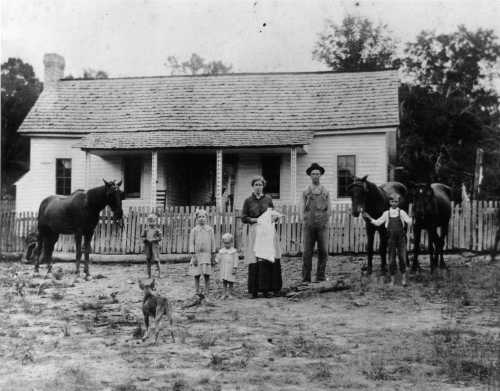 Mr. And Mrs. Fred Fiddler and family in front of their home at "new Safford" in 1915.
Pictured from left are Ray, Velta, Roby, Mrs. Fiddler holding Hooper, Mr. Fiddler and Clifford.
[Children Agnes and Hulon were born later. 2001 scan of original
photograph owned by Brenda Fiddler]
Carlos Duke, Darden post master from 1940-1958, was the teacher in 1918. He was stricken with the flu which killed so many people that winter. While he was out for about three weeks, Glinnie Williams and Willie Renfroe taught. During bad weather, Mr. Duke boarded with Curry Dennison and kept his mule in the Fiddlers' barn. He taught in area schools, beginning at the age of 18 on a teaching certificate issued to students making superior scores on state examinations given to eighth grade graduates. Eventually, Mr. Duke earned a degree from Freed-Hardeman College.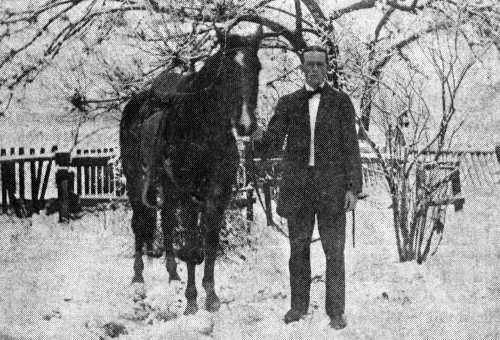 Teacher Carlos Duke and "Old Spug." Mr. Duke commuted by horse to
Moore's Hill School. (Photo courtesy of J. C. Duke.)
When Miss Calla Walker of Chesterfield taught at Bethel in 1915-16, she also boarded with Mr. Dennison. When Dr. Gencovia Maxwell of Darden came courting her in his Maxwell touring car, several people including some who had never seen a car, gathered at the barn to see if the car could make it up the hill. Soon the couple became a familiar sight as he drove in low gear with Miss Calla holding an open parasol. Ernestine and Elline Sisson, nieces of Dr. Maxwell, said that he never drove with the top up since he was afraid wind would catch under it and turn his car over.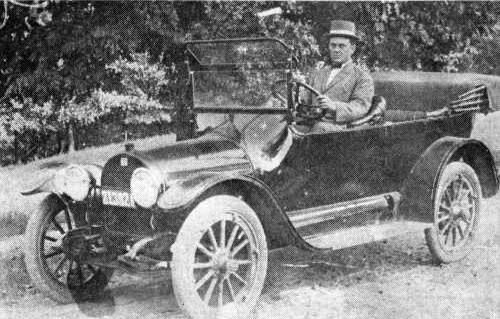 Dr. Gencovia Maxwell of Darden shown here in his 1912-1913 Maxwell touring car. He and
Miss Celia, teacher at Bethel, were wed in July1916, (Photo courtesy of Mrs. Ernestine Sisson.)
Mr. Dennison was a cousin of Judge W. H. Dennison, Supt. of Schools from 1907-1917, who was successful in getting the county court to finance a public high school and in getting the school year extended. He stressed the need for maps, globes, desks and better teacher training. He urged tax reform, which would place the burden of education, not on the county but on the state, thus giving every child equal opportunity. He said, "The purpose of education is to raise the standard of citizenship, and the citizenship of any state is no higher than its average citizen."
Bethel School survived Dr. Hendrix by four years. After walking two miles in sleet in December 1924, for the funeral of a patient, he developed pneumonia and died.
There had been a gradual shift of population two miles southwest to what was referred to as "New Safford." A store run by John Maxwell and Will Johnson sold a variety of goods, including furniture and coffins and housed Safford Post Office. A gasoline-powered gristmill was operated by Mr. Johnson. The opening of Central School with grades 1-10 and two teachers in 1928.drew students away from Bethel in the community increasingly being referred to as "Old Safford."
Rex Evans and Inez Evans Fiddler recall that Bethel School closed 1928-29. The students and the teacher, Chester Stephens, were consolidated with Decatur County students and their teacher, Joe Quinn, in the new Glennwood School.
Other teachers at Bethel included Baptist minister T. M. Boyd, Woodward and Granville Bartholomew, Bedford Todd, Ernest Wilkins, Mabel Johnson, Audie Duke, Clyde Reeves and Clarence Inman.
Because of the "Love Deed" made by Dr. Hendrix in 1886, much good resulted and continues more than one-hundred years later. Communities all over the county can trace their schools back to such individuals who generously gave, in consideration of the love...to promote education. And that heritage continues.
Note: The late Register of Deeds James Essary used to refer to this area as "the garden spot of the county." The rolling hills, green forests and streams, so similar to British and Scottish landscape, may explain the name "Safford" given to the area.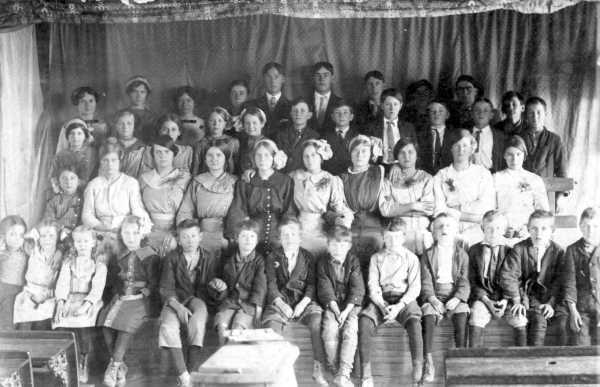 Bethel School, 1913-1914: (front, from left) Ida Anderson, Lenora Evans, Velta Fiddler, Clara Cagle, Bob Haggard,
Elbert Anderson Parker Evans, Roby Maxwell, Eunice Johnson, Harlan Hawks, Clifford Fiddler, Andrew Wallace,
Joshua Ivey, (second row, from left) Claydes Maxwell. Mary Taylor, Birdie Cottrell, Pearlie Gulledge, Odie Cagle,
Ronnie Hendrix, Nola Cagle, Maudie Cottrell, Virgie Townsend, Mertle Townsend, (3rd row) Fannie Hendrix, Flossy
Cagle, Ida Johnson, Barbra Bowman, Volta Evans, Dennis Patrick, Jimmie Wood, Neely Johnson, Elbert Cagle,
rank Wallace, Eurie Townsend, (4th row) Minnie Johnson, Ollie Dennison, Genora Johnson, Albert Bowman,
Bedford Todd (Teacher), Nick Dennison, Glinnie Williams, Dude Bowman, Willie Renfro and Groden haggard.
(Photo courtesy of Clifford Fiddler.) [2001 scan of original photograph owned by William L. Chumney]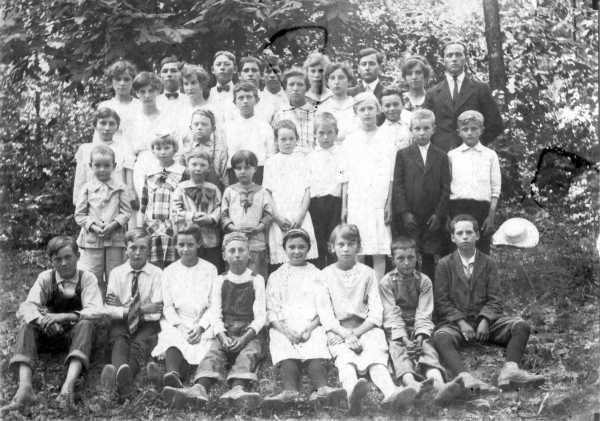 Bethel School, 1918: Students plus a visitor who just wanted to have their picture made at the "barbecue grounds,"
one half mile north of the school. The few identified include on the front row Clarence Fiddler Clifford Fiddler,
Harley Hawkes, Clora Cagle and Roby Maxwell (2nd row) Ida Johnson, Ray and Velta Fiddler,
(back row) Flossie Cagle, Odie Cagle, Claburn Fiddler and teacher Carlos Duke. (Photo courtesy of Mrs. Ruby Davis.)
[2001 scan of original photograph owned by William L. Chumney]
---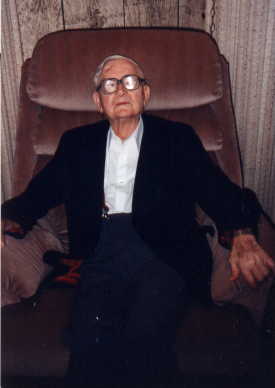 Photograph of Loy Hamilton taken by
Brenda Kirk Fiddler in 1992.