Sand Ridge Harmonica Band
from the collection of Brenda Kirk Fiddler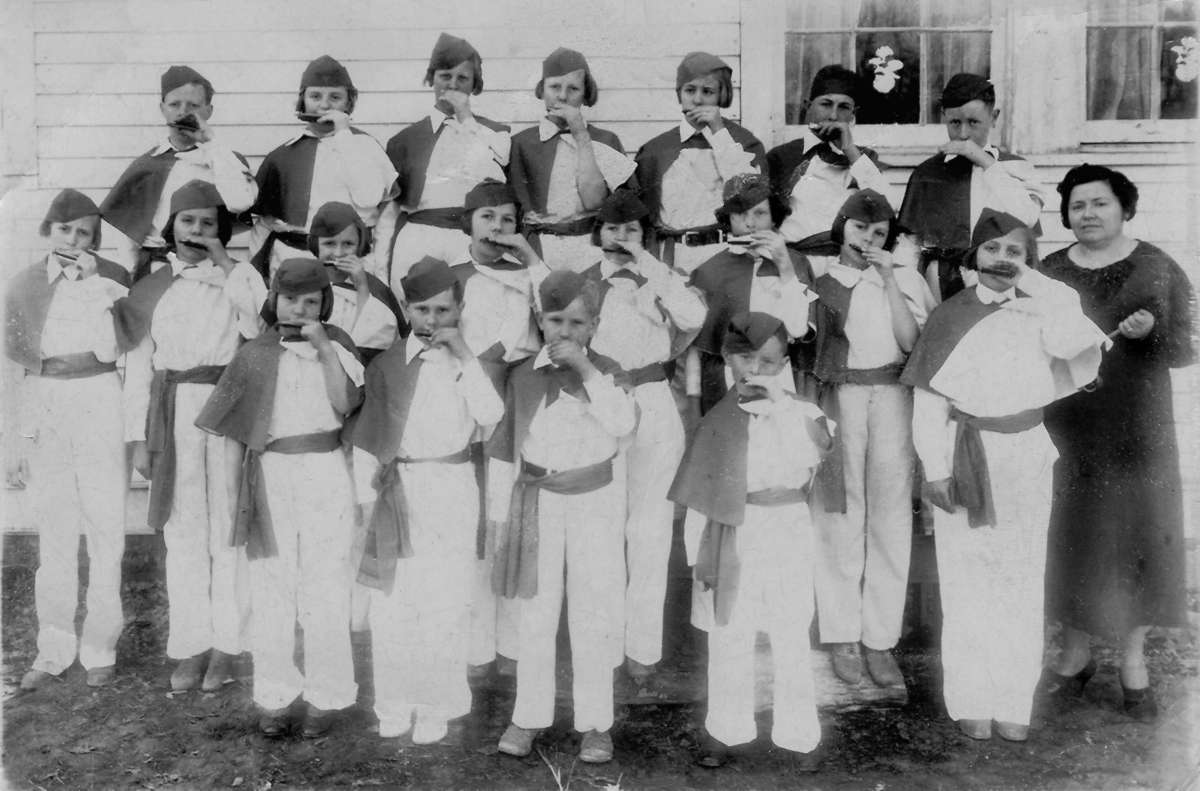 Front row (l-r): Evelyn Hall Autry, Robert Hearn, James Bell Hall and Harry Houston.
Second row: Louise Ballard Atkinson, Edith Hall Hauselman, Jean Cunningham Douglas, Mary Ann Rainey Azbill, Nell Wise Garner, Lyndell Tate Rhodes, Jewel Taylor, Mary Weir Walker and Miss Pearl Johnson, teacher and director.
Third row: Elvin Sego, Mary Cunningham Williams, Virginia Crowe, Velma Taylor, Ludie Hamilton Essary, Lanier Thompson and Lyman Houston.
Not pictured are Jo Ann Houston Anderson, Jackie Tate Anderson, Walter Cunningham,
Ben Tate, Virgil Weaver, Alvin Blankenship and Gladys Gilliam.
Larger image, will be slow for dial up Internet users.
The Sand Ridge Harmonica Band that was organized by Miss Pearl Johnson, a teacher at Sand Ridge School, about 1935 or 1936. The group had a reunion in August of 1991, eleven attending. Since then they have performed at the civic center, church and other social events. They performed at Sand Ridge, October 7, 2000 for the reunion of schools in the Sand Ridge area.
December 17, 1937
Lexington Progress
Harmonica Band Goes to Memphis:
The Sand Ridge Harmonica Band will be honor guests on the Bry's Juvenile Hour December 8. This is the second time they have broadcast over WMS. The members are Harry Houston, Nell Wise, John D. Scott, Beatrice Scott, James Bill Hall, Evelyn Hall, Edith Hall, Mary Cunningham, Elvin Sego, Mary Weir, Virginia Crow, James Thompson, Louise Thompson, Mary Sue Henderson, Mary Ann Rainey, Olive Sue Rainey and Miss Pearl Johnson, sponsor.