LEXINGTON CITY SCHOOL BEALAH HENRY'S CLASS 1921
from the collection of Brenda Kirk Fiddler.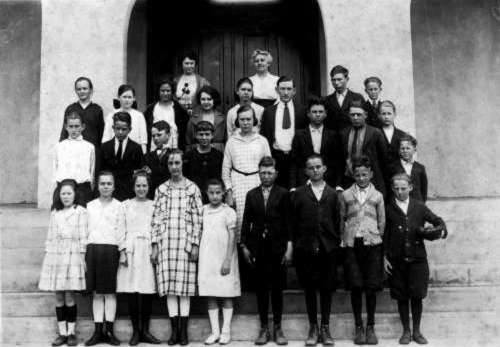 Mrs. Beulah Henry's Class, Lexington City School, April 29, 1921
Back Row: Miss Faye Houston (principal), Mrs. Beulah Henry (teacher)
Third Row: Gussie Johnson, Mary Sue Ballard, Irene Wolfe, Louise Teer, Graper Moffitt, Vaughn McDaniel
Second Row: Willie Scott Muse, Murray Walker, Joe Appleby, Opal Blankenship, Shadie Pearson, Joe Bunch, Steve Goff
Front Row: Cornelia Hartsman, Edith White, Coby Threadgill, Juanita White, Ivy Holland,
John Watson Jones, Harry Tripp, Gaston Summers, Pete Conger
Many of these students in the Lexington High School Senior Class of 1927. This photograph originally belonged to Miss Faye Oakley.