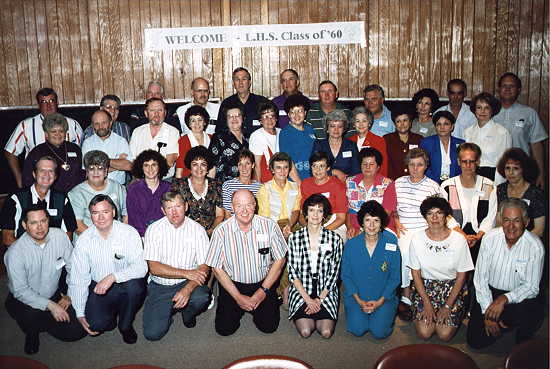 Reunion of Lexington High School Class of 1960
Back row: Jimmy Connell, Tommy Fesmire, Woody Tubbs, Jim Rushing, Bobby Baker, Prentice Page, Ralph Coffman
Hershel Pierce, Jean (Hatchett) Melton, ___________? (either Johnny Bradfield or Johnny Peoples), Freddy Carrington.
Third row: Brenda (Lewis) Weatherford, Jerry Maness, Norris Hart, Brenda (Kirk) Fiddler, Brenda (McPeake) Kelley
Carol Marie (Maness) Davis, Geneva (Davis) Coffman, Bobbie (Coffman) Pierce, Jean (Reeves) Gooch, Barbara (Powers) McLamb, Martha Lou (Gilbert) Averett.
Second row: Jerry Johnson, Voncille (Fesmire) Fisher, Sue (Gibson) Vial, Carolyn (Bradfield) Threadgill, Ruth (Wheatley) Vanilli
Brenda Joan (Cannon) Glaser, Nancy (Parker) Deere, Jessie (Cagle) Stegall, Kay (Hardin) Flowers, Linda (Veteto) Garner, Daisy (Bowman) King.
Front row: Bobby Russell, Landal Powers, David Betzler, James Youngerman, Edna (Wilson) Maxwell
Tracy (Williams) Kane, Janice (Essary) Johnson, Donald Gainer.