A GLIMPSE INTO THE BIG RED PAST...
compiled by Brenda Kirk Fiddler
January 11, 1995
Lexington Progress
Compiled by Brenda Kirk Fiddler from the Progress Files
Sept. 2, 1949
"Tigers Guns Aimed at Bruceton For Opener Sept. 16"
"It was work, work and more of it out at Tigerland this week as Coaches Claude Hill and Gill Gideon drove their charges hard to have them ready for the season s opener here Sept. 16.
They meet Bruceton in their first tilt and the Carroll County squad will have played two games by that time. And the fact that some Tiger stars have been at Guard camp for two weeks resulted in harder work for the squad this week and next.
The Big Red, even without its Guard members, romped all over Decaturville here Thursday night in a practice game. Coaches Hill and Gideon said they were far from pleased with the workout as mistakes stood out like sore thumbs.
Faced with filling graduation-depleted ranks along with the glad change-back to the T from the single wing, the Tiger mentors will field a more or less "green" team in the opener. Several were awarded letters but few have ever started a game.
The Tigers shape up fairly heavy as the starting line will average anywhere from 155-163. The probable starting backs will tip 153.
For wingmen, Ray Frizzell (155), Bubber Arnold (150), Waynard Carey (145) and Carl Dickerson (150) appear the likely men. At tackles, Luke Roberts (180), Billy Kel]ey (200), Ray Essary (190) and Tom Dailey (180) will see the most action. Harold Segerson (150), Ray Wood (150), Douglass Lewis (140), Charles Duck (145) and Nub Armstrong (145) will hold the fort. The center position is battle between Billy Dennison (165) and Bugaloo Pearson (160). Backs Wayne Hinsox (160), Charles Adcock (160), Hen Hay (145), James Williams (150), Atom Havenner (130), Royal Wood (135), Tony Adams (140) and Pete Meadows (140) have shown up in practice.
Extra Points: Big Tom Dailey and Pete Meadows are both freshman and with work can develop into Tiger greats…Meadows is a kid brother of former Tiger star tackle, Big Gene.. .Dailey takes them at their word. If they say tackle the man, he does…Ray Wood, transplanted from center, has found his true position at guard it appears...tore up sand in scrimmage Tuesday...Season tickets will go on sale soon...Four home games...$3.00... They're building a new concession stand, ticket office at the gate...and, after that, a new press box! And over on OUR side too...thankee, thankee from Riles, Steve and me...especially...Tigers now have fine dressing quarters in the new gym."
April 1, 1949
"Hill, Gideon Named Coaches"
"Claude Hill, fullback at the University of Tennessee, has been named head football coach at Lexington High School, succeeding W.S. "Monke" Fowler, who has accepted a similar position at Corinth.
Assistant football coach and head basketball mentor will be Gill Gideon Jr., Union University halfback.
Mr. Hill was a member of Tennessee's last bowl team, and comes highly recommended by General Neyland."
(Note: Coach Gideon was a busy man during his long tenure at LHS. As late as the 1959-60 school year, he taught all P.E. classes and was the boys and girls' basketball coach, head football coach and assisted Principal W.L. Bobbitt with discipline. Gideon left LHS in the early 1960s to become Executive Secretary of the TSSAA. A winner on and off the field, Gideon's abilities are substantiated by a look in the LHS trophy case.)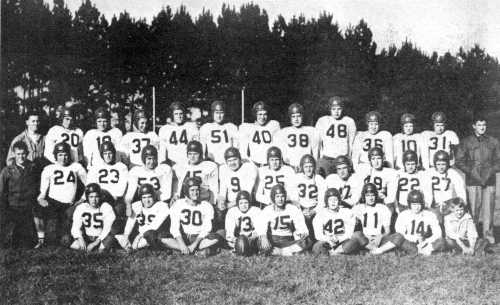 The 1949-50 class LHS Big Red football team members were (front, from left) Paul A.
Armstrong, Caral Trammel, Joe Reeves, Billy Powers, Fleetwood Stanfill, Billy Bobbitt, Ben
Douglass Jr., Jerry Byrd, Eddie Holmes-equipment manager; (middle row, from left) Bobby
Deere-equipment manager; Charles Adeock, James Roy Williams, Johnny Pearson, Billy
Kelley, John Luther Roberts, Wayne Hinson, Billy Joe Havener, Harold Segerson, Ray
Frizzell, Ben Hay, Tony Adams, Coach Claude Hill, (back, from left) Coach Gill Gideon Jr.,
Waynard Carey, Gen Ray Essary, Royal Woods, T. Dailey, Joe Allen Arnold, David Wheeler,
Carl Dickerson, Billy Dennison, Charles Duck, Pete Meadows and Douglass Lewis. Photo
provided by Mrs. H.L. Segerson.
Return to Lexington High School History Page