FORMER LHS BASKETBALL PLAYERS, COACHES HONORED
December 4, 1996
Lexington Progress
Big Red fans turned out in large numbers last week to honor the rich tradition of Tiger and Lady Tiger basketball.
A number of figures from the Big Red basketball history, both players and coaches, were presented plaques recognizing their achievements. Also, banners marking the trips by Big Red teams to the state and sub-state tournaments were dedicated along with banners displaying players' retired jerseys. The state and substate banners now hang on the south wall of Big Red gymnasium with the jerseys hanging from the ceiling. Following are some of the facts and figures from the Big Red basketball history books.
Big Red squads making state and substate, and coaches, were: 1957-Boys-Coach Gil Gideon, 1960-Boys-Gil Gideon, 1961-Girls-Gil Gideon, 1961-Boys-Gil Gideon, 1963-Girls-Coach Jerry Graves, 1964-Girls-Jerry Graves, 1964-Boys-Jerry Graves, 1966-Girls-Jerry Graves, 1970-Boys-Coach Sammy Fisher, 1971-Boys-Sammy Fisher, 1974-Girls-Coach Don Martin, 1974-Boys-Coach Sammy Fisher, 1976-Boys-Sammy Fisher, 1977-Boys-Sammy Fisher, 1979-Girls-Don Martin, 1979-Boys-Sammy Fisher, 1980-Boys-Sammy Fisher, 1988-Girls-Coach Richard Foster, 1993-Girls-Coach Dawn Rogers, 1995-Girls-Coach Harlan Fesmire, 1996-Girls-Harlan Fesmire.
The following people honored at last week's ceremony and their honors are as follows.
Jerry Graves- (1955-1957). He was All-American. Graves scored 1,156 points in his senior year, averaging 34.9 points per game, a state record at the time. Graves scored 46 points in the Regional Tournament, also a state record and scored 36 points in the State Tournament. Coached by Gil Gideon, he was named All-District in 1955, 1956 and 1957; All-Region in 1956 and 1957, All-State in 1957 and All-American in 1957. He went on to play at Mississippi State University then returned to Big Red country where he has been a teacher and schools superintendent.
Larry Fry- (1969-1971). His statistics at LHS were unavailable but he is remembered as one of the greatest players to ever run the floor at LHS. One of the most frequently asked questions among Big Red basketball fans is "Did you ever see Larry Fry play?"
He was honored with All-District in 1969, 1970 and 1971; All-Regional in 1970 and 1971 and All-State in 1971. He was the #1 scorer and rebounder in the 1971 State Tournament. Fry went on to play college ball at Mississippi State and is now a high school principal in Grenada, Mississippi.
Sammy Fisher. He coached the Big Red from 1968 to 1981, posting a 302-98 record and helped familiarize Tiger fans with consistent state tournament berths. He took the Tigers to the State Tournament in 1970, 1971, 1974, 1976 and 1977 with Sub-State appearances in 1979 and 1980. He coached the Red to the State Class AA Runners-Up in 1971 and 1976. His expressive personality at courtside remains a vivid topic in Tiger talk.
Don Martin. He coached the Lady Tigers from 1967 to 1981, achieving the Sub-State Tournament in 1974 and 1979. He is now a teacher and assistant principal at LHS.
Charlotte Hart (Gause). Played from 1981 to 1984 under Coach Richard Foster. She had 1,386 career points while maintaining "All-Star" status in the classroom and off the court. In 1982-1983, she averaged 20.1 points per game and in 1983-1984, she averaged 22.4 points per game. Her playing skills landed her starting spots on All-Star teams that played across the U.S. and beyond. She was named All-District (14AAA) in 1983-1984, All-Region in 1983-1984, All-West State in 1983-1984 and West All-Star in 1983-1984. She went on to star at Union University, helping the Lady Bulldogs to establish a program respected throughout the nation.
Richard Foster. Coached the Lady Tigers from 1981 to 1990, achieving the Sub-State in 1988. He went on to coach at North Side High School where he now serves as a principal.
April Pearson. A Lady Tiger from 1992-1996, she rewrote the record books. She averaged 15.9 points per game as a freshman, 18.3 as a sophomore, 19.4 as a junior and 17.3 as a senior, totaling 2,250 career points and averaging 17.7 points per game during her high school career. She also averaged 6.3 rebounds and had over 500 each in assists and steals. Coached by Harlan Fesmire as he broke into the high school arena, April achieved the following honors: 1992-1993: All-District, 1993-1994-All-District, All-Region MVP, 1st Team All-State (Sportswriters), All-West State, All-State Tournament Team; 1994-1995: All-District, All-Region MVP, 1st Team All-State (Sportswriters), All-West State, All-State Tournament Team; 1995-1996: All District MVP, All-Region MVP, 1st Team All-State (Sportswriters), All-West State, Honorable Mention All American (USA Today and Street & Smith), State Miss Basketball Finalist, All-State Tournament Team. During her tenure as a Lady Tiger, LHS reached the State Tournament three of four years with a 92-36 record. She is now with the Union University Lady Bulldogs.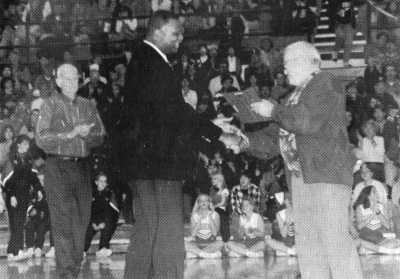 Former LHS Coach Sammy Fisher (right) presents a plaque to his former
player, All-Stater Larry Fry as former All-American Jerry Graves looks on.
In special dedication ceremonies last week standout basketball players in
Big Red history were honored along with the dedication of new banners
marking each Big Red trip to the State and Sub-State Tournaments.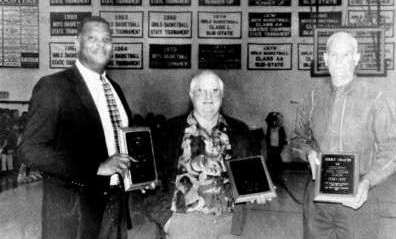 Former Big Red star players and coaches (from left) Larry Fry, Sammy
Fisher and Jerry Graves were honored at last week's LBS Big Red
Basketball celebration. The banners in the background recognize each
year that Tiger teams traveled to State and Sub-State Tournament action.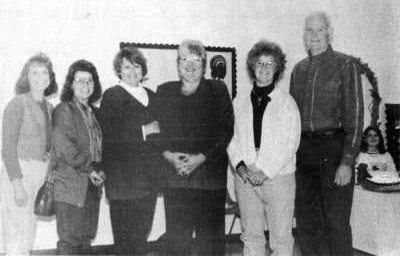 Remember the Lady Tigers' trips to the State Tournaments in 1963, 1964
and 1966? So do these folks--they were team members including (from left)
Jane Cody Robertson, Thelma Woods, Barbara Kizer Walker, Louise
Wilson Harris, Janice Garner Brewer and Coach Jerry Graves.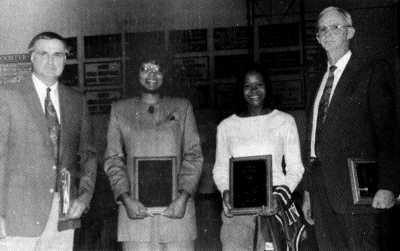 Some of those who helped build the Big Red Lady Tiger tradition (from left)
Richard Foster, Charlotte Hart, April Pearson and Don Martin
were honored in ceremonies last week at LHS.
Return to Lexington High School History Page