LEXINGTON HIGH SCHOOL 1961 GIRL'S BASKETBALL TEAM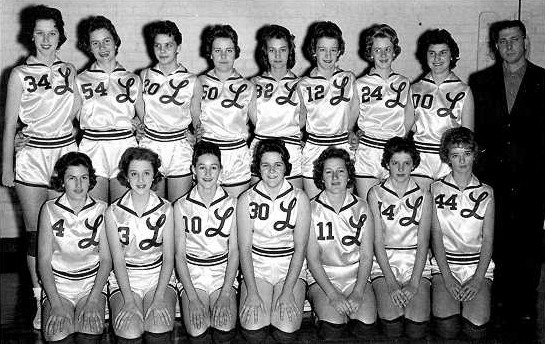 The 1961 LHS girls' basketball team. This was the first girls' team from Henderson County to go to
state, where they won their first game 61-52. In addition, Coach Gideon was the only coach to handle
teams in both the boys and girls state tournament in 1961. Standing left to right: Jane Hinson, Jeanetta
White, Patricia Anderson, Gaye Lewis, Ridonna Wood, Lucy Wood, Linda Anderson, Judy Kizer,
Coach Gill Gideon. Kneeling left to right: Joyce Gilbert, Patsy Patton, Majorie Graves, Diana Myracle,
Diane McKee, Ann Wood, Ella Mae Woods. (Photo-Beth Arnold Lee).
Photograph from Emily Davis and Brenda Kirk Fiddler, Henderson County, Tennessee: A Pictorial History (Rose Publishing Co., Humboldt, Tennessee, 1996).