DEDICATORY EXERCISES OF MONTGOMERY SCHOOL
from the collection of Janice Beal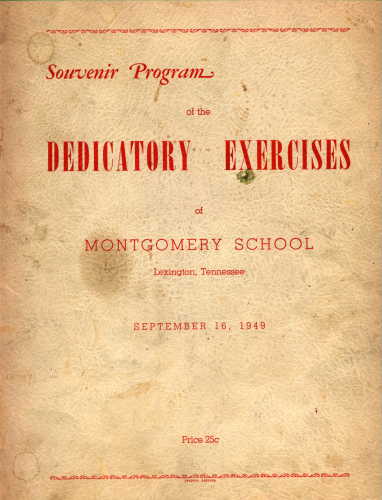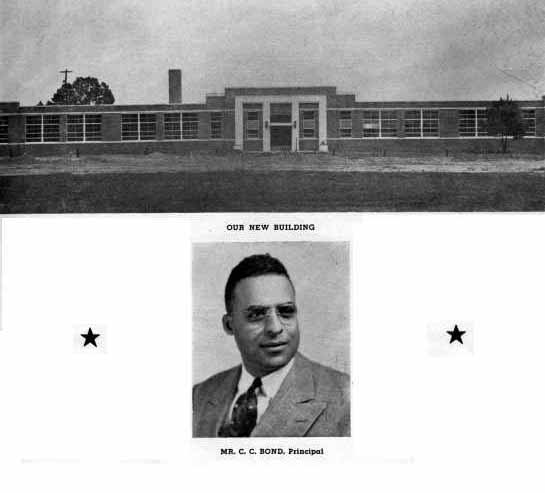 THE PRINCIPAL'S MESSAGE
To the Parents, Students, and Friends of Montgomery School:
May I take this opportunity to express our thanks and most profound appreciation for your wonderful cooperation in helping to make our New Building a reality.
It is to the everlasting credit of our conscientious and determined student body, and the unfailing loyalty of our faculty that this building has been made possible. We also realize that without the never ending understanding of the Superintendents, Boards of Education, City and County Officials, and State Legislators our efforts would have been in vain. Due to the fact that it is the duty of these men to look after the educational needs of our children, their foresight in enacting laws designed to provide funds to more adequately meet the needs of the youth of our land has greatly enabled us to celebrate this occasion today. Therefore, as we dedicate this magnificent building, we pay tribute to our outstanding educational leaders and our many friends.
To the Members of the Departments of Education, and especially this Division of Negro Education, we are grateful to you and your wise council and untiring efforts in helping us to carry this project through to its finality.
To the Parents and Friends who helped us with their influence and money, and whose confidence never wavered nor faltered, we shall be ever grateful to you.
This occasion is not one to be wholly set apart as a period of rejoicing, but, to me, it should serve as a challenge for all of us to go forward with a program of education which will be crowned with solid achievement; a program that will develop the youth of our land into upright and responsible citizens, who will not only reflect credit to their race, but glory and honor to God.
---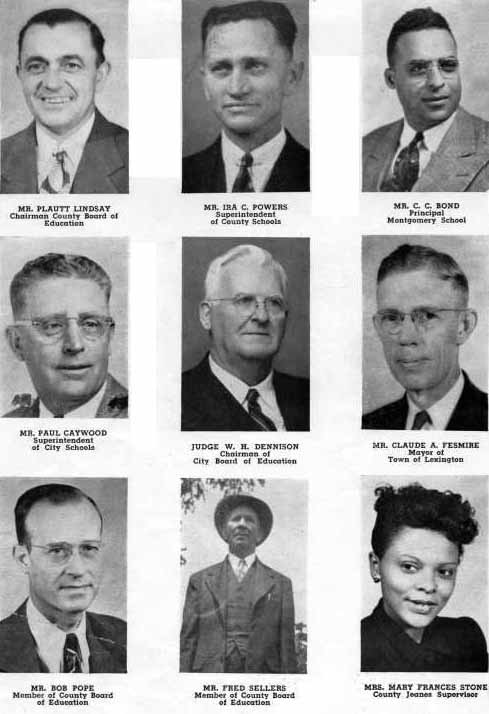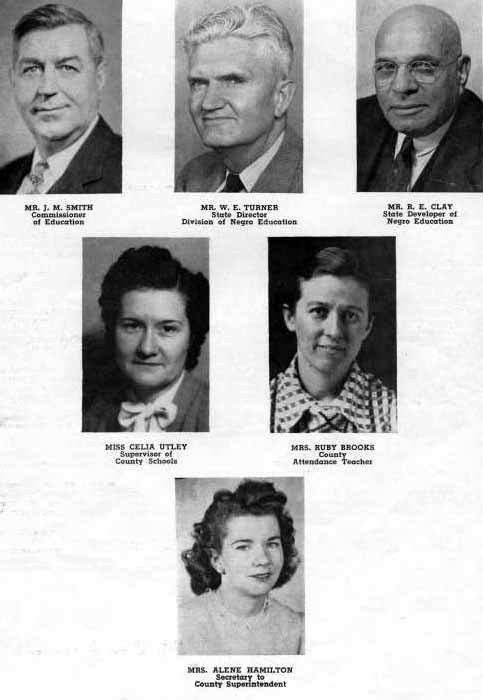 ---
BRIEF HISTORICAL SKETCH OF MONTGOMERY SCHOOL
By Mrs. Juanette Beasley
Montgomery School, in the Town of Lexington, (Henderson County), Tennessee, is a public institution for the education of Negro boys and girls of Lexington and Henderson County.
The school operated for quite some time near the Pilgrim Rest Baptist Church under the name of Lexington Colored School. Some of the pioneers of the early school were Prof. G. W. Beale, Prof. J. H. Edwards, and others.
In the year of 1923, a new site was secured, and through the help of the Rosenwald Fund and public subscriptions, the school was moved to its present location. Prof. J. A. Vincent served as its first principal with Mrs. Susie Newsom, his assistant.
In 1927, Prof. A. E. Gray, the next principal, was given permission to organize a high school. At this time, the name was changed to Montgomery High School.
With a continuous increase in the enrollment, it became necessary to construct a second building, as well as to increase the teaching staff. Thus, in 1928, a two room building was erected. Even this proved inadequate to meet the needs; therefore, two more rooms were added in 1930. In 1934, the institution sent out its first graduating class.
In the spring of 1935, a gymnasium was started.
On July 17, 1935, Prof. C. C. Bond, the present principal, began his teaching career here at Montgomery. He succeeded Prof. A. E. Gray, who resigned here to accept a position as principal of the high school in his home town, Winchester, Tennessee. The faculty, then, consisted of seven members, with a total enrollment of one-hundred and sixty-seven students, thirty-seven of which were high school students.
Through the efforts, sacrifices and energy of Prof. C. C. Bond and others associated with him; and with the help of the National Youth Administration, a modern dormitory and teachers' home was added in 1940, at a cost of $10,000. With the new building erected, the campus took on new form.
The continued growth of the school caused the buildings to become very congested, making it quite apparent that larger and better equipped accommodations were needed. Thus, in the year of 1944, under the dynamic leadership of the principal, the faculty, students and friends of the institution began raising funds for the construction of a new building. The campaign instituted in 1944, came to a successful close in April of 1945, when the sum of more than $5,000 was turned over to the building committee. The following persons served as members of this committee: Judge E. L. Stewart, Mrs. Elizabeth Pearson, Mr. W. M. Goff, Rev. Walter Warmath, Prof. C. C. Bond, Mr. Paul Caywood, and Supt. Ira C. Powers.
In 1945, the City and County Boards of Education committed themselves to the proposition of building a school which would meet the needs of the Negro youth of our community. Due to the shortage of materials immediately following the war, as well as the exorbitant cost of the materials that could have been purchased, construction was delayed. It was in November of 1948, with a total amount of $165,000 appropriated, that work actually began.
Today, the light of progress beams all around us. The school faculty has increased from two members to twelve, with a curriculum consisting of the following courses: English, Home Economics, Mathematics, Science, History, Government, Geography, Music, Commerce, and Agriculture. The program is designed so as to meet the interests, needs, and abilities of all of the children through active participation.
The total enrollment numbers more than three-hundred pupils. There are people in various walks of life who are graduates of this school. The first graduating classes contained between five and ten persons, while those in the latter classes numbered twelve to eighteen persons.
There are several student organizations connected with the school. Among them are the following: Choral Society, English Club, N. H. A. Club, N. F. A. Club, Dramatic Club, Courtesy Club, and Athletic Clubs. Now as educational activities are about to begin in this magnificent new building, one looks with confidence to the future of this institution, for it has risen from humble beginnings to great heights, and has proven to be a source of pride for our community.
The new building, a beautiful brick structure with all new equipment and modern conveniences, has just been completed at an approximate cost of $170,000. On the main floor are the principal's office, the County Jeanes Teacher's office, classrooms, the library, a library work room, a spacious corridor which extends-the full length of the building, two latrines for boys, two latrines for girls, one for lady teachers, and an auditorium which has a seating capacity of 550. The completely equipped Home Economics Department is located in the basement, as well as the ultra-modern school cafeteria.
Some of the aims of the institution are to assist its youth in:
Developing character.
Discovering mental aptitudes, and training them.
Acquiring scholarly habits of work and study, and
Preparing themselves for citizenship today.
It is believed that youth can best be prepared for life by being prepared to live today.
Now, as we close this brief historical sketch of Montgomery School in September of 1949, may we say with Diogones, "The foundation of every state is the education of its youth."
---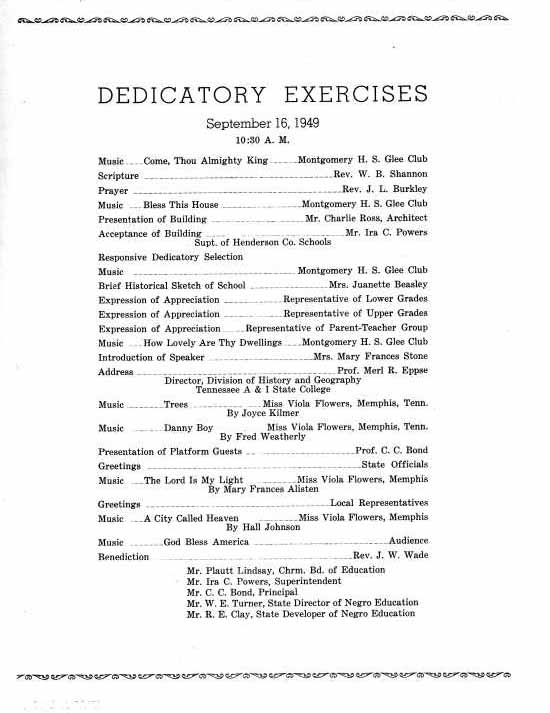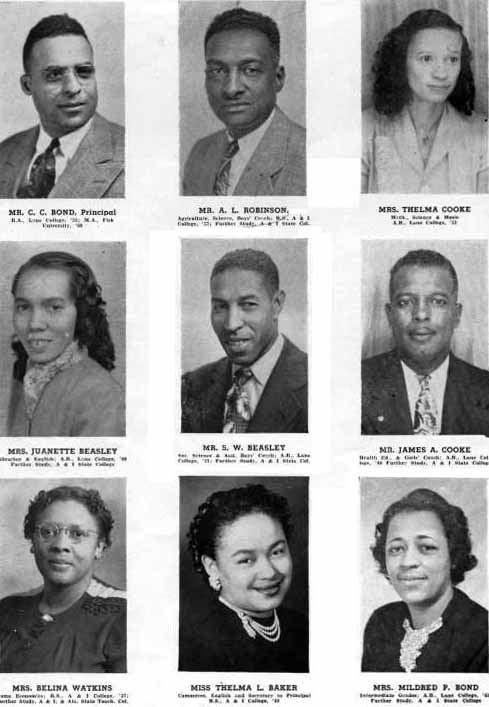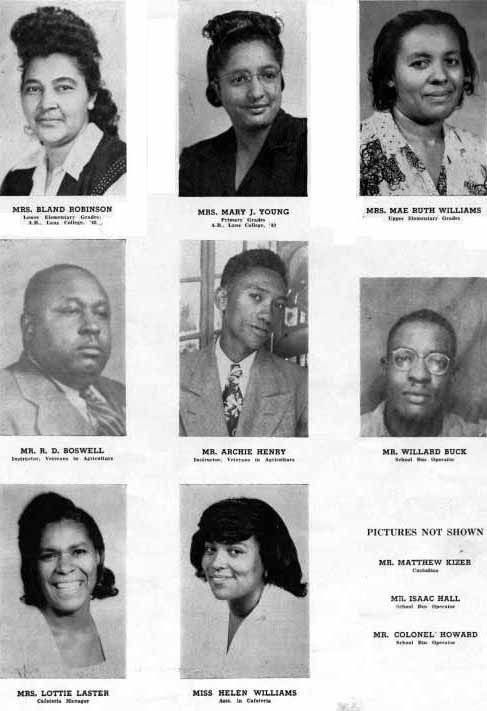 ---
COUNTY OFFICIALS
Honorable E. L. Stewart, County Judge
Mr. Clyde Reeves, County Trustee
Mr. Hal Johnson, County Court Clerk
Mr. B. A. Todd, Circuit Court Clerk
Mr. Herb Tolley, County Register
Mr. G. Tilman Stewart, Veteran Service Officer
Mrs. Robbie Wallace, Clerk And Master
Honorable W. H. Dennison, General Sessions Judge
Mr. Ducan Roberts, Tax Assessor
Attorney E. W. (Jude) Essary, Jr., Purchasing Agent
Mr. Ernest Wilkins, County Sheriff
Honorable David Murray, Attorney-General
Honorable Andrew (Tip) Taylor, Circuit Judge
CITY BOARD OF ALDERMEN
Mayor Claude A. Fesmire
Mr. H. B. Bagwell, Recorder
Mr. Austin Bobbitt
Mr. E. W. (Jude) Essary, Jr.
Mr. John Albert Hancock
Mr. Joe V. Holmes
Mr. Fred Odle
Mr. Alfred Wallace, Jr.
COUNTY BOARD OF EDUCATION
Mr. Plautt Lindsay, Chairman
Mr. Ira C. Powers, Superintendent
Mr. L. W. Adams
Mr. Oscar Douglas
Mr. S. M. Hayes
Mr. Sherman Johnson
Attorney Elco Kennedy
Mr. Arch Martin
Mr. Fred Sellers
Mr. Bob Pope
CITY BOARD OF EDUCATION
Judge W. H. Dennison, Chairman
Mr. Bill Belew
Mr. Claude A. Fesmire
Mr. John Albert Hancock
Mr. Leroy Holmes
Mr. O. H. Roberts
Mr. Threadgill Stewart
MEMBERS OF COUNTY COURT
Attorney E. L. Stewart, Judge
Mr. Lyman Armstrong
Mr. Joe Azeill
Mr. John Ballard
Mr. Evie Coffman
Mr. Ralph Deere
Mr. Ben Douglas
Mr. Audie Duke
Mr. Clyde Dyer
Mr. J. N. Dyer
Mr. Dewey England
Mr. John Gibson
Mr. Lonnie Hayes
Mr. Gene Helms
Mr. John Little
Mr. Silas E. Little
Mr. Guy Mangrum
Mr. S. H. Pearson
Mr. Glenn Pressley
Mr. A. T. Stewart
COUNTY TEACHERS
Mrs. Rexie Mae Neal, Dry School
Mrs. Eula Mae Kennedy, Kizer School
Mrs. Willie B. White, Luray School
Mrs. Louise K. Small, Luray School
Miss Juanita Thomas, Holly Springs School
Mrs. Margie Williams, Pritchard School
Mrs. Nettle Mae Dixon, Coopers Grove School
Mrs. Marie B. Young, Pleasant Hill School
Mrs. Virginia Douglass, Park Meal School
Mrs. Levera Flowers, Timberlake School
Mrs. Rosie Mae Coffee, Joyner Grove School
---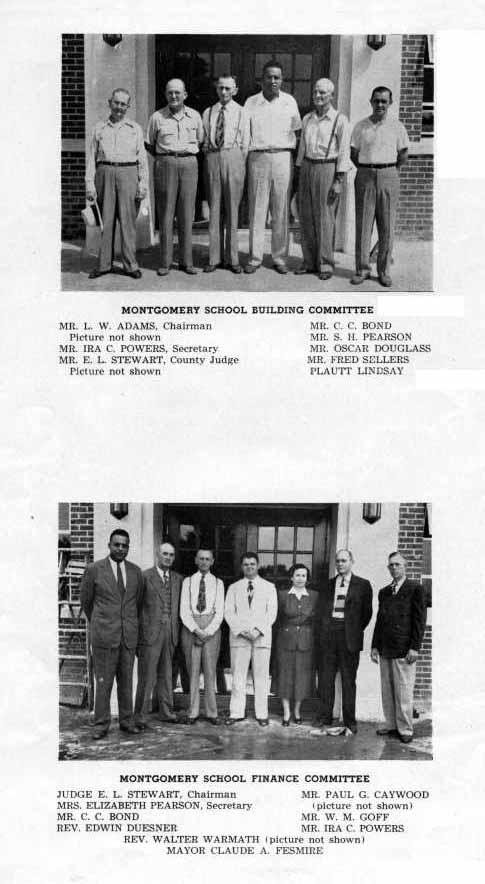 ---
Wisdom is the principal thing; therefore get wisdom;
and with all thy getting, get understanding.
Proverbs VII, 11