MONTGOMERY HIGH SCHOOL REUNION
Lexington, Tennessee (1996)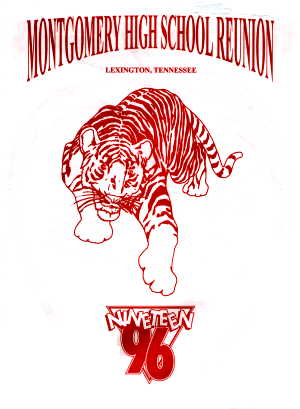 WELCOME
We, the officers, members and friends of the Montgomery Alumni Association of Lexington, Tennessee do welcome all of our former faculty, alumni, friends, and visitors to the 1996 Homecoming Reunion. We truly hope that your stay and visit with us will be an enjoyable one.
We are thankful and appreciative for the cooperative spirit that prevails among our supporters and participants. We are not only grateful for the generous favors provided by some, but the many small services people in the community rendered as well.
The Montgomery Alumni Association
Lexington, Tennessee Chapter
SCHEDULE OF EVENTS MONTGOMERY REUNION 1996
Friday, July 5, 1996
Registration
Hospitality Hour and Fish Fry, 6:00 P.M.
Saturday, July 6, 1996
Parade and Pep Rally, 10:00 P.M.
Saturday, July 6, 1996
Fashion Show and Lunch, 12:00 P.M.
Alumni Meeting
Alumni Banquet, 6:00 P.M.
Guest Speaker -- Mr. James H. Pearson
Alumni Homecoming Dance, 8:00 P.M.
Sunday, July 7, 1996
Worship Service, 11:00 A.M.
Guest Speaker -- Rev. Willie Swift
***NOTE***Al1 events will take place at the Bond-Robinson Community Center. If you plan to participate in the parade, you need to decorate your automobile. The parade will start from the First Baptist Church parking lot on South Main Street and end at Montgomery High School.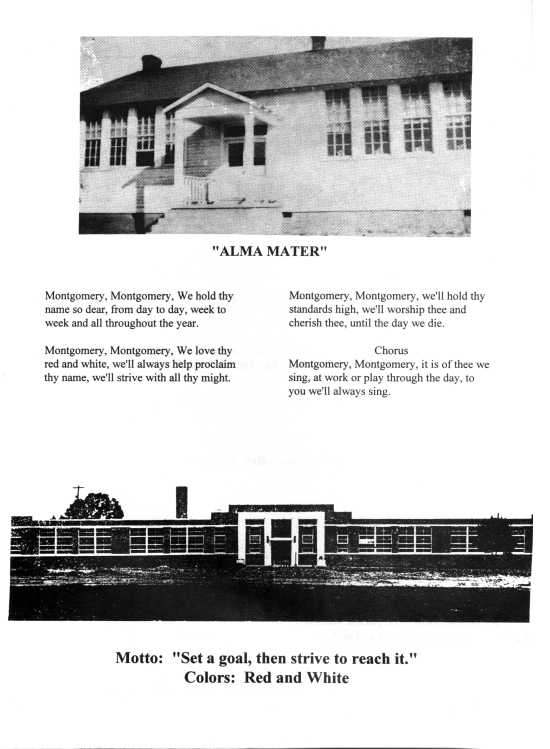 A HISTORY OF MONTGOMERY HIGH SCHOOL, Lexington, Tennessee
Throughout history societies have sought to educate their people to produce goods and services, to respond effectively and creatively to their world and to satisfy their curiosity and aesthetic impulses. First, we will deal with this question: How did Montgomery contribute to the education of its students?
The purpose was to prepare the Negro Youth to find his/her place in society to become a benefactor in society. To prepare them to maintain a livelihood, and to educate the hands, heart, head and health. The administration of Montgomery committed themselves to educate children from many backgrounds. There were students who came from near and far to attend Montgomery. The faculty regarded children as persons, not as problems. They never turned their backs on anyone. The faculty always recognized the educational value of intellectual exploration and of concrete experimentation.
The school (Montgomery) operated for quite sometime near the Pilgrim Rest Baptist Church under the name of Lexington Colored School. Some of the pioneers of the early school were Prof. G.W. Beal, Prof. J.H. Edwards, Odessa Hurt Wadley, and Daisy Edwards. Prof. J. H. Edwards served as principal of this school.
On July 17, 1935, Prof. C.C. Bond began his teaching at Montgomery. He succeeded Prof. Gray as principal. The faculty, then consisted of seven members, with a total enrollment of one-hundred and sixty-seven students, thirty-seven of which were high school students.
The continued growth of the school caused the buildings to become congested, making it quite apparent that larger and better equipped accommodations were needed. In the year of 1944, under the dynamic leadership of the principal, the faculty, students and friends of the institution began raising funds for the construction of a new building. The campaign instituted in 1944, came to a successful close in April of 1945, when the sum of more than $5,000 was turned over to the building committee.
On November 15, 1956, Prof. A.L. Robinson succeeded Prof. C.C. Bond, who resigned here to accept a position of a high school in Chattanooga. Before taking over as principal of Montgomery High School, Prof. Robinson taught agriculture, science and coached the boys basketball team. Under the great leadership of Prof. Robinson, a new addition was added, on the school, which consisted of a Home Economics Department and several classrooms. Great works continued on under the leadership of Prof. Robinson. He saw that each boy and girl got the best education possible. This great, Montgomery High School, will always be remem bered by all the great leaders it had under its roof.
But the memories of our past lives on when we see our former students and graduates occupying creative and productive places in the society of today's world.
PRINCIPALS OF MONTGOMERY HIGH SCHOOL
Prof. J.A. Vincent*
Prof. A.E. Gray*
Prof C.C. Bond
Prof A.L. Robinson
FACULTY MEMBERS OF MONTGOMERY HIGH SCHOOL
INCLUDING TEACHERS WHO TAUGHT IN THE COUNTY
Alderson, Leroy
Atkins, Thelma
Beal, George W.* County
Beal, Janice
Beasley, Juanita
Beasley, Samuel
Bond, Mildred
Boswell, R.D.*
Boyd, J.L.
Bromlett, Betty
Buck, Jean T.
Coffee, Rosie M., County
Cooke, James A.
Cooke, Thelma*
Crockett, Ruby Sue
Dangerfield, Constance
Douglass, Virginia, County
Edwards, Daisy*
Edwards, J.H.*
Gray, L.K.*
Hardy, Augusta Allen
Hardy, Honora
Hays, Mattie
Hemy, Archie*
Hillyard, Willie B.
Hudson, Georgia,* County
Ivy, Floyd,* County
Ivy, Myrtle
Jones, Shirley Phelps
Kennedy, Eula M.*
King, Joseph

King, Josephine
Miller, N.B.*
Mitchell, Grace
Neal, Rexie M., County
Newsom, Susie*
Offecer, Thelma Baker
Parker, Odell
Pearson, James H.
Pearson, Ollie
Priddy, Laveria Flowers
Reed, Johnnie
Robinson, Bland*
Robinson, Ramona
Small, Louise, County
Stone, Frances, Supervisor
Taylor, Frances
Teague, Seldon J.
Thoma, Juanita, County
Vaughn, Patricia
Wadley, Mary J.
Wadley, Odessa H. *
Watkins, Belina*
Werthing, John
White, Nettie M.*
Wiley, Lewis
Williams, Mae Ruth
Williams, Margie, County
Wilson, Opal*
Woods, Mary E.*
Young, Marie,* County
*DECEASED
DEDICATION
In this time of advanced technology, drug abuse, world unrest, educational inadequancy and international health problems there is no goal of higher priority than that of the evaluation of and nourishment of the defunct black high school or the persons responsible for their existence whether living or deceased.
It is with much adoration and pride that we, the members, directors and friends of Montgomery High School, feel an essential need to forever keep the dream of our culture and heritage alive. We proudly take this time out to salute this historically black school, who for generations generously gave of its time, talents, and material resources to young black girls and boys in whom they believed. Because we believe that the excellence of those black educators could not and cannot be duplicated we hold fast to the ideas of promise.
It is our prayer that what we do and say here during the Montgomery High Reunion, Our Year, will lift up the consciousness of all persons who were led into the educational arena by way of a black school and who strive to maintain the highest standard of values that our forefathers and foremothers hoped would build a foundation that would remain solid, as well as share with our community the special bond of that unique kind of love, and in so doing uplift all Tennesseans, their kin and friends. While we realize we hold no monopoly on love for our old school and its common heritage, we truly believe it is not only love worth finding in today's hostile society, it is love SHARING.
- Montgomery Alumni Association
A GIANT LEAVES A LEGACY IN EDUCATION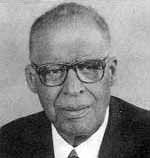 Dr. Claude C. Bond
Whether it is a building named for him, an endowed chair that bears his name, or one of the many persons touched by him, the influence of Dr. Claude C. Bond will be long remembered. "A labor of love" best describes the professional life of Dr. Bond. From his first appointment as the teacher in a one room school to his appointment others through education. The legacy that he leaves will long be remembered, for he touched many lives as he moved throughout the state working in his chosen profession.
Dr. Bond taught in Henderson County for 23 years with 21 spent at Montgomery School and two in the county. At Lane College, he was captain of the football team, student body president, vice president of the senior class and publisher of the school newspaper. He later received a master's degree in education administration from Fisk University.
G. Tillman Stewart was superintendent of Henderson County School during the segregation days of the 1930's, when Bond came to Henderson County in search of a teaching position from Brownsville. Stewart was impressed with Bond, but told him there were no vacancies at the time, but a group of 25 to 30 black children from near Wildersville "needed to go to school but we had no building." Not one to hesitate at obstacle, Bond "gladly accepted" the proposal to teach "under a shade for the summer term" and Stewart's word to "do our best to get him a building for the winter term."
In those pioneering days, Bond's leadership potential and concern for students demanded respect and when the principal's position opened up at Montgomery, Bond got the job. The Rosenwald Fund had supplied enough money to add rooms and make the school a junior high, later became a senior high school.
After a vital 21 years at Montgomery, Bond was offered the principalship of Hamilton High School in Chattanooga. But the mark of C.C. Bond was made in Henderson County and county made it's influence on the man. Bond's dedication to "being there at any time" for the betterment of education has highlighted his career.
The main credential a teacher needs to have in a classroom "is to have that love in his or her heart and respect for the children he or she teaches," says Bond. If you don't have that love and respect-that there's worth and dignity in every child-they'll soon determine you don't have it and nothing you teach will have affect because they won't like your person and they'll know you don't believe in them."
In a treatise that describes a special kind of people, Edgar Dale wrote these words that seem to have been written for Dr. Bond: "The men and women whom we admire will put in more than take out. They are broadly cooperative where others are narrowly competitive. They see life not as ladder but as a spiraling circle with room enough for everyone to reach a higher level. They are 'we' centered, not 'me' centered. They have a bifocal vision-can see both the present and the future. They do not look to the past longingly; they have no need for comforting nostalgia. They look forward, not backward. They plant trees under whose shade they will never sit. They spend their lives working for something that will out last them."
Dr. Claude C. Bond truly distinguished himself as a giant of education.
PROF. A.L. ROBINSON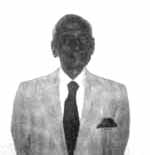 Prof. A. L. Robinson
No man has remained at the helm of an institution for as long a period and with so much conquered. None other has won so many friends to such a significant cause. None other found the need to be true to such a unique beginning. Prof. Robinson, able teacher, leader in the area of education, traveler, scholar, and teacher has served with distinction as principal of Montgomery High School.
Fully cognizant of the problems faced by an institution of higher learning during critical times, Prof. Robinson has served with integrity and leadership ability so vitally to see that the school moved forward. Through it all, Prof. Robinson's feet have remained firmly planted on the ground. He is a Christian gentleman of sound training high moral character, indefatigable energy, sensitive civic consciousness and a valued educator.
Prof. A.L. Robinson succeeded Prof. C.C. Bond to become Principal of Montgomery School in 1956. Before taking the position as principal, he taught agriculture, science and coached the boys basketball team. During his leadership, a new addition was added, consisted of a Home Economics Department and classrooms. He saw that each boy and girl got the best education.
Prof. Robinson served until the school phased out in 1967, as a center of public school education, because of a new change "desegration." After the closing of Montgomery High School, Prof. Robinson served as Title One Director, Member of the Henderson County Board of Education, in various civic organizations and is very active with the Senior Citizen Organization.
This great man will forever remain in a special corner of our hearts, with admiration and love. Remember the great words of Mr. Robinson, "There's no secret to success other than, Work, Work , and more Work." These great words can also be stated about Prof. Robinson, "The life a great man here reminds us that work can make a life sublime and in service leave for those who follow, footprints on the sands of time." LOOKING GOOD IN HIS 90's.
Class of 1966 Montgomery High School
Smallest Graduating Class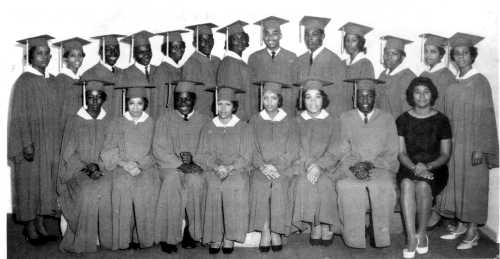 Left to Right Standing: Judith Menzies, Essie Smith Moffitt, Charles Kizer, *Billy Priddy, Carrie Priddy Cathey, J.W. Kizer, Jr., Dolores McDonald Carter, Larry Randles, Lewis Arnold, Elsie Hart Rogers, Linda Hart, Teresa Prater, Margaret Buckley Browning.
Left to Right Sitting: Shirley Priddy Flake, Edith Cathey Harmon, John Easley, *Barbra Timberlake Harden, Gracie Parker Timberlake, Ora Seats Easley, *Howard Trice, Mrs. Janice Beal, Senior Sponsor.
This picture is dedicated with love to all of our other classmates, to our *deceased classmates families.
A special thanks to our Family
"Class of 66"
Yesterdays Graduates are Today's 30 year Alumni
IN MEMORY OR OUR LOVED ONES
Have you ever seen something you adored in life?
Have you ever wondered how some people can always do right?
Have you ever thought about the good of living?
If so, then you've thought about our loved ones.
There comes a time when we all must go.
A time when we must travel death's road.
Even though this happens every day.
It still affects us in the same way.
A warm and friendly smile has just faded away.
A face of laughter, happy and gay.
When we look around Montgomery in the tomorrows,
Our hearts will always be filled with sorrows.
We shall cherish them and their memories from henceforth.
We shall remember how they used to laugh,
We shall never let this sound depart.
The Almighty God Knows all things.
So we know they are safe with him.
When we go forth to open life's doors.
We'll remember them, our friends, and their heart of gold.
Yes, into life there comes a time of glory,
There comes also time for everyone to share life's story.
There comes also a time for peace,
May our loved ones find it in God's deep sleep.
Why, oh why, dear God, we ask.
Why did you take them?
But the only answer that we get,
Is God thought our loved ones needed to rest.
We will miss them and always will,
But they will always remain with us still
Yes, there comes a time for all things in life,
A time for happiness, a time for grief,
A time for joy and a time to weep,
THIS IS SUCH A TIME….