A GIANT LEAVES A LEGACY IN EDUCATION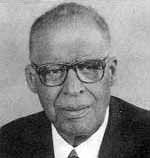 Dr. Claude C. Bond
Whether it is a building named for him, an endowed chair that bears his name, or one of the many persons touched by him, the influence of Dr. Claude C. Bond will be long remembered. "A labor of love" best describes the professional life of Dr. Bond. From his first appointment as the teacher in a one room school to his appointment others through education. The legacy that he leaves will long be remembered, for he touched many lives as he moved throughout the state working in his chosen profession.
Dr. Bond taught in Henderson County for 23 years with 21 spent at Montgomery School and two in the county. At Lane College, he was captain of the football team, student body president, vice president of the senior class and publisher of the school newspaper. He later received a master's degree in education administration from Fisk University.
G. Tillman Stewart was superintendent of Henderson County School during the segregation days of the 1930's, when Bond came to Henderson County in search of a teaching position from Brownsville. Stewart was impressed with Bond, but told him there were no vacancies at the time, but a group of 25 to 30 black children from near Wildersville "needed to go to school but we had no building." Not one to hesitate at obstacle, Bond "gladly accepted" the proposal to teach "under a shade for the summer term" and Stewart's word to "do our best to get him a building for the winter term."
In those pioneering days, Bond's leadership potential and concern for students demanded respect and when the principal's position opened up at Montgomery, Bond got the job. The Rosenwald Fund had supplied enough money to add rooms and make the school a junior high, later became a senior high school.
After a vital 21 years at Montgomery, Bond was offered the principalship of Hamilton High School in Chattanooga. But the mark of C.C. Bond was made in Henderson County and county made it's influence on the man. Bond's dedication to "being there at any time" for the betterment of education has highlighted his career.
The main credential a teacher needs to have in a classroom "is to have that love in his or her heart and respect for the children he or she teaches," says Bond. If you don't have that love and respect-that there's worth and dignity in every child-they'll soon determine you don't have it and nothing you teach will have affect because they won't like your person and they'll know you don't believe in them."
In a treatise that describes a special kind of people, Edgar Dale wrote these words that seem to have been written for Dr. Bond: "The men and women whom we admire will put in more than take out. They are broadly cooperative where others are narrowly competitive. They see life not as ladder but as a spiraling circle with room enough for everyone to reach a higher level. They are 'we' centered, not 'me' centered. They have a bifocal vision-can see both the present and the future. They do not look to the past longingly; they have no need for comforting nostalgia. They look forward, not backward. They plant trees under whose shade they will never sit. They spend their lives working for something that will out last them."
Dr. Claude C. Bond truly distinguished himself as a giant of education.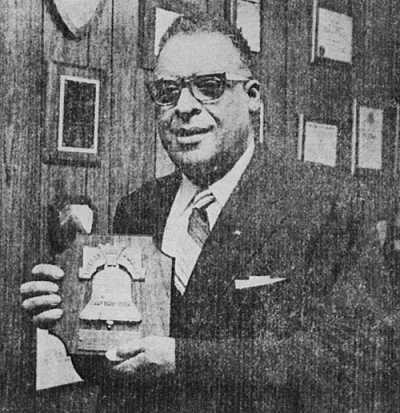 Clipping of Dr. Claude C. Bond reproduced in G. Tillman Stewart's
Henderson County, Tennessee
(Memphis State University Press, 1979).