CENTER AWARDED $90,000 GRANT FOR RENOVATION
by Jimmy Hart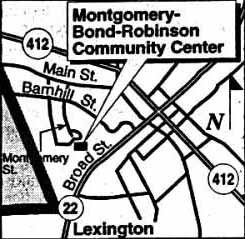 August 27, 1997
Jackson Sun
The state funds will aid in refurbishing the Henderson County center's gymnasium
LEXINGTON — After years of facing wavering support and an uncertain future, a local community center is getting a needed boost from the state and county to fulfill its goal of better serving local youth.
The Montgomery-Bond-Robinson Community Center has received a $90,000 state grant for renovations to its gymnasium.
State and local officials announced the award here Tuesday at the Henderson County Courthouse.
The funds will go toward reopening the county's cannery, resurfacing the gym floor, renovating a room for GED and school tutoring, locker rooms, a game room, two classrooms and handicap restrooms.
The county will match the grant primarily with in-kind services such as labor and materials.
Montgomery School was an all-black, K-12 school that closed in the late 1960s because of integration.
The Montgomery Alumni Association, which has a 99-year lease on the center, took over the facility but has struggled raising the necessary funds for renovations.
The grant was good news to Sam Timberlake, president of the association, who said the association had obtained smaller grants before, but nothing like this.
"I'm really excited about it," Timberlake said. "It's about time we've gotten some assistance on that project over there.... We've been trying for a long time."
The county formed a nine-member recreation board last year that included association members as part of a grassroots effort to apply for the funds and develop educational and recreational programs for the county's youth.
Jacky Maness, recreation board chairman and county commissioner, said services at the center have already begun.
Officials hope to finish the project within nine months, he said.