THE MONTGOMERIAN
from the collection of Marilyn Henry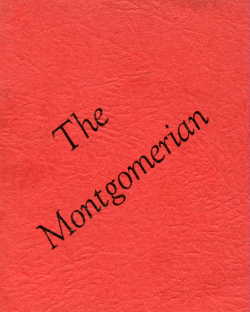 The following is a student handbook which dates to the 1958-1962 period at Montgomery High School.
THE MONTGOMERIAN
A Handbook For Students
At MONTGOMERY HIGH SCHOOL
Lexington, Tennessee
TABLE OF CONTENTS
FORWARD
PRINCIPAL'S MESSAGE
HISTORY OF MONTGOMERY HIGH SCHOOL
ALMA MATER
BOARD OF EDUCATION
STATE REQUIREMENTS
FACULTY AND STAFF PERSONNEL
HOW WE DO THINGS
OUR LIBRARY
STUDENT ACTIVITIES AND CLUBS
FORWARD
This little handbook is intended to acquaint the students of Montgomery High School with phases of the school program including the curriculum, faculty, rules and regulations.
The Handbook Committee
PRINCIPAL'S MESSAGE
I take this means of extending to our entire student body a hearty welcome. Believing that good manners must adorn all knowledge and that they are the supreme quality of a beautiful personality. Will you labor in order that good manners may be a part of your every day world and actions?
I am sure this little handbook will prove to be valuable to you. It will serve as a .guide to students in our school community. Remember each student has a responsibility in making our school an ideal one. We are looking forward to a most pleasant and successful school term.
HISTORY OF MONTGOMERY HIGH SCHOOL
Montgomery High School, in the town of Lexington, Henderson County, Tennessee, is a public institution for the education of Negro boys end girls of Lexington and Henderson County.
Some of the Pioneers of the early school were Mr. G. W. Beale, Mr. J. H. Edwards and others. Mr. J. A. Vincent served as its first principal with Mrs. Susie Newsom, his assistant.
In 1927, Mr. A. E. Gray, the next principal, was given permission to organize a high school. At this time the school was named Montgomery High School.
Today, the light of progress beams all around us. The school faculty has increased from two members to seventeen.
Our building, a beautiful brick structure which was completed in 1949 at an approximate cost of $180,000. With the library now extended, an agriculture building and gymnasium the approximate value of the school is $300,000.
PHILOSOPHY
We believe in an educational system, the personnel of which strives to:
Keep themselves and their work professional by further study, by belonging to professional organizations, by attending meetings and by practicing good public relations at all times.
Keep abreast of the times by reading and studying in order to apply this kaowledge and to reflect it in their methods, materials, activities and evaluation.
Make themselves better teachers by being examples in every way to the children they teach.
OBJECTIVES
The objectives of this school are to assist its youth in:
Becoming competent in the use of the fundamentals of learning and communication.
Discovering aptitudes and training them.
Recognizing the importance of high ideals and the value of self-discipline.
Achieve understandings, habits, and attitudes conducive to physical and mental health.
Recognizing the value of making wise business transactions
Developing an appreciation of the aesthetic values in all aspects of living.
Developing the feeling that he is an important part of the community.
Preparing themselves for citizenship today.
MONTGOMERY HIGH ALMA MATER
Tune: America The Beautiful
Montgomery! Montgomery! We hold thy name so dear, From day to day and week to week, and all throughout the year.
Chorus
Montgomery! Montgomery! It is of thee we sing. At work or play throughout the day, To you we'll always cling.
Montgomery! Montgomery! We love thy red and white. We'll keep thee clean and honor thee, we'll strive with all our might.
Montgomery! Montgomery! We'll hold standards high, We'll worship thee and cherish thee, Until the day we die.
MOTTO: "Set a goal, then strive to reach it."
COLORS: Red and White
MASCOT: Tiger
BOARD OF EDUCATION
Ashley Adams, Superintendent
Tommy Lunsford, District 1
Stenson E. Washburn, District 2
Dayton Mcdaniel Jr., District 3
George Martin, District 4
Kenneth Hanna, District 5
Mrs. Jo Brooks, District 5
Ray Hayes, Chairman, District 6
Arlie Bivens, District 7
Hastings Jones, District 7
Gene Helms, District 7
* * * *
Mrs. Eva Derryberry, Supervisor
Mr. Y. Harrison, Band Instructor
Mr Erbie Lindsey, Attendance Teacher
Mrs. Nola B. Farmer, Speech and Hearing
STATE REQUIREMENTS
Regular Graduation Requirements
To meet the requirements for graduation, a pupil shall have attained approved attendance, conduct, and subject matter record which will cover a 12-year course, and this record shall be kept on file in the principal's office.
The program of studies shall include certain areas and certain content within these areas, and shall be flexible enough to facilitate progress from one stage of development to another, thus providing for more effective pupil adjustment. In grades 9 through 12, the following pattern of course shall be required to all students:
English, 4 units
Mathematics, 1 unit
American History, 1 unit
Health Education, 1 unit
One Major,* 3 units
Two Minors,** 4 units
Free Electives, 2 units
TOTAL, 16 units
The required unit in mathematics shall be either the unit in arithmetic, the first course in algebra, or applied mathematics.
One large area like business education or industrial arts may be broken down into majors and minors.
Guidance services are available to students at Montgomery. Agriculture, home economics, and general business are offered.
*May include the required unit in mathematics or the required unit in American history.
**May include the required unit in mathematics, American history, or health education.
FACULTY AND STAFF PERSONNEL
Mr. A. L. Robinson, Principal
M.S. Tennessee A & I State University
Mr. Joseph Arthur King Jr., Coach and Physical Education
Mrs. Laveria Flowers, First Grade
B. S. Tennessee A & I State University
Mrs. Bland Robinson, Second Grade
A. B. Lane College
Mrs. Willie B. Hillyard, Third Grade
A. B. Lane College
Mrs. Mary J. Wadley, Fourth Grade
A. B. Lane College
Mrs. Mae Ruth Williams, Fifth Grade
A. B. Lane College
Mrs. Nettle Mae White, Sixth Grade
A. B. Lane College
Mrs. Seldon J. Teague, Third, Fourth and Fifth Grades
A. B. Lane College
Mrs. Ollie L. Pearson Seventh Grade and Music
B. S. Tennessee A & I State University
Mrs. Eula Mae Kennedy, Eighth Grade and Guidance
A. B. Lane College
Mrs. Josephine T. King, English and Librarian
B. S. Alabama A & M College
Mr. Odell Parker, Agriculture
B. S. Tennessee A & I State University
Miss Grace Ramona Mitchell, Secretary, Business Education and English
B.S. Tennessee A & I State University
Mrs. Bellina Watkins, Home Economics
B.S. Tennessee A & I State University
Mr. James H. Pearson, Mathematics and Chemistry
B.S. Lane College, M.S. Indiana Univ.
Mr. George T. Beal, Mathematics
A.B. Lane College
STAFF PERSONNEL
MR. JIM KIZER, CUSTODIAN
MRS. ELIZABETH BUCK, CAFETERIA
BUS DRIVERS
Mr. Ed Douglas
Mr. McDonald Craig
Mr. Isaac Hall
Mr. James Johnson
Mr. David Mackey
HOW WE DO THINGS AT MONTGOMERY
Here at Montgomery, we have a tradition a way of doing things of which we are proud. The keynote of Montgomery is the democratic spirit of free America. Our rules and regulations are as follows:
The School Day
The school day begins at 8:00 a.m. and closes at 3:00 p.m. Classes start at 8:00 a.m. The rest of the day is divided into seven periods, one of which is for lunch.
Early Dismissal
Request for early dismissal or excuse from attendance during. part of the day must presented first to the Home Room teacher for a signed approval and then to the Principal. If a request is approved, the student should show it to all teachers whose classes he will miss.
Home-Room Period
The assembly home room period occurs between 12:30 p.m. and 1:30 p.m. at which time attendance is taken. This period is also used for guidance, announcements of various school activities, and other school matters.
Care of Textbooks
Pupils are supplied by the school with necessary textbooks without charge. Such books must be properly cared for and returned to the school upon the pupil's withdrawal. Books that are lost or damaged must be replaced or paid for.
Promotion Policies
Promotional policies as outlined and approved by the faculty are in accord with sound educational criteria which include the following:
Pupils who have satisfactorily progressed physically, mentally, emotionally, and socially during the term are promoted.
Pupils who have not made satisfactory progress within the limits of their situation are retained.
Elementary grades through 8th Students with irregular attendance and those who have failed in two or more subjects are retained.
Tardiness
Every effort will be made to eliminate tardiness. However, when a student is late he must have an admit slip from the office before he is admitted to class.
Excuses, Corridor passes, etc.
When a student has detained or must be in the corridors after the last bell has sounded for the beginning of a period, the student must have a pass.
Excuses for students leaving the campus are to be held to a minimum. Whenever it is necessary for a student to be excused to leave the campus during the school day, he must be excused from the office. When parents come for their children or ask that they be excused, please let this fact be known in the office.
Students' Cars
When students bring their cars to school, the cars are to remain locked and parked during the entire school day.
Lockers
Each student is assigned a locker. Two persons may share a locker. Pupils are allowed to use the lockers at the 8, 10, 12, 1, and 3 o'clock hours.
School Citizenship
Profane and indecent language and the use of tobacco are positively prohibited.
Students are to be in class by the time the last bell rings.
Students are not to sit in cars.
Do not leave the campus without an excuse.
Pass through the corridors quietly, and keep to the right.
No running in the halls and cafeteria or when entering the building.
Students who drive to school are to leave their cars parked and locked during the entire day.
Students are to use the rest rooms at 8 a.m., 10 a.m., 12 a.m., 1 p.m., and 3 p.m.
Pupils shall go directly to and from the school and not congregate in the vicinity of the school building before or after school hours.
Every pupil at Montgomery High School is expected to obey the rules and regulations, conduct himself at all times with dignity, to be studious, and to be respectful to the faculty and courteous to fellow students.
Co-operation in these regulations is necessary for the well-being of all.
OUR LIBRARY
"Not a storehouse, but a bookhouse of activity"
O Open from 7:30 a.m. 3:30 p.m.
U Use it often, wisely and well.
R Reference books for facts are used in the library only.
L Librarian is your assistant in finding information.
I Interests of all pupils are served if books are returned when due.
B Books are circulated for 7 days and may be renewed.
R Reserve books circulate only for one period.
A Admit slips are necessary after the ringing of the second bell.
R Reading our materials enriches wise use of leisure time
Y Yours for information and recreation is our library.
ACTIVITIES AND CLUBS
Montgomery Junior Chorus
Montgomery High Chorus
New Home Makers of America
New Farmers of America
Cheerleaders
Band
Senior Awards
Football
Basketball
Track
The Men of Good Will
St. Lepilke Club