Scotts Hill Class of 1903 ....
from the clipping collection of Ruby Winslow
The Nashville Tennessean
June 28, 1953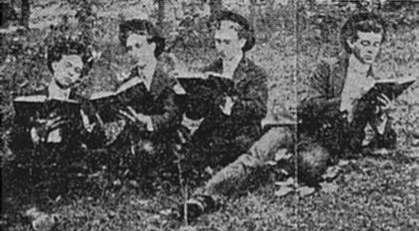 This quartet of high-collared dandies was the whole 1903 graduating class of Scotts Hill
college. A photographer took their picture on a June afternoon as the four allegedly "crammed"
for final exams just before commencement. From left: Charles Smith Austin, Scotts Hill; Perry
M. Harbert, Morris Chapel; E. E. Butler, Scotts Hill; and John Calvin Graham, Estelline, Texas.
Setting was college campus. And those hats were high style.
50 Years Fail to Erase Memories Of Tiny College's 4-Man Graduation
By. Gordon H. Turner, Staff Correspondent
SCOTTS HILL, Tenn. - One June day 50 years ago, four men passed exams with flying colors, posed for pictures, and graduated that night in the "scientific course" of old Scotts Hill college here.
Their alma mater soon went the way of all the world and they were scattered to its four corners before death claimed one of the quartet. But several days ago the other three all in their 70s met here for an all-day reunion.
Not only that but they found the exact spot on the old deserted grown-up campus here they "had their pictures struck" in that long ago. Exactly a half century later, to a day, they posed for another photo in the same positions and with a vacant space for their deceased classmate.
The four "boys" were: Charles Smith Austin and E. E. Butler of this place (on the line between Henderson and Decatur counties); Perry M. Harbert of Morris Chapel (Hardin county), and John C. Graham who came 800 miles from Glory, Texas, just to enroll in the then-famous school. All had previously finished the school's "commercial" and "teachers" courses and the sheepskins earned in 1903 were the last and highest honors.
Actually B. A. Tucker, president of the little college, died just before their graduation and the "dignified seniors" took turns teaching his classes till the close of school when they separated to make high marks in their chosen fields.
Just Past 75
Oldest of the group is Harbert just passed 75, and for decades known to many as "Mr. Hardin county." He taught while working his way further through Cumberland university and for the past 40-odd years has practiced law in Savannah. He is a lover of the outdoors, and the nation has few better foresters. He has accumulated 22,000 acres, mostly of woodlands, and is an authority on wild life and natural resources conservation.
A lay leader of the Presbyterian church, he has taught a Bible class 40 years and represents his church at all national conferences. He is a Republican in politics and currently a member of the Tennessee constitutional convention. His wife is the former Martha Dugdale. They had no children.
.... Finds Its Old Spot Again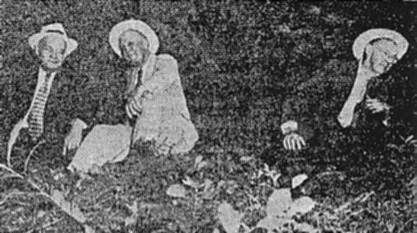 Fifty years later to the day, the three suvivors of the class meet for a reunion on the
long-abandoned campus. Butler, who became a grocer at Lexington, Tenn., died eight years ago.
Austin, a retired school teacher of Nashville and Maury County; Harbert, a Savannah, Tenn., attorney,
and Graham, also a retired teacher, of near Scotts Hill, strike pose of 50 years ago. Note
growth of sycamore in background of both pictures.
Austin, second oldest of the three and an uncle of mine, taught school in a dozen towns in three states before retiring several years ago. He once headed two small-town colleges, and taught in Mt. Pleasant 30 years in a continuous stretch.
A Church of Christ preacher also for nearly 50 years, Austin has preached over 5500 sermons, all the way from Harvard university campus to California. Now a resident of Nashville, he commutes as full-time minister of the Main Street Church of Christ in Mt. Pleasant near where he also operates a near-model Maury county farm.
Planned to Celebrate
Planning to celebrate their golden wedding anniversary next year, Austin married Minnie Starbuck of Perry county. Their children are: Larimore, of the Nashville-Davidson county planning commission and assistant minister of the Lawrence Ave. Church of Christ, and Miss Hazel, senior clerk in the state department of finance and taxation, both of Nashville, and Dr. Eugene, graduate of Harvard medical school, of Owossa, Mich.
Graham "baby" of the class, returned to Texas to teach after leaving here but came back to attend both Georgie Robertson Christian (now Freed-Hardeman) and David Lipscomb colleges, in Henderson and Nashville and to marry my sister, Myra, in 1909. They taught at Lockney (Texas) Bible college, and then in a half dozen high schools in Mississippi and West Tennessee before he turned to full-time preaching for the Church of Christ.
In the last 35 years he has served as minister in Sheffield, Ala.; Chattanooga, Jackson, Pulaski, Pittsburg (Pa.); Canton and Akron, Ohio; and Pensacola, Fla.
Graham Children
The Graham children are: Mrs. Troy Mitchell and Miss Myra Faye, teachers in the Akron, Ohio schools, and Dr. James F., a battalion surgeon during the Italian invasion, and now practicing in Dallas, Texas.
Butler, son of "Methodist Preacher Bill Butler" of this area, and next to Harbert in age died in 1945. He began as one of the first RFD'ers here in 1904. Later he ran a grocery here and in Bells (Crockett county) and in 1919 moved to nearby Lexington where he continued selling groceries till his death.
His widow (of Lexington) is the formed Ida Davenport whose father (Isaac N.) was an exchanged Federal war prisoner who survived the sinking of the Sultana at Memphis, in which 155-odd men lost their lives.
The living Butler children are Mrs. Lloyd Montgomery and Woodrow of Lexington; Holmes, of Jackson; and Mrs. Willard Richardson, wife of a U. S. army colonel in Germany.
It would be hard to get the trio of old grads to admit any faults with their alma mater (known also as B. A. Tucker college). The modest frame building had only a chapel-study hall, two regular classrooms, and a tiny office. Fewer than six teachers taught everything from the ABCs to college courses leading to degree in three fields. Tucker was the master mathematician, J. C. ("Jim") Duck, the grammarian; and C. Perry Patterson the historian-sociologist. (The latter only one yet living and for 35 years professor of government at the university of Texas, is considered an authority on constitutional government.)
The college got its water from a spring under the hill. There were no indoor toilets or furniture other than crude double desks. The library had fewer than 100 books, monthly tuition was $2 to $3 and blackboards were of wide poplar boards. Teachers got $15 to $35 a month and there were no athletics or cafeteria. But somehow it drew students from several states in its five-year life, and stamped them with a feeling of admiration and sense of pride that time seems unable to erase.
[Note: pictures were scanned from copy of newspaper article and were poor quality.]