Scotts Hill High School Hill Billets 1932
| | |
| --- | --- |
| | GIRLS BASKETBALL |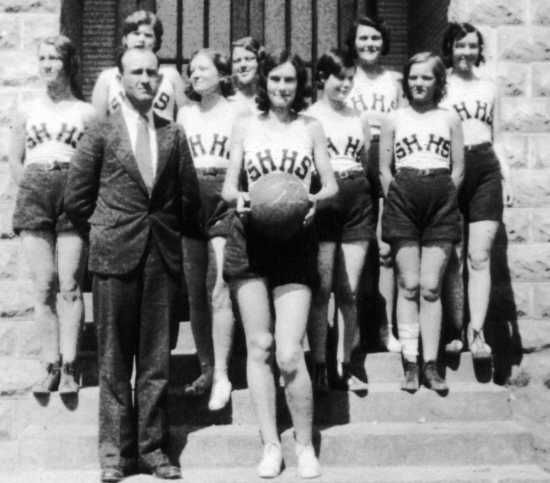 Rubye Helms and Reba Morris
| | | | |
| --- | --- | --- | --- |
| Rubye | Reba | Violet | Johnnie |
Rubye Helms, the captain of the team, surely was a great fighter. She is the best jumping center that ever played on the Scotts Hill teen. Ruby's graduation will leave a mighty chasm in the center section.
Reba Morris entered the gymnasium with the ability to show her best points in guarding and this she did with ease for she was so swift-footed that it was just too bad for any forward to pass her.
Violet Moody began playing at guard but was soon shifted to forward. Violet has another year to play and every one welcomes her back to Scotts Hill.
Johnnie Helms' greatest joy was getting the ball off the backboard and giving it to the canter player. She has another year to play ball and will be a good foundation for the guard section next year.
Irene Powers, the "little but loud" player, sure showed her ability to play ball when she found out that points were needed. She has two more years to play.
Euda Snider was a great fighter and had that pep that caused her to be the show of the side line. Euda though just a freshman and this was her first year ever to play, she will be a great help to the team for the three following years.
Gollen Flatt playing at guard was a distress to any forward. She was good on the defense and also good at snagging a pass when the opponents least expected it. Gollen has another year to play ball.
Lorene White showed great interest in doing her part at guard section. When she passed a ball, it always went to the exact spot and in range for a good catch. She has three more years.
| | | | |
| --- | --- | --- | --- |
| | Nellie | Coach Milam | |
Nellie Jowers, running center or forward, which will you have? This freshette showed great ability as a forward and running center and will be a great help to the team for the next few years.
BASKETBALL AT S.H.H.S.
1931-1932
As basketball is the major sport of our school, a great deal of interest attaches to it. The-school has had teams above the average for several years due to the fact that much time and interest is given the game.
Practice for both boys arid girls began in early fall. The girls were fortunate in having as a nucleus four players of the year previous - Rubye and Johnnie Helms, Reba Morris, and Irene Powers. The boys were almost as fortunate as veterans of the old team to return numbered three - Eugene Helms, George Teague, and Fount Milam.
The teams began from the first to show real ability. The girls defeated in succession Michie, Bethel Springs, Parsons, Morris Chapel, Decaturville, and Henderson, and I say that is sufficient for those who know West Tennessee basketball. Our girls were defeated, however, in the District Tournament by Michie.
The boys began by defeating Ramer, Michie, Bethel Springs, Parsons, Morris Chapel, and Decaturville, and were defeated by the winners of the fourth and fifth district tournaments only. In the tournament our boys were defeated by Ramer, the state champions, which team we had previously defeated.
The season's climax, locally, was the Decatur County High Tournament, in which both our boys and girls fought through to championship and beautiful trophies.
Return to Contents