Steamboats Loaded Cotton Here
by Emmett Lewis*
THE WEST TENNESSEE FARM
Marvin Downing, Editor
Published by The University of Tennessee at Martin, 1979
A steamboat loading baled cotton at Upper Slough Landing was a familiar sight during the cotton season years ago. Boats would spend a day and night loading cotton and other freight.
A large cotton gin once operated near where the casting field is now located. Other gins were located at Gates Landing and Bessie. In many cases the bales were to be loaded three high. "As the boat ambles down the river" blowing and moaning for cotton the cargo of. cotton will envelope her. The risk of fire was tremendous. The seasoned mate knew at a whiff the odor of burning cotton, sought out the smoldering bale, pushed and kicked it into the river and asked questions afterward. (Picture A.)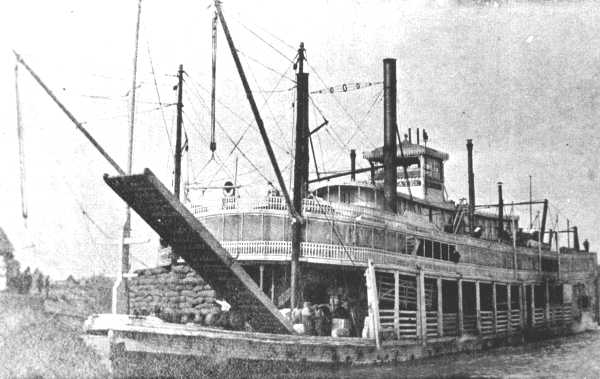 Picture A
This steamboat had already loaded some freight. (Photo courtesy of Mrs. Robert Henley, Tiptonville, Tennessee)
Owners of Cotton gins in Madrid Bend were J. C. Harris at Bessie, Willis Gates and John Hopson at Gates Landing and Slough Landing, a gentleman by the name of Lynwood Maxey, cotton buyer and gin operator. The steam whistle at this gin was once used by the noted steamboat Ferd Herold. John Schumate tells me that as a child he and his father each summer during the month of August saw that the gin had plenty of wood on hand to fire the boilers during the ginning season. (Picture B.)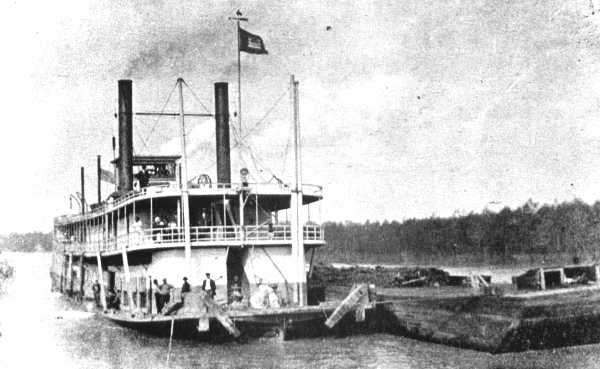 Picture B
A steamboat at the landing for taking on freight. (Photo courtesy of Mrs. Robert Henley, Tiptonville, Tennessee)
Wood in those days was more plentiful and less expensive than coal in this area, thereby industry using steam for operating machinery burned wood.
Only after the Civil War did most steamboats operating on the Mississippi start using coal. Many prominent towns along the Mississippi river today started as wood yards, supplying wood for steamboats.
*Mr. Emmett Lewis of Tiptonville serves the community as the Fire Chief and generates considerable interest with his articles on ste~amboats. This article is printed with the permission of both Mr. Lewis and the Lake County Banner.
Return to Lake County TNGenWeb Page
Return to Contents