A LOOK BACK
compiled by Brenda Kirk Fiddler
The following materials appeared in "A Salute to Agribusiness in Henderson County," a special section of the Lexington Progress, March 19, 1997.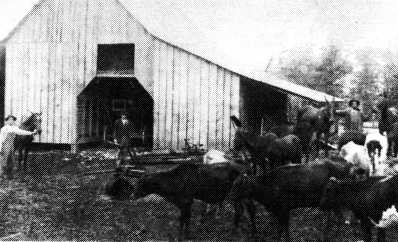 The J. B. Cunningham farm, Wildersville, ca. 1916-1917. John Cunningham
with horse, extreme left; J. B. Cunningham in barn hallway; and John
Staten, hired hand, extreme right. Photo courtesy of Mrs. Ruby Brooks.
First Bale; Lexington Pays a Bigger Price Than Any Neighboring Market
September 18,1903
Lexington Progress

Lexington's first bale of cotton for the season of 1903-1904 was put on the market Tuesday morning at four minutes before 7 o'clock by Dr. D. L. Smith of the 5th District. The cotton classed as good-middling, was baled by Rhodes and Brantley of the 5th District and sold for 11 cents straight. The bale weighed 548 pounds and P. J.Dennison, who buys for Gilbert Bros. of Nashville, gave his check on the Bank of Lexington for $60.28, the highest straight price brought by a bale of cotton in Lexington in years.
Dr. Smith, going on the idea that "the early bird catches the worm," left his home eleven miles west of town at 4 o'clock a.m. and threw off all probability of being beaten on that day. A premium amounting to $11.75 was made up among our businessmen in addition to the $60.28.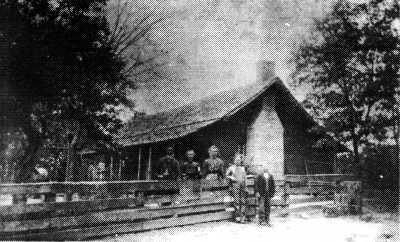 An early farm family included the Petty family. From left: Milton Carol
Petty "Bud," Barbara Zimmerle, Mandy Timberlake, Aulton Petty
and Arthur Lee Petty. Photo courtesy of Grady Smith.
King Cotton; the Depot in a Smiling and Gracious Mood and There is Much Joy Among his Slaves and Followers.
October21, 1910
Lexington Progress
King Cotton has of late been most kindly to his subjects and the town of Lexington. The condition in connection with the cotton traffic reminds us of James Tate's statement that it "takes trade to make a town - and prices to make trade." In the general market the will of King Cotton is an imperious and uncertain quality, but there is no doubt about the drawing power of prices, which is now proven by the fact that cotton is coming to Lexington from points heretofore looked upon as beyond the limits of the town's drawing power.
No matter, the buyer, no matter consequences of the prices paid, the people who have cotton to sell are looking for nobody, caring for nothing but the highest price and a man "with one eye and half sense" can see where they are right.
It is said by observant men that in all the history of Lexington as a cotton buying point, there was never a week equal to last week.
In one day alone one ginner and buyer paid out more than $5,000 for seed cotton. On last Friday, five loads of the "Fleecy Staple" in the seed raised on the farms of L. F. Gordon and A. G. Gordon and W. B. Rush, on the Carroll County line, between the points of Wildersville and Yuma, were brought to Lexington and netted the handsome aggregate of $511.25 - in fact the two-horse wagon load of cotton that weighs up the value of $100 has not of late been a rarity.
The lint cotton market of Lexington has kept pace with that of seed cotton. The buyers say that cotton is being turned loose just as fast as the people can gather it and get it to the gin and the buyer. L. T. Fielder, one of our buyers, says that last week was a big one with him. On Thursday alone, he paid out $6,200 for cotton and the price went as far as 14:80. That the price paid in Lexington is all right is shown by the fact that leading country merchants and ginners are selling here instead of shipping. A. M. Powers, the Reagan merchant, has sold over 100 bales in Lexington this season which opened three weeks late, more than 60 bales of that number going to Mr. Fielder last week. Mr. P. J. Dennison, another local buyer, did not begin buying until last Friday, but bought 25 bales on that day is now regularly in the market.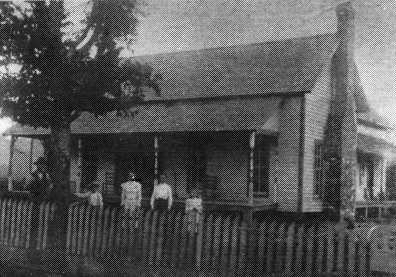 Henderson County farming families included the Jack Williams family of the
Mt. Gilead community, ca. 1910-1915. Pictured from left: Jack Williams, Ivy
Williams, and Icy Williams (Coffman). Photo courtesy of Prentice Page.
New channel made in Beech River
May 17,1935
Lexington Progress

A line of earth seventeen hundred feet long was ripped open with one charge of dynamite last Thursday afternoon when a new channel was blasted for Beech River in the big drift-filled bend just below the Beacon Bridge. About two hundred and fifty people had gathered to see the explosion, which was one of the largest ever used in malarial control in the South.
Money for dynamite was contributed by the citizens of Decatur and Henderson Counties, both of which are vitally affected by the straightening of the river that will drain Brown's and Haley's Creek bottoms and will help in the control of mosquitoes throughout the entire length of Beech River. Six tons of dynamite [$2,000 worth] were used, set in holes 18 inches apart down the center line, with other holes set crosswise and extending two yards on either side. This was expected to open a channel thirty feet wide, and six feet deep when the swiftly flowing current has completed the work of excavation begun by the explosion.
Malarial control has been one of the chief projects sponsored by the CA and the TERA in this section for the past two years. It has given work to hundreds of men on relief and should make a great deal of difference in the comfort and help in the homes in the swamp areas.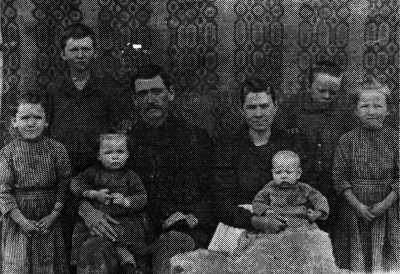 The Riley Powers family of the Shady Hill Community, fall of 1896. From left:
girl Addie (married Jim Moody), boy behind is Walter Ott (married Becky
Ann Bartholomew), father Riley Powers seated holding Arbie (married Elison Kelly),
wife Nancy Elvira Sturdivant Powers hold Jim (married Arbie Powers),
Sam (married Flossie Swafford, Monnie White) and Annie (twin to Addie,
married Jim Stricklin). Other children not pictured included Bertie who died
as a child, Beulah (married Claude Williams), George (never married) and Tennie
(married Winstead Little). Photo courtesy of Cherry Wright.
One-horse farmer is on his way out
By Rubie Milam
May 13,1945
Lexington Progress
In order for the one-horse farmer to compete with the larger farmer it is absolutely essential that he modernize his equipment. He can never hope to maintain an average standard of living if he must continue to the old methods of farming.
For example planting cotton - one grip to open up the furrow, one trip to spread the fertilizer, one trip to bed the ground, one half trip to drag it, and one trip to plant it - making a total of four and one-half trips per row. Assuming rows to be 3.5 feet apart and a horse traveling at the rate of 2.4 miles per hour, it will take 4.5 man hours per hour to cover an acre of ground. Therefore, it takes 4.5 man hours per acre of ground and the same number of horse hours. Whereas, with better machinery, one time per row would do all these operations in one trip. With the use of this machine, the modernized farmer may save 3.5 hours per acre in the planting of cotton. This and other improved methods of farm operation may enable him to maintain an average standard of living, where otherwise, he would be faced with severe poverty.
The farmer must make use of labor saving machinery in order to reduce the cost of production. Improved methods are as important in his farming program as improved varieties of crops or improved breeds of livestock, or higher prices for his products. We usually think of the one-horse farmer as being a farmer who is slow to adopt better methods of doing things on the farm. The old one-horse farmer cannot compete with the machine age. Machinery costs less to operate than man power. Manpower is the highest priced labor on the farm. Brain power is the most valuable power on the farm.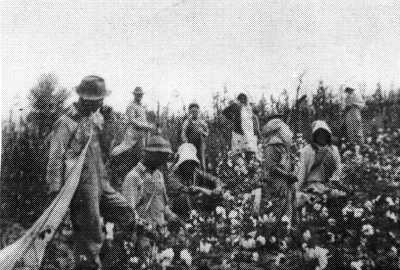 The Harley Stanford family picking cotton in 1942 or 43: Thomas, Harley,
Loyd, Mattie Joe, Jessie, Mrs. Lou, Mary Ruth, Pauline and Marie.
Photo courtesy of Marie Stanford.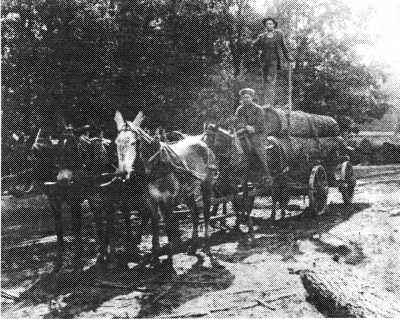 An early logging operation in the Shady Hill community. Pictured are:
Isaiah Zimmerle on horse and Floyd Buck on logs. Photo
courtesy of Miss Mary Eugenia Rushing.