BETHEL CHURCH AND SINGING CLASS
March 2, 1994
Lexington Progress
For Your Scrapbook . . .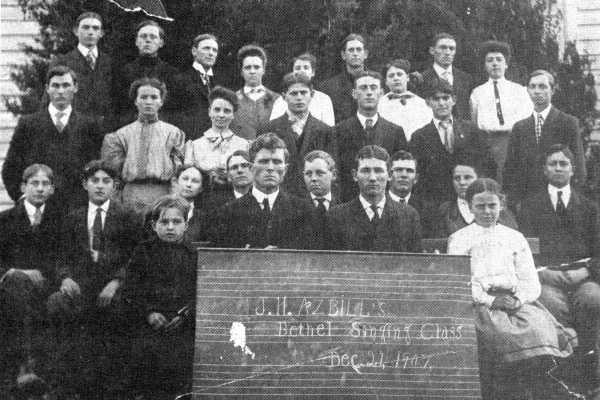 Mrs. Mary Turner furnished this picture of J.H. Azbill's Bethel Singing Class, December 27, 1907.
Back row: Walter Camp, Ernest W. Bailey, Charlie Bell, Hester Kennedy, Lizzie Azbill, Will Wallace,
Alice Phillips, John Kennedy, Emma Mullins, (second row) Logan Azbill, Hester Blankenship,
Martha Kennedy, Will Azbill, Jim Dyer, Floy Azbill, Charlie Ross, (3rd row) Lee Camp, Homer Mullins,
Bessie Ross, Onie Small, Burt Bailey, Walter Blankenship, Margie Bailey, Arthur Ross,
(front row) Roy Phillips, J.H. Azbill, Sid Blankenship and Mary Bailey.
Bethel Church and Singing Class
The original Bethel Church was located just off Broadway Road, between Highway 200, Life Road and Highway 412. Mrs. Willie Lee Gilliam Walker remembers that, according to her mother, Mrs. Daisy Wallace Gilliam, two of her uncles, Wyatt Threadgill and Dock Fesmire, along with another gentleman, Bill Azbill, built Bethel Methodist Church in the late 1800's. It continued as Bethel Methodist Church until 1935 when a storm almost destroyed the building. The roads were dirt, and getting to the church was difficult. The majority of the members were attending by wagon or buggy. The pastor, Rev. Banks, recommended and the people voted to move the Methodist Church to the location on Life Road where it stands today as New Bethel United Methodist Church.
The original church, still standing, was bought by the Cemetery Association. It was later rebuilt and sold to the Baptist Association. The church is now known as Old Bethel with Sunday School and church service every Sunday morning conducted by the pastor, Rev. Latham McLean.