THE CENTER HILL STORY-YESTERDAY AND TODAY
Rebecca Vineyard and Louise Clenney
Henderson County Times Community Series
[This item appeared in the Henderson County Times, April 30, 1980]
Center Hill. No one can remember from past history how this community got its name. Probably because the cemetery and the first log church (a Primitive Baptist) were located on top of a high hill.
Geographically, this community is located approximately 6 miles south of Lexington and almost between Pine and Sycamore lakes.
Now we will turn the crystal ball backwards to when our heritage came to this part of the country.
In 1825, Wilson Cager Grissom, John Taylor Thomas, Hosea Presley, Jimmy Petty and Jimmy Little came here from North Carolina, built houses and started the community.
Grissom settled on the land and built a log house almost where J. R. Williams house is now. Ben Grissom, who lives at Jackson, Tenn., is Wilson Grissoms great grandson, says he can remember when they would plow the land around there and they could pick up large amounts of Indian relics, so it may have been an Indian burial ground. Grissom did have slaves and when they were freed they didn't want to leave because he was so good to them.
The Petty's settled around the area where Phillip and Charles McBride's place is. There is still an old house standing in part in the McBride pasture where Jimmy Petty lived during the Civil War. The house had a loft where they could climb up and keep watch for thieves and there were holes made for the gun barrels to go through.
Just back of where Lena Petty lives, there was a house that was used during the war for a small-pox hospital.
John Taylor Thomas settled around the area where the Thomas School House was, which is now Pine Lake and the sub-division.
Jimmy Little settled where Lena Petty's house now stands.
We don't know where Hosea Presley settled but probably to the south around the Guy Barker place. There is a Presley Cemetery located on the road behind Guy Barker's house.
Hosea Presley preached in the old log Primitive Baptist Church at Center Hill. He was Mrs. Martha McBride's grandfather.
Ethyl Grissom's grandfather, Thomas Jefferson Neisler, fought in the Civil War from 1862-1865. He settled here after the war where the David Neisler house still stands. Part of the old house is there too. He is buried at Center Hill Cemetery and has a Civil War Tombstone. Thomas Jefferson Neisler had a grandson who died in World War I. His name was Riley Jefferson Climer. During World War II, there was almost all the young men from the community in the war but only one lost his life. He was Houston Richardson.
The old log Primitive Baptist Church that was built first set about in the middle of what is now the cemetery. It lasted until 1881 or that is the last record of having this church. The building may have stayed there for a few years.
In 1886 the United Baptist of the Primitive Order was organized in a grove at Mt. Zion and they started their services in an old building that was located across from where Neil Clenney lives now. They built a new church later down below where the telephone tower now stands.
Later they built a large building next to the cemetery. This building was also used as a school part of the time. Years later they built another building across the road and in 1957 the building that stands today was erected. This church was named Little Rock Baptist Church when it was organized and does not recognize any other name in its minutes. Most everyone calls it Center Hill because it was located at the cemetery. This church was not a part of the one that stood inside the cemetery first.
The first Sunday in May was started years ago by a preacher named Jowers and others as "Decoration Day" at Center Hill.
The people would come and decorate the graves. Then Preacher Jowers would preach in the cemetery, then they spread dinner on the ground and sing in the afternoon. It still remains today as a "Big Day" for everyone that has had any connection at all with the community.
Another reason it was a big day years ago was that everyone bought themselves all new clothes, hats and shoes to wear to the decoration.
People always come from far and near to honor their loved ones and to talk of the good old days. It is the only time during the year lots of people get to come "home" That is one of the reasons for this history to be written and published at this particular time.
The Baptist Church was the only church in the community until 1963, when the Center Hill Holiness Church was erected across the road from John Beecham's house. This church started at Stegall and later moved to the Thomas schoolhouse and then on to Center Hill. They have a cemetery there also and the Homecoming Day is the 4th Sunday in May.
The school was also built. The Wilkinson School house was to the south-east above the David Neisler hill. The Thomas schoolhouse was to the north almost where Pine Lake is now. The Chestnut Oakes Schoolhouse was to the west on Hobert Beecham road. These directions are from the cemetery.
In 1920, the Center Hill Consolidated school was built about 2 mile from the cemetery. This school was about halfway between the other schools. They also had buses in those days too! But they were wagons or covered wagons if raining. The drivers were Sal Ross and Gig Gowers.
Dorinda Climer was the cook that cooked the longest time.
The first teachers were Tom Bailey, Virgie Stewart and Henry Powers. A high school was also started here but only lasted six weeks because of objections. The ones that wanted to go to high school had to walk a long way to catch a bus to Sardis.
Adam Veteto also drove a bus to Center Hill School but he had a homemade motor bus. It was a truck with a tarp stretched over the back. R. C. Veteto drove the first bus from Center Hill to Sardis.
As in all communities, there is usually someone that stands tall in the minds of every one and so it is with all who knew "Uncle Jep" Grissom. The roads back in early days were few and in poor condition but the connection that Center Hill had was the Center Point road which came from Center Point store through by Reagan School and turned where Dyers Chapel Church is, came on by the cemetery and then turned back by "Jep" Grissom's and on through the Jim Smith place and through the Presley Community and on into Lexington where 104 highway is. So the only means of getting supplies was from town and that was hard. It is only 6 miles from town now but it was at least 10 miles because of the directions of the road
That's how the Grissom Bros. played a part in history. At first it was "Jep" and his brother who put in a grocery store. They had dry goods and anything anybody needed. Later it was just "Jep's" store. He also started peddling his goods by mules and wagon but later bought a pickup. He stayed in the business for 61 years. He closed his store in l977. He had stopped peddling long before that but people never forgot him.
Also besides the Grissom store, he had a grist mill and a blacksmith shop. Willie Ross did the blacksmith work.
There was a cotton gin and saw mill located across the road from "Jeps" house and they were close together and were run by steam from a boiler. Steve Veteto had a molasses mill just past "Jep's" house and also went about other places making molasses. So at one time this was a thriving place around the Grissom store.
After Elbert Beecham started driring the school bus, he would take a load to town every Sat. morning. It anyone wanted to ride they could meet the bus at the store and pay 25 cents to go to town and stay all day. Most of the kids went to town to the Sat, afternoon movie at the theatre. They were sure to see Roy Rogers or Gene Autry.
The mail was carried first by horse and buggy by Lynn Brooks and Johy Roley. Clint Pierce carried it by car.
The first car in the community was owned by Dr. Joyce.
Today Center Hill is thickly populated. There are two grocery stores, an upholstery shop, beauty shop, used car lot, two body shops and a hot house and flower house. Two large lakes make up her borders to the north and east which supply fishing and recreation for people of all ages.
It is a great place to visit and for those who put roots down here it is a paradise as one lady, Mrs. Flossie Veteto said, "it's just a good place to live."
If anyone has any other history of the community they would like to add to this, please contact Louise Clenney or Rebecca Vineyard.
The times wants to thank these ladles for their fine contribution and hard work and for everyone who helped them compile this history.
---
Note: The original article included at least 19 photographs, which cannot be reproduced from the xerox copy used in making this web page. Some of the photographs also appeared in Henderson County Tennessee: A Pictorial History and have been reproduced from that source.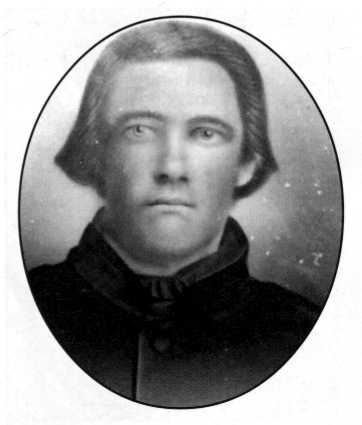 Thomas Jefferson Neisler. He enlisted in the Civil War
on Mar. 15, 1862. He was released Mar. 14, 1865.
He is the only one that has a Civil War tombstone.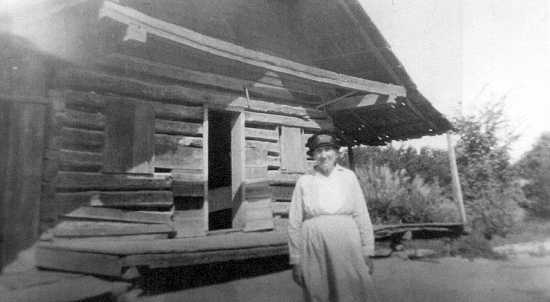 Thomas Jefferson Neisler raised his family in this house. Part of this house still stands. It
is owned by David Neisler's children. Thomas Jefferson's daughter is standing in front.
Her name is Melvina.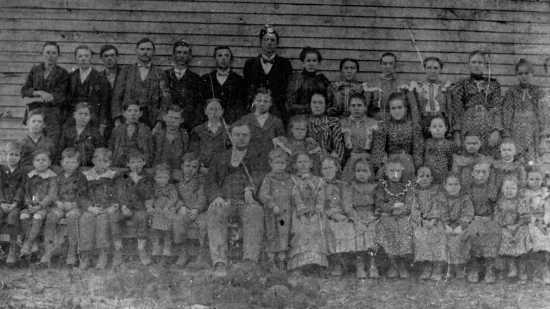 Wilkinson School group in 1901 or 1902 east of community by Sycamore Top row standing-Lee Gurley, "Jep" Grissom, Wiltz Grissom, Frank Wilkenson, Eb Barker, Tom Wilkinson, Wiltz Richardson, Mary Goff, Ozela Wikinson, Molly Grimm [Sego], Nannie Wilkinson, Daisy Neisler [Petty], Martha Neisler [Weatherington]; second row-Alton Attaway, David Neisler, David Grissom, Wilson Shoulty, Alvin Grissom, Calvin Grissom, Dorinda Grissom [Climer], Fronice Grissom [Beecham], Parlee Grisso, Nelipa Barker, Mellie Attaway, Lucy & Annie May Neisler; Bottom row seated-Floyd Petty, Robert Petty, Erent Gilliam, John A. Neisler, Robert Grissom, Minnie Attaway, Milt Attaway [Teacher], N.I. Braw, Albert Grissom, Bell Grissom [Holmes], Artie Gurley [Barker], Lillie Williams, Ida Gilliam, Ruth Haley's 3 girls-Cindy, Ollie, and Gollie Grissom. Jep Grissom threw his hat on a sprouted stump and told all the other boys to do likewise, so all their hats are in the picture also. Picture furnished by Rebecca Vineyard.

Thomas School house-1903, from front row seated-Nick Blas, Cora Middleton [Singleton], Mary Middleton [Powers], Frank Kelley, Floyd Gilliam, Bertha Gilliam [Estes], Merde Mae Grissom [Johnson], Bob Little, Lena Petty, Lessie McBride [Bridges], Mary Joyce, Payton Veteto, Jessie Grissom, Frank Hodgin, David Barker, Ollie Haney [Alexander], Poney Alexander, Fronie Bell Grissom [Brasher], baby on ground. Second row-Lena Alexander, Betty Middleton [Potts], Ann Middleton, Harim Joyce, Clarence McCormick, Troy Gilliam, Lee McCormick, Will Joyce, Wiston Little, Mandaellon Thomas, Willie Ross, Mazie Middleton, Adam Kelley; third row-Mint Veteto, Sally Haskin [Teacher], Ollie Veteto [Jones], Lurlie Joyce [Johnson], Dovie Haney [Tidwell], Jane Middleton, Hettie Alexander, Francis Barker [Plunk], Alvin Grissom, Harrison Richardson, Alvin Kelley, Silas Little, Jess Veteto, Will McCormick, Johnny McCormick, "Jep" Grissom, Wiltz Ross; fourth row-Joe Haney, Nepley Barker [Little], fifth row-Henry Vetelo, Oliver Smith, Jim McCormick, Calvin Grissom, Noah McCormick, Frank Luker, Sol Little, Estlee Gilliam [McPeake], Fronice Grissom [Beecham], Mattie Haney Winchester, Minnie Middleton, Ida Petty Barker, Margaret Grissom, Hattie Joyner [Rogers], Eliza Grissom, Toni Waddle, Nancy Petty [Grissom], sixth row-Frank McBride, Lola Gilliam [Grissom], Jordan Grissom, Willie Gilliam, Parlee Veteto Joyner, Nelie Gower, George Gower, Louise Christopher [Waddle], Lucy Beecham [Veteto]. This school house was located west of the community by Pine Lake. This picture was furnished by Lena Petty.
| | |
| --- | --- |
| | Jeff Climer was the brother of Ethel Grissom. He died in World War I. |
Other Photograph Captions
This is a Sunday School group at Little Rock Church. The building was erected about 1904 in the edge of the Center Hill Cemetery. It was built almost on the same spot as the old log church that once stood there. It was a Primitive Baptist Church and was called Center Hill and ceased to be a church about 1881 before Little Rock was organized. This picture was taken about 1928.
A picture taken at Center Hill Little Rock Church on Easter Sunday 1980. From left, front row-Sabrlna Ervin. Bobby Joe Smith, Brandon Williams, Robbie Smith. Justin Roach, Debbie and Mark Hudson; second row-Jared Smith, Brian Beecham, Carol Lindsey, Shane Grice, Beth Smith, Wendy Roach. Kevin McAdams, Steve Vineyard, Eric McAdams. Tamera Horn, Elizabeth Wright; back row-Jason Smith, Donna Blackwood, Regina Smith, Jeremy Smith, Mathew Horn, Marsha McBride, Ruby Williams, Kim Brasher, Todd Singleton, and Joe Keen.
The Center Hill Little Rock Sunday School class about 1941. This building was erected in 1941 across the road from the cemetery. From left, front row- ?, Alton Beecham, Dewayne Mlddleton, James & Leon Johnson, Eldred Richardson, R. T. Neisler, Joe Grissom; second row-J. S. Petty, Earl Beecham, Arnell Brasher, Elgin Beecham, Herschel Middleton, Rebecca Vineyard; third row -Jessie Wallace, Earl Braaher, Ruth Moore, Algra Brasher, Excell Johnson, Beatrice Middleton, Raymelle Powers, Helen Beecham, Thelma Fulton. Fronie Beecham-teacher; fourth row-Rachel Washburn, Beatrice Middleton, Lou Bell Coffman, Finis Richardson, Paris Kennedy, ?, Thelma Buck and Ray Climer.
This picture was taken on May 1st, 1938 at the Center Hill Cemetery and the Little Rock Church.
This is Center Hill School about 1930. Left front-Elgin Beecham, Martin Stanfill, James Ross, Carnas Beecham, Edward Barker, second row-Vergil Ervin, Willard Stanfill, J. D. Neisler, William Ross, Hurley Beecham; third row-Deward Grissom, Huston Richardson, Orene Ross, Guy Barker, Thedus Rlchsrdsou.
This is the house that Wilson Cager Grissom built. J. R. Williams bought the house and part of the land. They lived in it until a few years ago.
These are courting days in a buggy. This picture furnished by Fronie Bell Brasher.
Still carrying on the old tradition of the Center Hill Grocery.
This was found in an old ledger book which was dated 1918 when "Jep" and his brother, Calvin, had a store together. Their brothers, Jordan and then Alvin had the store a little while before them.
Clenney's Upholstery at Center Hill is owned Louise Clenney who helped compile this article.
Though it is new, this is a fast growing business in Center Hill. It is owned by Randy White.
Lane's Body Shop is another prosperous business located at Center Hill.
The Pentecostal Church at Center Hill.