DR. CORNELIA HUNTSMAN
Doris Jarrett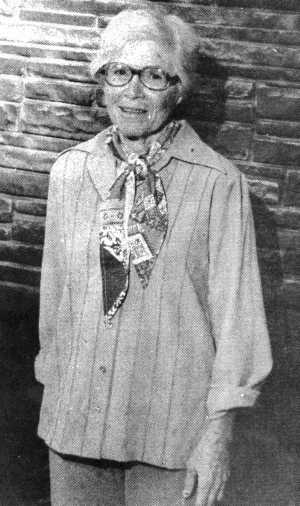 October 25, 1978
Lexington Progress
A beloved figure not seen in Lexington nowadays is Dr. Cornelia Huntsman who now lives at White Fern near the Henderson-Madison County line. She retired from a life medicine to a life of country bliss where fat Herefords graze and pampered pets find a happy home.
A visit to the lovely ranch-style house, which she built before her retirement; finds her and her intimate companion of many years, Miss Marie Lacy, enjoying a peaceful life free from time clocks, office hours, sick calls and other worries. Retirement, however, has not meant idleness. Instead it has been simply a change in location and interests.
For a number of years Dr. Huntsman practiced medicine in Lexington with her father, the late Dr. W. F. Huntsman who came here about 1911. He had come to Juno from Scottsville, Ky. where he was born. After graduating in 1900 from University of Tennessee Medical School, located in Nashville at that time, Dr. Huntsman located in Juno and built the first two story house there. Being called to attend a patient, Bob Diffee, who had crushed his hand in a cotton gin, the young doctor met his patient's sister, Miss Virginia Diffee. Romance followed and they were married in 1908.
Cornelia was born at Juno and when she was very small the family moved to Lexington where her father bought out the late Dr. W. T. Watson and began practice in 1911 over Watson's Drug Store, operated by W. Van Watson, son of the elder Watson. The building is now occupied by Frizzell's Shoes.
She recalls her father had two horses, so one would always be ready for the many house calls he made over a wide territory in this and adjoining counties. He would also make calls to Luray going by train when roads were impassible, spending the night and coming home on the morning train. It is believed he bought the first automobile in this section. No one has been able to determine how many babies he brought into the world in his many years of practice. The morning he died in December of 1938, he had just delivered a baby, and the following night his daughter, Cornelia carried on, delivering a young son. That baby, incidentally, is now Dr. Larry Patton a surgeon of Dallas, Texas.
Cornelia attended schools in Lexington, graduating from Lexington High School in a class with five potential doctors. Besides herself, they were Dr. Willie Scott Muse of Knoxville, Dr. Paul Wylie of Jackson, the late Dr. N. F. LaGrange of Jackson and the late Dr. R. M. Conger of Lexington. Her pre-med work was at University of Tennessee, Knoxville. She graduated from University of Tenn. at Memphis in 1933 and entered at once into practice here with her father.
A few years after his death she built a new modern office on Broad St., one of several office buildings she still owns. Here she carried on a busy practice with the help of her secretary-nurse Miss Lacy who joined her in 1943.
The two moved to White Fern in May, 1953, driving the 15 miles to work every day over roads not as smooth as the present ones. When the prospect of retirement looked too attractive to resist, Dr. Huntsman closed her office in 1965 and they retired to their lovely country home.
The farm, located in the neighborhood where her mother grew up, is a well planned operation of 300 acres planted in soybeans, corn and pastures. She looks after her purebred Herefords but rents out the cropland. She formerly had hogs but couldn't keep them at home. She and Marie love pets and there are many, including a fine Boxer, a shaggy black one they call say is "just a dog" and cats—13 at the last count. Even the beavers have found a home on the Huntsman farm. They have built dams and now wild geese and ducks enjoy the beaver ponds.
Many lush plants and flowers show evidence of daily care, and there are books, magazines, records, an organ, and a grand piano for amusement. Dr. Huntsman likes to knit and crochet. A few years ago they took a boat trip on the Delta Queen to New Orleans but now stay close to home. They attend Nebo United Methodist Church.
In reminiscing over her years as a general practitioner, Dr. Huntsman recalls that one bitter day in January she made a call 15 miles out into the country over almost impassible roads. Finally she had to leave her car and go the rest of the way in a wagon with a mule team. The mules fell down in the mud and Dr. Huntsman who was riding on the spring seat felt as though she was riding in the crow's nest on a ship. When she arrived at the patient's home she found him sitting before the fire with the rest of the family, having only a sore throat. She also made calls when the roads were so bad she had to ride a ground sled.
Dr. Huntsman's only immediate family member was her brother Robert, who died a few years ago. His widow, Bernice; lives at Milan. Their daughter, Anne, lives at Huntsville, Ala., with her husband and four children.
We who trusted her with our lives and those of our children feel a sense of love and obligation we can never repay. In my own personal life, she unselfishly accompanied me on a perilous trip by ambulance to Memphis when my son, Ben Jarrett Jr., was so seriously injured. She stayed with us for hours even though her office back in Lexington was crowded with patients. This was a gesture of love and service I can never forget.
Photo and obituary of Dr. W. F. Huntsman