Teacher of the Month, George Beal
by the Henderson County Education Association
From the clippings of the late Elsie Johnson. This is a column which appeared in the Lexington Progress. Church schedules included as part of the column have been omitted.
Lexington Progress
Date Unknown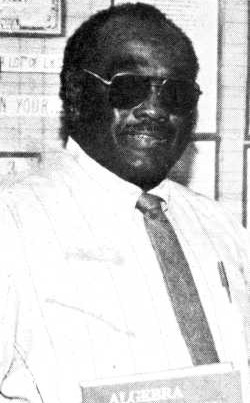 December's Teacher of the Month is Mr. George Beal of Lexington High School. Mr. Beal is planning to retire at the end of this school year, and we at LHS fondly salute him for his 32 years of service in Henderson County, where he has always taught algebra and math.
Former students smilingly recall his famous homework checks and his cool, calm manner, which nothing can ruffle. Many testify to the strong background in algebra which he helped to develop. They return to say, "You were in college with me, or I couldn't have made it." One former students relates that he was failing algebra under another teacher, and Mr. Real spent many hours tutoring him personally during study hail.
Mr. Real has enjoyed his years in the classroom. He has seen many changes since 1958, but his dedication and his belief in education has remained firm. He believes that education should motivate all students to reach their highest potential and thus enable them to function well in society. His mother, Mrs. Birdie Beal, has always encouraged him to strive for the best. And as a teacher he has always strived to prepare students to be the best of whatever they are. A slogan he frequently uses is, "If you can't be a tall pine on a mountain, then be a little shrub in the valley, but be the best little shrub there is."
During his years in the field of education, Mr. Beal has served on many committees and in many capacities. He has been president of the local education association, HCEA, twice. Currently, he is a member of HCEA, TEA, and NEA, and co-sponsors the Future Teachers of America Club.
Mr. Beal received his B.S. degree in Math and Science from Lane College in 1958. While educating others, he has continued his own education at Tennessee State University, Southeastern State College, Durant, Oklahoma, and Atlanta University in Georgia.
He is a member of Pleasant Hill Baptist Church, where he has served in several capacities. Also, over the years, he has contributed to several community efforts. Currently, he is chairman of the UNCF drive in Henderson County.
George Beal is married to Janice Corbitt Beal, a fellow teacher and an artist. They have two children and four grandchildren. Their daughter, Sherry Seay, holds a B.S. degree from Memphis State in Special Education and Rehabilitation, and owns Sherry's Clothing and Child Care Center on Broad Street. Their son, Timothy, has a B.S. degree from Memphis State in Computer Science. He is employed at St. Jude in the Research Dept.
Again, we salute you, Mr. George Beal.