Interesting People, Rev. and Mrs. Norman Carver
By Doris Jarrett
From the clippings of the late Elsie Johnson. This is a column which appeared in the Lexington Progress. Church schedules included as part of the column have been omitted.
Lexington Progress
Wednesday August 8, 1990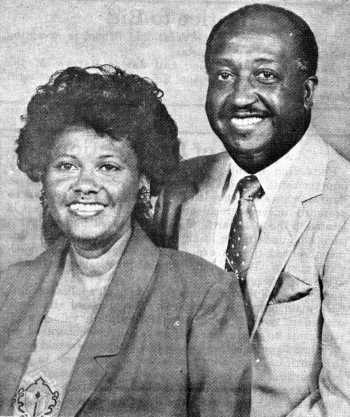 Our Interesting People feature this week profiles a Lexington couple, Rev. and Mrs. Norman Carver, who will be renewing their 25th wedding vows this next Saturday, August. 11. Their children will be honoring them with this lovely ceremony at 5 o'clock in the evening at St. Paul's Baptist Church here in Lexington. A reception will follow in the fellowship hall of the church. Their children are Bryant, Crystal and Tasha.
Mrs. Carver says, "These 25 years have been happy and enjoyable ones with some sunshine and some rain." In these years, during the early life of their children, they traveled to many different places as a family. Included in these trips are the Great Smoky Mountains Washington, D.C., Disney World, Lookout Mountains, and the Dr. Martin Luther King Center for Non-Violent Social Change in Atlanta. Visiting different areas of the country has brought a lot of joy to the Carver family and has strengthened the marriage, they believe. Norman enjoys people and loves to work with them. It gives him relief to help people find full-time employment and to give them comforting words of encouragement when they are low and it seems nobody cares.
Norman was born in Henderson County, the 7th of 10 children born to the late Roy and Janie Carver. He has 6 brothers, Royal, Howard, Waymon, C. H. and Carl. Another brother, Hurtis, died in a motorcycle accident in 1930. His three sisters are Allene Thompson, Addie Easley and Nelma Sue Johnson. All the brothers and sisters live in Lexington except one, Waymon, who lives in Melbourne, Fla.
Norman attended grammar school at Cooper's Grove and graduated from Montgomery High School.
After graduation, he got his first job at Bailey's Sawmill as a truck driver. Other employment has been at Salant and Salant, Owens-Corning Fiberglass plus various other jobs. He i s presently employed with Work Initiatives as a job developer. He has been employed with this federal program since July 1973. Other job titles in this program have been coordinator for neighborhood youth and counselor for the CETA program. In September, 1963, he moved to Florida and remained there until October, 1964. On August 9, 1965, he was united in marriage to Edith Ann Douglas, daughter of Alberta Douglas and the late Cordie Douglas. Of their three children, two are employed here. Bryant, who graduated from Lexington High School in 1983, is now employed with OMC. Crystal, graduate of Lexington High in 1984, is working with Johnson Control. Tasha, the youngest, is a junior at Lexington High School. There are four grandchildren, Autumn and Summer Johnson and Shereal and Jo Anna Pearson.
Mrs. Carver is not working at present, but has worked at Salant and Salant [Thompson Co.] for 18 years. She was employed with OMC in 1985 but was laid off in March of this year. She is enjoying being a housewife and helping out with t h e grandchildren as well as assisting her husband in his many activities.
Norman is involved in many civic and county organizations. He serves on the advisory board of the Department of Human Services; advisory board of the Henderson County Health Department; board o f commissioners of the Lexington Housing Authority; board member of the Carl Perkins Child Abuse Center; board member of RSVP; on the advisory board of People Against Drug Abuse. He is also a member of the board on Crime Stoppers for Henderson County. He is an individual member of the Chamber of Commerce, a member of the CSC board; board member of the Montgomery Alumni Association, plus other organizations. He has served as vice president for one year and president for one year of the Caywood School PTA. Besides all these responsibilities, he is a full-time pastor and ordained minister of the gospel. Before being called into the ministry, he was a dedicated church worker with St. Paul Missionary Baptist Church here where he still holds membership.
While at St. Paul, he served as Sunday School superintendent for several years, teacher for the adult men's class, deacon of the church for several years, and served on the building committee of the new church. He also served as chairman for the board of deacons several years.
In 1983, he was called into the ministry and served as associate minister for a year at St. Paul's. In December 1984, he was called to pastor the Spring Hill Missionary Baptist Church in Trenton, Tn., and has been there for the past 5-1/2 years. The church has services every Sunday and every Wednesday night. There are some weeks in which he has to go four or five times.
While continuing to live in Lexington, he spends many hours on the road going back and forth to Trenton. Besides serving as pastor at Spring Hill, he conducts as many as three or four revivals a year for other ministers. Some of Norman's strongest teaching is about love. With the firm belief that we must have love for one another, he says, "This love must be seen in the light of God's people rather than just being talked about by the lips of men."
Norman enjoys reading and his favorite book is the Bible and other Christian literature. He gets his greatest joy out of sharing the good news of Jesus Christ. He feels the best way to share the good news is to be a living example in cur daily lives. He feels there should be more Christian models throughout the land and country, that will affirm that with Christ in your life, it will truly be changed. He feels that the solution to all problems can be found in the Word of God.