HARDING MACHINE SCREW CO. PLANT EXPANSION (1959)
Clippings from a scrapbook owned by Ethelyn Lockwood Byrn
Harding Machine Employees Flying To See New Tennessee Operation
THREE PLANES WILL CARRY 53 LOGAN COUNTIANS TO LEXINGTON, TENN., FOR OUTING WEDNESDAY
The Bellefontaine Examiner
Date Unknown
Celebrating the completion of a new 10,000 square foot addition to the five-year-old plant of the Harding Machine Screw Co. in Lexington, Tenn., next Wednesday will be a picnic-outing and program for personnel of that plant as well as the parent plant in East Liberty.
Mr. and Mrs. Paul Blackburn, East Liberty, owners, said that the party from the East Liberty plant will total 53 and will be flown to Lexington via two chartered DC-3 planes and the company's own plane.
The latter will take off from its East Liberty airport, and the two larger planes from Grimes airport, Urbana, Wednesday at 9 a.m. after arriving at their destination 2:10 hours later. The planes will return to Grimes airport about 9 p.m. the same day.
The undertaking is the first for the Harding concern, and will serve to acquaint employees and supervising personnel of both plants with one another.
Logan Countians See Tennessee Operation
The Bellefontaine Examiner
Date Unknown
(Examiner Staff Photos)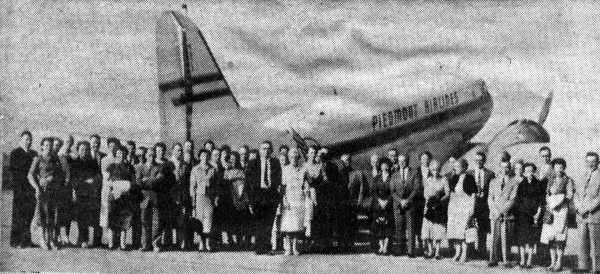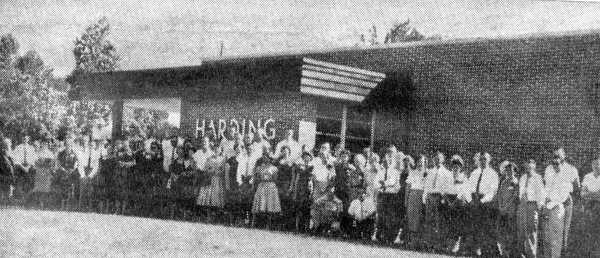 Some half hundred Logan countians, most of them long-time, or key employees of the Harding Machine Screw Co., East Liberty, and their wives are shown in the top photo just prior to leaving Grimes Field, Urbana, aboard two chartered planes for Lexington, Tenn., where a Harding branch is located.
The same group is shown in the next photo along with some key personnel in the Lexington operation, as they posed in front of the Tennessee plant. Purpose of the trip, according to Paul Blackburn, president of the Harding enterprise, was to acquaint his East Liberty associates and their families with those at Lexington.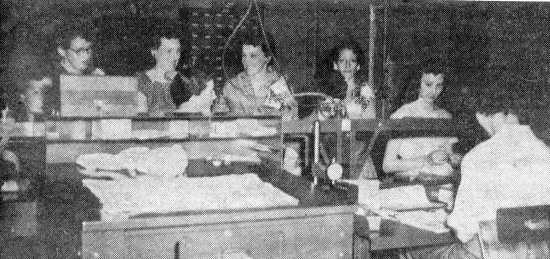 Four East Liberty employees, left to right, Mrs. Charles Montgomery, Mrs. Warren Titus, Mrs. Clyde O'Neil and Mrs. Donald Kerns,
are shown as they watched four Lexington women at their jobs of inspecting completed machined parts.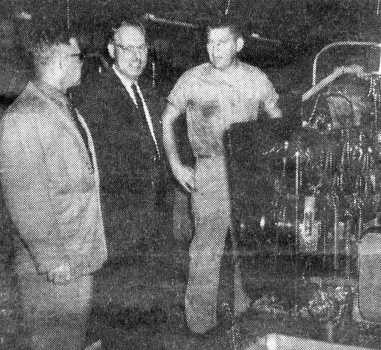 . . . Estel Humphreys, left, and Charles Dunaway, both of East Liberty, confer with Denton Bush,
a Lexington operator, at one of the machines In the Lexington plant.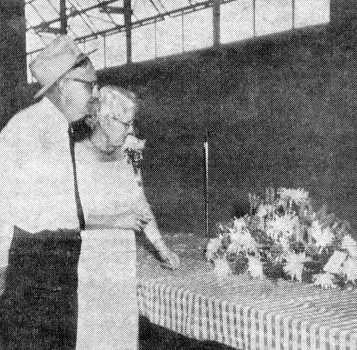 Mr. and Mrs. Paul Blackburn, host and hostess for the day-long outing
are shown as they stopped to admire a floral piece given for the gala occasion
by Lexington plant employees and hearing the message "Welcome You All".
The Lexington plant closed at noon for the day, and employees and their families then joined the visitors for the balance of the day.
-----------------------
They rolled out the red carpet Wednesday down Lexington, Tenn., way where genuine southern hospitality was extended to 53 Logan countians who descended upon their city from the skies above in three planes.
The occasion for the day-long outing was the completion and semi-formal dedication of an addition to the Harding Machine Screw Co., plant at Lexington where 55 employees during the year ending Sept. 30 turned out 27,537,000 precision machined parts.
On hand to greet the industrial airlift from Logan county was Mayor Jack Hay, who provided a police escort from the city to the airport. There, too, was Guy B. Amis, cashier of the Central State Bank in that little hustling town of 5,000 nestled in the hills of western Tennessee, and who also serves as chairman of the city's industrial and community improvement association. Present also were a number of ether civic and business leaders.
If some of the Harding em-employees at East Liberty were dropping or slurring their R's today, it was because some of that warm welcome from the genial folks, in Lexington rubbed off during a fried chicken dinner at noon and tours of the Lexington Harding branch as well as visits to nearby cotton gins, shirt factories, etc., which preceded the beef barbecue dinner and program that served to round off the pleasant afternoon.
And, for those who stayed behind to fulfill East Liberty production schedule Wednesday, you are now working along side some cotton-pickn' friends, because some actually picked cotton Wednesday, and other brought a twig or so back with them Wednesday night.
If there was still doubt among visiting Logan countians they weren't in the South, it was dispelled by a large floral piece from the Harding employees at Lexington which said "Welcome You All."
Among the official host and hostesses were two transplanted Ohioans, Mr. and Mrs. Russell Lockwood, who resided in nearby Peoria, Union county, prior to going to Lexington four years ago to assume charge of the Lexington branch. All other personnel in the Tennessee plant were trained for their respective positions under the direction of Mr. Lockwood, the lone representative there of the parent plant in East Liberty.
Leading the parade of Logan countians Wednesday were Mr. and Mrs. Paul Blackburn, president and vice-president of the Harding Machine Screw Co., respectively. In an address prior to the beef barbecue dinner in the evening Mr. Blackburn lauded the efforts of Mr. Lockwood and his 55 employees for their continued progress at the Lexington plant, which in four years has fashioned 2,349,000 pounds of brass into some 70,877,000 machined parts, some tiny and complicated, with trained-on-the-job employees from Henderson county, Tenn.
The new 10,000 square-foot addition to the Lexington plant just about doubles the size of the contemporary styled original plant in the Tennessee city.
"Normally it requires about four years to make a good machine operator. Here, it was accomplished phenomenally in shorter time," Mr. Loekwood told his audience of 200.
He said the Lexington plant will continue to grow, a piece at a time," just as it did from scratch four years ago, and that new or additional equipment would be moved in from time to time as business warranted.
"We have not cut production in East Liberty, nor do we intend to. We still have some 100 employees there," he said, in adding that they, too, are all trained-on-the-job employees, a policy that has been followed since 1923.
"Like them, you folks in Lexington are our salesman," he said in stating the Harding concern had no salesmen on the road as such. "Our salesmen are in our plants, and they sell through the quality of their work, which, in turn, brings repeat orders, or new ones from those who have learned of Harding quality," Mr. Blackburn declared.
"The future of this plant is in your hands. We have to have quality and have to be competitive at the same time. After our initial orders, you people do the selling through your quality production," he said.
"We don't want more than 25 percent of anyone's business, because we at Harding don't want to be dependent on any one customer, or plant. In that way our machines will run regardless of what may happen to any one of our customers," Mr. Blackburn said.
"We will never hire men over you here at Lexington. Promotion will come through the ranks," he said.
He cited the growth of the Lexington plant from 15 employees in the Sept. 1955-56 year and a $46,000 payroll to 55 employees and a $143,000 payroll for the past year, ending Sept. 30.
In that time raw materials increased from 261,000 pounds the first year to 942,000 that were required for the past 12 months to meet production schedules. The production of machined parts has grown from 8,589,000 the first year to 27,537,000 the fourth, or last year.
Decision to establish a plant in the South was made about five years ago by Mr. and Mrs. Blackburn when much of the East Liberty production was being shipped to users south of the Mason-Dixon line. Holly Carburetor manufacturers, a long-time customer, established new plants in Tennessee as did a metal tubing concern. To be nearer the user of finished products led Mr. and Mrs. Blackburn to look southward, and they finally picked Lexington, a town of 3,500 then and with only a shirt factory as its source of revenue outside the surrounding but dwindling cotton acreages.
Harding set the pace for the now bustling town of 5,000 that also boasts of a second shirt factory, a chair factory, a plywood concern, a shoe factory, and a metal stamping concern that is to open a new plant next month.
Banker Amis, mentioned above, said that $2,500,000 has been expended during the past 16 or 17 months in Lexington for new construction, additions or general community improvements.
He pointed with pride to the fact that within the past five years Lexington has a new jail, new city hall, new banking structure, new county-city hospital; a 20-bed addition to a private hospital, a new county office building under construction, three school consolidations, and improvements to two more, and plans for a new Court House.
Harding led the way, he said.
The flying Logan countians made the 1100-mile trip via Dayton, Louisville and Nashville aboard two chartered Piedmont Airlines' twin engined DC3s, each of which carried 24 persons in addition to a crew of three, and the private Piper Apache plane of the Harding concern and which was piloted by Curt Engle.
The planes left Grimes Field, Urbana, at 9:15 a.m. and arrived at Lexington, Tenn, at 12:10 p.m. Leaving that city at 7:30 p.m. the planes touched ground at Urbana at 10 p.m.
Capt. Frank Rosscana, First Officer Steve Ellis and Steward Bob Idol, all of Winston-Salem, N.C., were in charge of one plane, and Capt. Vic Conary, First Officer Roscoe Goforth and Steward Bruce Lundy were in charge of the other chartered plane.
The airlift included: Mr. and Mrs. Paul Blackburn, Miss Katherine Haynes, Mr. and Mrs. Ralph Akey, Mr. and Mrs. Dan Kerns, Mr. and Mrs. Howard Robson, Mr. and Mrs. Warren Titus, Mr. and Mrs. Delmar Moore, Mr. and Mrs. Lowell Lane, Mr. and Mrs. Bill Janes, Miss Mary Mitchell, Miss Iris Quimby, Miss Dona Hamilton, Miss Marguerite Hindall, Mr. and Mrs. Kenneth Wolever, Mr. and Mrs. Robert Thomas.
Mrs. John Dixon, Miss Helen Haynes, Gene Baker, Gene Peer, Estel Humphreys, Mr. and Mrs. Everett Wolever, Mr. and Mrs. Charles Dunaway, Mr. and Mrs. Charles Montgomery, Mr. and Mrs. Forrest Watkins, Mr. and Mrs. Harold Hagar, Mr. and Mrs. Thomas Skidmore, Miss Jo Ann Hines, Mrs. Richard King, Mr. and Mrs. Clyde O'Neill, Mr. and [sic.] Tom Hubbard, George Austin, Chet Green, Charles Lane, Raleigh Oliver and Curt Engle.
Upon their arrival at the Lexington Harding plant, the visiting women were presented corsages in gay autumn colors that served as a background for a splotch of real cotton.
One of the table floral pieces at the banquet and gift from the Lexington Industrial Association, cleverly employed some of the brass machined parts from the plant.
Return to Table of Contents