Interesting People - J. C. AND DOT HAYS
by Dorris Jarrett
Lexington Progress, Wednesday, April 17, 1991
A familiar name to lovers of gospel music, J. C. and Dot Hays, who have sung locally for more than 30 years, have signed a contract to record their music and will have an album out in May.
Both J. C. and Dot were born in Henderson County and have lived here nearly all their lives. J. C. was one of 11 children born to Jim Frank and Linnie Hays. His family were farmers. As a child, J. C. attended school at Roberts Elementary School and high school at Lexington High. The family attended church at Manes [Mazies] Chapel at Natchez Trace Park.
Dot, the former Dorothy Marcille Greener, is one of three children born to Arthur D. and Frances Greener. Her father was the pastor of Natchez Trace Missionary Baptist Church here. He also served Mount Pleasant Missionary Baptist Church near Bradford. Dot attended school at Wildersville.
Both J. C. and Dot were raised on the farm, picking cotton and singing as they picked.
In 1947, J. C. and Dot met at a church revival and he says it was love at first sight. That day was the beginning of a "life time journey of love and singing the Lord's music." they were married in 1948.
Deeply religious, they found their voices blended beautifully together and so began their gospel career.
In 1950, they were blessed with a son, Ronald Arthur, and in 1953 with a second son, Donald Patrick.
In 1954, J. C. and Dot were joined by Dot's sister, Lucille Roberts and her husband, James, to form the "Family Four" quartet. They remained as a quartet for several years, singing all over Tennessee and Kentucky, never missing a benefit or a chance to praise the Lord through his music. In 1959, J. C. and Dot decided to go on their own with their music, so the two of them began performing as "J. C. and Dot Hays Gospel Duo." In 1960, they recorded their let single "Just Me and My Lord" and "Infidel's Daughter." This recording had a tremendous public response, and so they began working on their 1st album which was released in 1979. It was entitled "It's Not An Easy Road". Once again response was terrific and they say it "sold like crazy at all our concerts." Their popularity began to soar and the telephone never quit ringing with requests for tapes and concert dates.
It was during these years that J. C. and Dot became good friends with "The Chuck Wagon Gang" and the two groups were often featured together. Their second album, "In The Garden Of My Heart" was released in 1989 and immediately took off on radio stations from Canada to Florida. Once again they were receiving requests, the phone kept ringing and letters came pouring in to their delight. They had a unique style that people enjoyed hearing.
In 1979, J. C. and Dot began to kept the Gospel Hour every Saturday from 1 to 2 p.m. on WDXL radio, 1490 AM. To date, they are still singing on that hour and the requests are so great that they carry over from week to week. They have continued their gospel crusade with much success. They wanted to do more with their music, so it game about they searched to enhance and broaden the boundaries of their music. With determination and the help of the Lord, they began to plot out their future. It was about this time that a friend was having lunch with them and began to inquire why they had not done more with their music. The reply was, "We're not sure where to begin." The friend then asked, "why not let me see what I can do."
The next evening they all got together at J. C. and Dot's house and began planning. Within the week, they had put together a promotional package. After several calls the package was mailed to Dave Wilcox at the Eddie Crook Co. Upon receipt of the package, Mr. Wilcox was so impressed with their music that he called immediately and wanted to sign and record them under a major label.
On Feb. 22, they had the pleasure of meeting with Mr. Wilcox at the Eddie Crook Co. and on that date laid the groundwork for a major recording career.
On March 9, they went to Nashville and signed the contract and became the newest members of the Eddie Crook Co. being signed on the Harvest label.
J. C. and Dot will begin recording on April 27 combined with a photo session. Final recording other details will be completed May 14. The new album will be released by the end of May -June , depending on production. This album will be backed by full promotion and will be released to over 2100 radio stations [on compact disk].
While this is going on, their manager is working on bookings and the enhancement of their career.
By late 1991 and spring of 1992, J. C. and Dot plan to tour the U. S., with future plans for Canada and possibly Europe, also the West Indies and the Cayman Islands.
J.C. continues on his job and Dot with her daily routine. In the evenings they work on their new album. For any booking, contact them at [901] 968-9746.
Their two sons and their families live in Lexington. Ronnie is with the THP [Tenn. Hwy. Patrol]. He and his wife, Chris, have two daughters, Marcie and Melissa. Pat is currently attending college and lives with his wife, Doris. J. C. has several brothers and sisters who live in Lexington, also several nieces and nephews. Dot has a sister in Lexington and has a brother who is a Baptist minister living at New Johnsonville.
---
Additional photographs from the collection of Brenda Kirk Fiddler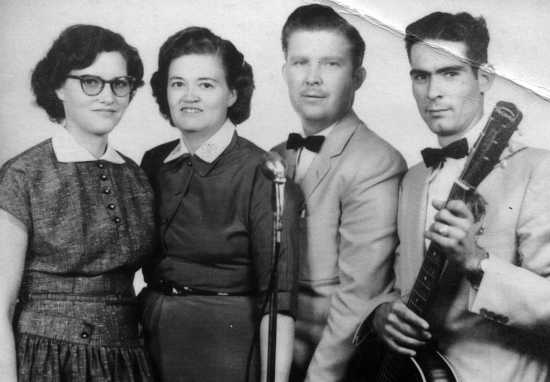 Family Four Quartet (1954)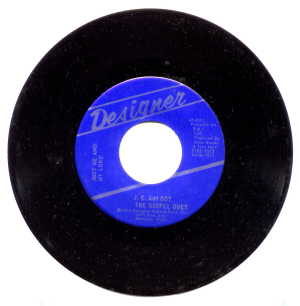 "Just Me and My Lord" and "Infidel's Daughter" (1960)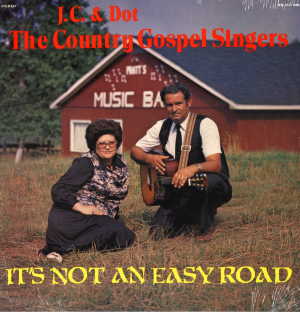 "It's Not An Easy Road"
(Click Here to see back of album cover.)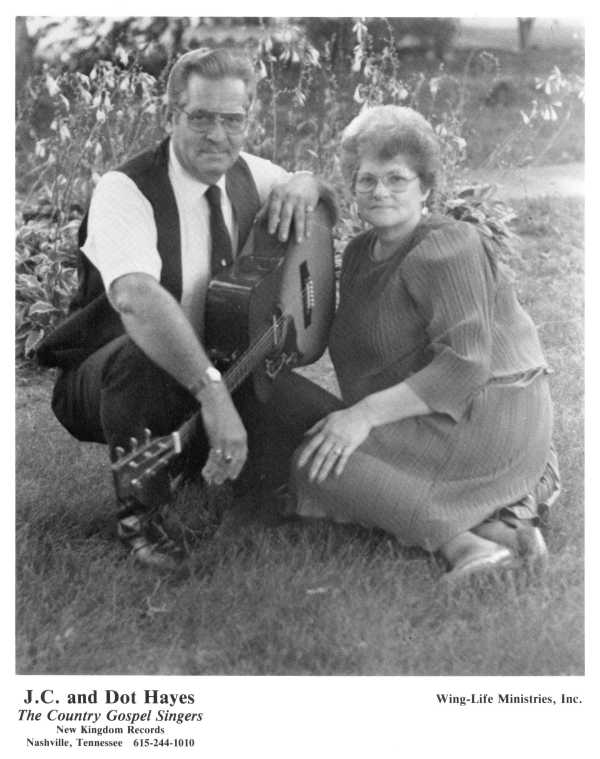 J.C. and Dot Hays (1989)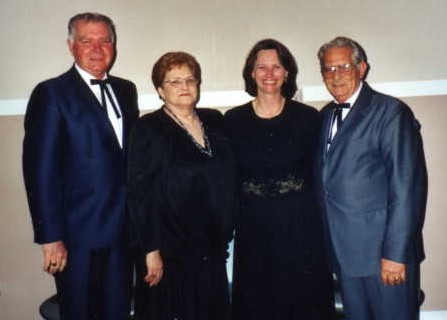 J. C. and Dot Hays on left (2000)