Dynamo Installed at Hinson Springs Hotel
from the collection of Brenda Fiddler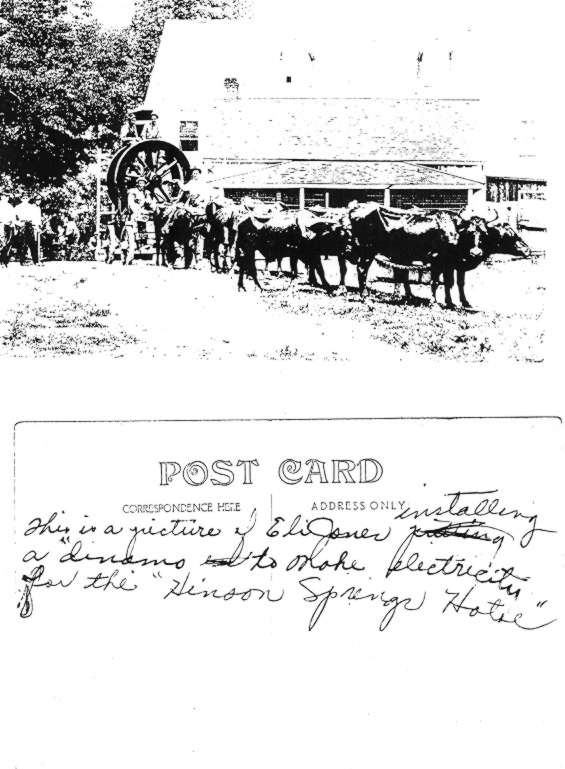 This post card shows the gasoline engine being installed at the Hinson Springs Hotel to generate electricity and pump water for the resort. Fairbanks, Morse & Company provided the engine which is similar to the one shown in the Lexington Machine Works advertisment below. This model gasoline engine was the first commercially available gasoline engine in the United States. Lexington Machine Works with Eli Jones as manager was the local agent for the Fairbanks, Morse & Company. Plans detailed the proposal for installing the water and electrical system for the hotel.
Eli Jones
November 25, 1910
Lexington Progress, Special Business Edition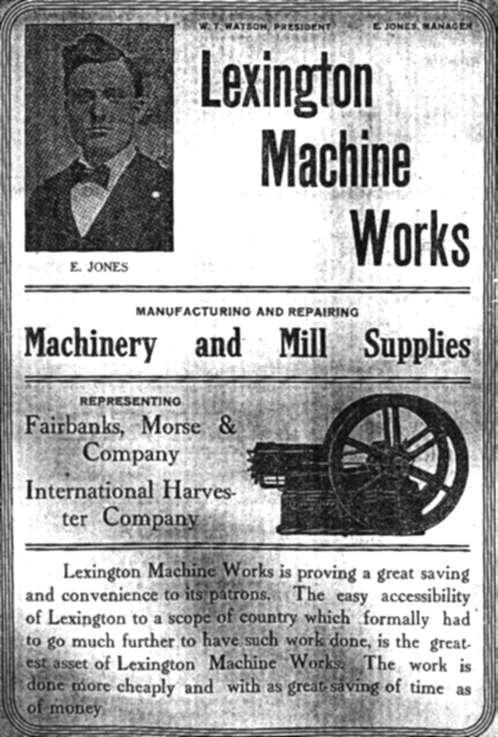 February 20, 1914
The Lexington Republican
Machine Shop; Valuable Property Destroyed by Fire Last Saturday Morning
Saturday morning at 2 o'clock fire destroyed the plant of the Southern Foundry & Machine Company at this place, the building being in a state of collapse before the fire company could get into the operation owing to the late hour of the fire and the remoteness of the plant. The company is capitalized at $10,000, and the loss is safely estimated at $17,000, covered by insurance. The machinist, Eli Jones, has expressed the belief that the fire was of incendiary origin. The building was one of the historic structures of the town having been erected and used twenty years ago as the Lexington Baptist College. It is not known whether it will be rebuilt.
Fairbanks, Morse and Company
To find out more information about the early times of Fairbanks Morse Engine please see the following:
Pioneers in industry; the story of Fairbanks, Morse & Co., 1830-1945. Chicago, IL: Fairbanks, Morse & Co., 1945
Wendel, C.H. Fairbanks Morse 100 Years of Engine Technology. Original publisher unknown, 1982; Reprint, Lancaster, PA: Stemgas Publishing Co., 1993
Wendel, C.H. Power in the Past, Vol. 2; A History of Fairbanks, Morse and Co. Atkins, IA: Old Iron Book Co., 1982; Reprint, Lancaster, PA: Stemgas Publishing Co., 1987