JO ANN BEAL
Jimmy Hart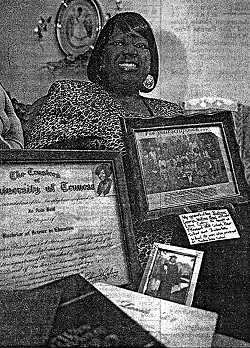 Jo Ann Beal was a third generation teacher in Henderson County.
Her grandfather and aunt were teachers. Beal is holding yearbooks
and photos from the family's careers. Original photo
by Dana Johnson/The Jackson Sun.
Preserving a legacy
Third-generation educator from Lexington retired in 1995 because of cancer. But her willingness to teach, as well as learn, remains.
February 24, 1998
Jackson Sun
By JIMMY HART
The Jackson Sun
LEXINGTON — Jo Ann Beal began teaching in 1973. In 1991, doctors told her she had terminal cancer. She retired four years later but has been working since to stay alive.
Her exit from classrooms at Caywood Elementary School, however, hasn't ended her willingness to teach — and learn. A third-generation educator, Jo Ann, 45, respects black history and continues to learn about her own.
The research inspires her, and she hopes the pride and determination that motivated her grandfather and other unheralded pioneers find root in the generations that follow.
"It's good to talk about the past as long as you can deal with it in a positive way," Jo Ann said. "The past is a stepping stone, whether it's positive or negative."
Her grandfather, George William Beal, was one of the first black educators in Henderson County. Jo Ann leans on his words of strength sometimes to deal with the sickness ravaging her body Doctors have given her until the year 2000 to live.
George William Beal, or 'Fessa Beal' as folks called him, began teaching in the early 1900s, a time when educated blacks and education for blacks were novelties. Until his death in 1960, Fessa Beal tried to change that.
"My grandfather, even back in those days, always stressed education," she said. "It was just instilled in me to be the best you can be. ... It was just pumped into us, 'You're a Beal. You're a Beal.'
"I just want to preserve his legacy. To get into teaching, you have to love it."
Fessa Beal's groundwork built a strong foundation that was passed from generation to generation, she said. Her aunt, Georgia Beal Hudson, Was a teacher, and two of her siblings, Clara Mae Beal and Joe Walter Beal, are teachers also.
Jo Ann Beal got her bachelor's degree from the University of Tennessee Martin and her master's from Trevecca Nazarene College. She also reached Career Ladder Level III teaching certification, the highest level in Tennessee.
Jo Ann started researching black history in 1989 while working on her master's degree. The gist of black contributions in many history books is that black people were slaves and freed by President Abraham Lincoln, she said.
To counter that limited scope, parents must become historians, Jo Ann said. "Teach your child at home the accomplishments that blacks have made."
Among her frustrations as a teacher was seeing some students in the lower reading levels struggle in class but at the same time be able to pick up on the complex lyrics of a rap song.
"Parents need to get more involved with what's going on and show more respect for teachers," said Jo Ann, who doesn't have kids but was sometimes called "mom" by her students. "Educating a child starts at home."
Fessa Beal knew that, she said. He gave practical advice to his children, grandchildren and students. She passes what she knows to those who'll listen.
"It's kind.of a legacy that I want to leave my family," she said.
In the interim, she continues to fight, allowing her grandfather's spirit to console her when she's too weak to walk or stand from the chemotherapy.
Jo Ann has multiple myeloma, a cancer of the bone marrow. "There's no cure for it," she said, bluntly. "I was originally given two years to live in 1991."
Chemotherapy drains her. Yet she doesn't ask for or need pity; she said. Her faith strengthens her, and she tries to read the Bible daily. She fights by remembering her grandfather's cries for self-determination, perseverance and an unwavering trust in God.
Jo Ann still receives treatment-and is no longer a diabetic. She has less than 5 percent cancer cells in her marrow, she said. She said she hasn't prayed for a cure for herself but a cure for others-who will get the cancer and don't have the faith. Recognizing and knowing your family history and black history in general can strengthen that faith, she said.
Caywood Superintendent Walter Medearis said. Jo Ann has shown that faith time after time during her illness, whether her health was good or bad. He and other staffers are glad she's doing better.
"She's been a catalyst," Medearis said. "She's been an inspiration."