HENDERSON COUNTY RANGE AND SECTION LINES — 9TH SURVEYORS DISTRICT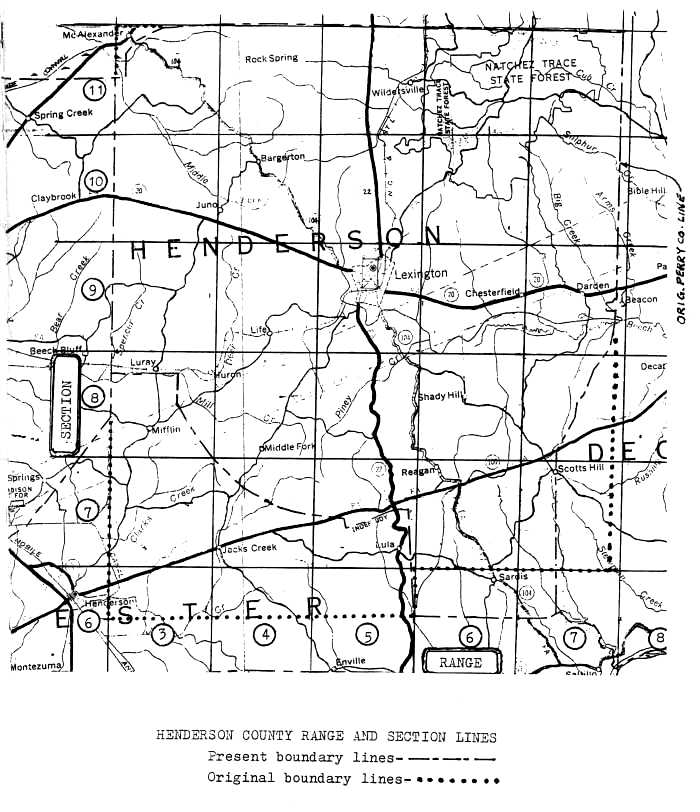 About 1820, in order to facilitate the field location and the recording of land grants including the prevention or resolution of dual claims, an Act of the Tenn. General Assembly authorized that West Tenn. be divided into 5 Surveyor Districts, and the land in the south-west corner of Middle Tenn. comprising the Congressional Reservation be divided into 2 Surveyor Districts. These districts were to be divided into a 5 mile square grid system of north-south range lines and east-west section lines. The boundary lines of the original Counties, 17 of which were west or partially west of the Tenn. River were to run on or parallel to the range or section lines. Land grant boundaries were basically bound by the same guidelines.
Due to land surveying practices and the quality of surveying instruments in those days, true bearings and distance measurements were to varying degrees in error. This fact was recognized and the law provided for an error of closure of 1.25% (330' in 5 miles). One of the more notable examples of this type error is the 17 mile off-set in the Ky.-Tenn. State line where it crosses the Tenn. River.
The southern boundary line of the state, which was intended to be a true east-west line (350 latitude) was used as a reference line for sectionalizing. East of the River the State line was essentially a true bearing, but west of the River the old state line or Winchester Line was in general 3-1/2° north of a true bearing. The result was that the range, section and County lines were skewed in a clock-wise direction. Other surveying inaccuracies may have increased or decreased the 3-1/2° error in some parts of West Tenn.
Return to Henderson County, Tennessee Historical and Genealogical Research Maps