FUNERAL OF JOHN S. MCPEAKE
From the photograph collection of Brenda Kirk Fiddler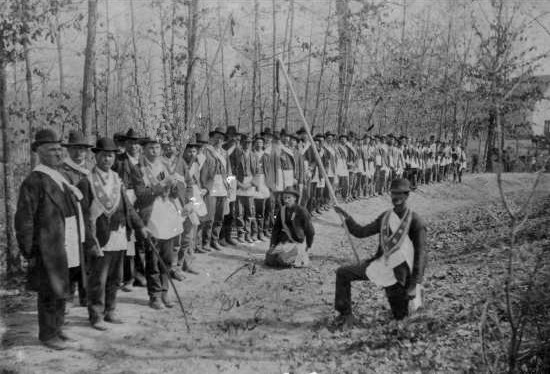 Photograph taken at the funeral service for John S. McPeake at Rock Hill Cemetery in 1904. The man in the center is identified as "Grandpa McCollum" and appears to be paraplegic. The photograph was made by "S. A. Haskins Photographer and Maker of Shell Jewelry, Lexington, Tennessee."
---
March 11, 1904
Progress
Local & Personal
J. S. McPeake died at his home two miles east of town Sunday. His remains were interred in Rock Hill.
May 13, 1904
Progress
Big Day
The occasion of John S. McPeake's funeral service sermon at Rock Hill near Warren's Bluff last Sunday was honored by the Odd Fellows. A special train from Lexington at 10:30 a.m., carried two packed coaches. There was an abundant dinner on the grounds and the sermon was preached by Elder N. M. Byous. John S. McPeake was a good man and held membership in the Lexington Lodge I.O.O.F.