HERBERT POWERS AND HIS OXEN
from the collection of Brenda Kirk Fiddler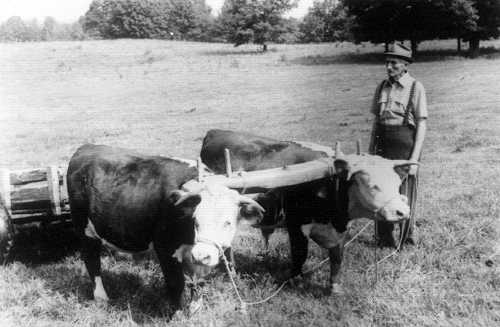 Photo of Herbert Powers and his oxen. This image appears on a Christmas card.
Transcribed by Brenda Kirk Fiddler
Ownership of Oxen Fulfills Lifelong Dream
By Lillie Younger
June 22, 1972, Lexington Progress
[Photo: "Yesteryear--Mr. and Mrs. Powers pose beside their yoke of oxen and covered wagon. Mr. Powers is holding a grubbing hoe 110 years old while Mrs. Powers holds an old-fashioned cedar water bucket and gourd dipper.]
A 73-year-old Senior Citizen has attained a secret life-long ambition despite the fact that the years have rolled by at a fast rate of speed.
Herbert Powers of the Middleburg community raises oxen to keep the pioneer spirit in America alive.
"When I was a boy of six, my dad gave my older brother a yoke of oxen and my job was to open the gap and lay down the fence for them to go through," the slender, silver-haired farmer recalls. "I always wanted to drive them but my brother said I was too little. From that time on, my desire has been to own a yoke of oxen."
And that's just what the versatile farmer has. Not only does he have one yoke of oxen, but two.
After a century "almost," the dream of a life time comes alive and time rolls backward at the Powers farm.
He raises and trains oxen. A number of years ago he trained his first yoke, Buck, a black Angus, and Baldie, a black and white face. His latest are named Lum and Abner.
"I began training them when they were two months old," he explained. "First I roped them one at a time and then I put halters to them and taught them to stand. I made a two wheel cart from an old cultivator and hitched them to it, one at a time. They ran away at first."
The idea planted in his heart since childhood almost failed to become a reality when the problem of locating a yoke turned up.
"I'd forgotten how to make one but finally I found an old one in an antique shop and used it as a pattern." Not only does he make regular size but also miniature ones for those who want a souvenir from the Powers farm.
"A yoke is made with two loops which fit the oxen's neck and a center hook which holds a chain for snaking logs or attaching a bell in the center ring out clear and loud with each step."
When I put the yoke on Buck and Baldie, they were unhappy and turned in it a time or two. There is danger of choking when oxen turn their yoke.
He made the bow for his covered wagon and his daughter covered it. A cedar water bucket and a gourd are placed at one end of the wagon which is smilar to the ones which blazed the Santa Fe Trail.
There is much more to his achievement than just a hobby. Mr. Powers harrows his vegetable garden with his oxen. They are trained to do farm work and snake logs as well as pull the covered wagon on Sundays for entertainment.
The oxen-drawn covered wagon creates a lot of excitement at the Henderson County Fair in Lexington where they have appeared.
The old West comes alive on Sunday afternoon at the Powers farm when young and old alike scurry to join in a joy ride.
The retired farmer is planning a big celebration this summer. With a twinkle in his eye he took a backward stroll through the pages of history with his plans to share the pioneer activities it will encompass.
"We will show the youngsters how rails were mauled and shingles made to cover houses with a maul and f roe. Also how to plow with a bull tongue plow, wooden beam turning plow, use a grubbing hoe, eye hoe, which was also used to make hoe cakes, consisting of meal and water in the early days. A broad axe used to make cross ties will also be on display."
From the animal kingdom comes the cow and Mr. Powers plans to show how to milk a cow and explain the steps taken from the teats to the butter, which graces the Powers' dining table.
Of interest to the ladies will be the process of making lye soap from ashes and meat grease, weaving split bottom chairs and baskets.
"My daughter, Ruby Nell, will be attired in a calico dress in which 10 yards of material went into the making."
As the agile senior citizen turned in his chair, he said, "We live very much like the pioneers. We grow our food, raise our meal, milk a cow, have hens from which we get our fresh eggs, young chickens which we eat and get our water from a well."
Recently a replica of the log cabin in which Mr. Powers grew up in has been erected near his rural mail box in front of his home.
"I reap great satisfaction by living in the atmosphere where the heirloom skills are revered as well as practiced."
A date will be set later for the "Big Day" according to Mr. Powers. "It will be a good experience as well as an education to the city slicker and the country folks," he smiled.
Mr. Powers, a brother of Auburn Powers, who published the History of Henderson County in1930, now out of print.
He concludes his statements by saying, "My wife and I enjoy working together and we enjoy the country life to the fullest."