PULLING TOGETHER: OX TRAINER, WIFE KEEP YESTERDAY'S SKILLS ALIVE
Louis Allen
Jackson Sun, Monday, June 6, 1977
Photographs by Larry Atherton
SCOTTS HILL. When Herbert Powers was about seven or eight years old, his father gave his older brothers a team of oxen. He wanted some oxen too, but they told him he was too young to work them.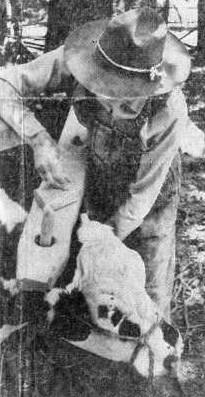 Herbert Powers attaches
the yoke to one of his oxen.
He decided then that he would have a team someday, and about 10 years ago he broke his first team of steers Mr. Powers will be 79 in August.
BACK WHEN HE started to train his first animals, he didn't have a yoke to put on them. That wasn't much of a problem for Powers though; he just found one in an antique store and made his own yoke, using that one as a guide.
And that's a hint for deciding what kind of person Powers is. A visit to his farm with its rail fences, log outbuildings and wooden shingles, all made by Powers, is almost like going to a pioneer museum.
He didn't make these things with modern power tools either, he has many early hand tools and knows how to use them.
How did he learn? Well, it's a matter of getting by. When asked how he came to start making wooden shingles, he replied, "When the roof started leaking."
POWERS HASN'T done all this alone though; his wife, Helen, has been with him for 50 years. Their children gave them a big golden anniversary party a couple of months ago.
Mr. and Mrs. Powers recall lives that weren't easy, but they don't complain. He sums it up like this, "It was pretty rough, but we enjoyed it."
He likes to tell this story about the two-room log house in which he was born and reared. He remembers one stormy winter night with snow and wind. Next morning, after the family had gotten up, he says there were footprints from the beds to the fireplace to the table. The footprints were in snow that had blown in through cracks in the wall during the night.
He also reminisces about the cold and how the gravy on their plates at breakfast would occasionally solidify to the consistency of lard.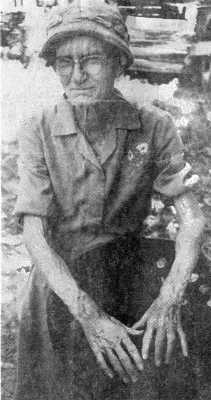 Helen Powers watches her husband.
MRS. POWERS remembers the neighborliness of earlier times, how "back yonder when you needed something done, people would come in and help."
Neither seems unhappy though. They talk some of a now house, but agree that they probably wouldn't be satisfied anywhere else.
They still raise most of their vegetables and Mrs. Powers cans a great deal to help them through the winter. They have chickens, but no longer have a cow or hogs. Slowly, they are becoming more dependent on the store, but proud independence doesn't leave quickly.
Powers admits he doesn't farm that much with his oxen. They are something he enjoys working with. He has trained four teams, and has raised his present pair from birth.
They are twin white-face steers named Jam-up and Honey. Weighed recently, they were within a few pounds of each other and they look alike, but Powers knows which is which.
RAISED FROM BIRTH by bucket feeding, the oxen are gentle, but do get a little balky at times, especially when strangers are around.
Powers said he would rather use oxen because they are easier to train and work with than mules.
He has two wheeled carts and a covered wagon he uses to demonstrate how the animals work. The wagon, which he bought in 1942, was the last of its type sold in Lexington. It's a John Deere and the undercarriage still bears the trade mark.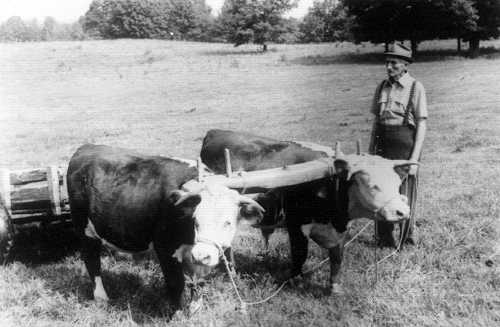 Twin white-faced oxen. (The color photograph from the clipping was too faded to reproduce
This photograph of Herbert and his oxen is owned by Brenda Fiddler.)
Powers remembers seeing seven yoke of oxen pulling a large wagon when he was a boy. The wagon carried a steam engine to run a saw mill. There were no lines to the oxen; three men walked beside the teams to guide them.
When they reached their destination, the steers were unhitched from the wagon and then were used to "snake" logs to the saw.
However, Powers mainly uses his team for show. He has appeared at festivals in Lexington, Parsons and Scotts Hill.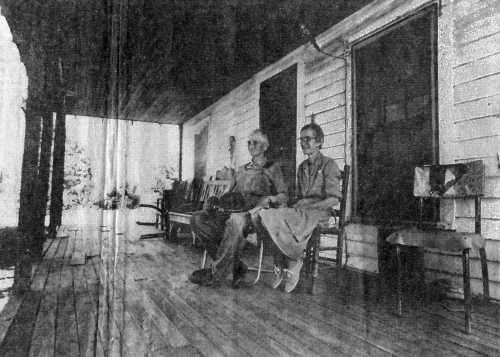 Herbert Powers and his wife, Helen, enjoy a life reminiscent of the past
on their farm near Middleburg.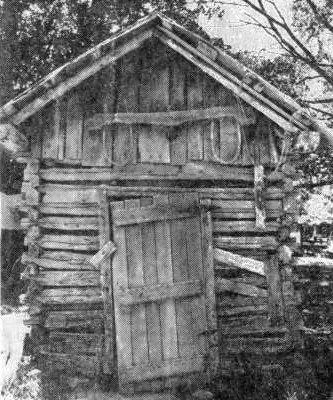 One of the log outbuildings constructed by Powers.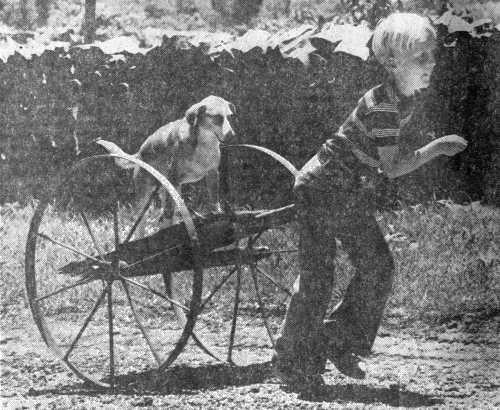 Grandson John Gregory Powers takes the family dog for a ride
on one of the carts Mr. Powers built to help train young oxen.