WOW...JUST LOOK AT THIS POT!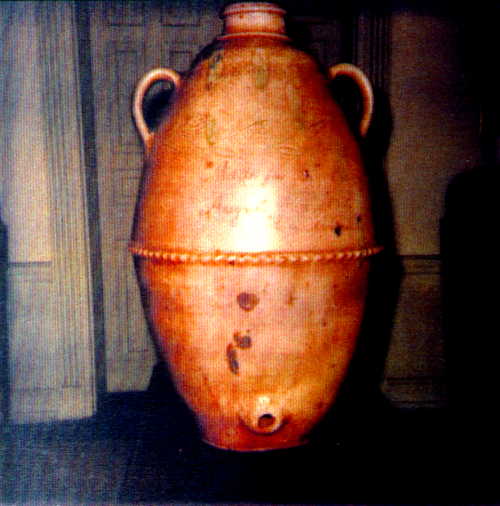 Large Vessel Made by Henderson County Potter E. Craven
Inscription on pottery:
Made for Dr. B. H. Brown
Red Mound, Tennessee
August 185_
E. Craven, Potter
The year is either 1853 or 1855. [Red Mound was just south of the present Parker's Crossroads community.]
Mr. W. L. Barry of Lexington says that the pot was offered to the Tennessee State Museum about 20 years ago for $2,500. Mr. Barry was notified and furnished the photo. He was told the piece was about 5 feet in length. A doctor friend (very much into "old things") said he believed it was a water purification system that probably used layers of cheese cloth, etc., in the bottom to catch sediments. Mr. Barry thinks, considering the pot was made for a doctor, that is what it is -- a water purification system. The museum did not purchase the pottery and Mr. Barry later heard that the piece was in South Carolina.
Samuel D. Smith and Stephen T. Rogers mention this pottery form in their A Survey of Historic Pottery Making in Tennessee (Division of Archaeology, Tennessee Department of Conservation, Nashville, 1979).
40HE35
Balaam Fesmire's son Alexander was listed as a potter on the 1870 census for Henderson County and apparently was working at the 40HE35 site. Thomas E. and Malcolm Craven (sons of Tinsley) were also listed as potters and were living next to Alexander Fesmire in 1870.
This Fesmire-Craven pottery produced salt-glazed stoneware in the standard utilitarian forms, and tobacco pipes and ceramic animal figurines were also made. Perhaps the most distinctive feature of the ware concerns several sherds from large ovoid-shaped jars that have an appliqued "rope-like" design around the midsection. Two large jars in private collections have this identical applique and clearly were made at this pottery….
The exact period of production at this site is not known, but a large quantity of waster sherds was found, suggesting a long operation. The pottery probably active from before 1870 until at least the 1880s.
More on Pottery in Henderson County