THE REEDS, JOSEPH AND "POLLY"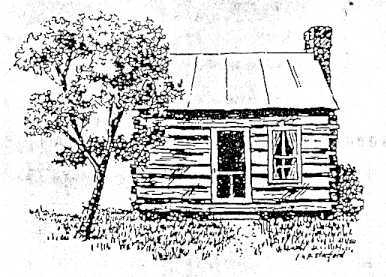 "Kitchen" 1818
The first permanent white settlement in Henderson County -- 1818
Built with huge poplar, chestnut and oak trees cut and hand hewn on the settlement, this log house became home to Joseph, Polly and their five children in 1818.
In the fall of 1817 when John Leverett and William were 11 and 8 years old, they were left here with the Chickasaw Indians to spend the winter and await the return of the father, Joseph and family. In the spring of 1818 Joseph and family returned from North Carolina to find the boys well and I'm sure very happy to see them.
The area used mostly by the Chickasaw lies in a large bend in the old river as it turned and meandered from east to almost due north around what was to become the Reed settlement. The land was granted by Governor Carroll to Joseph Reed in 1821.
This kitchen together with the 20x20 living area was erected on this site complete with two fireplaces for heating and cooking, and garden spot on north side, barn with corn "crib," five stables for livestock and a storage shed, loom house and smoke house, family cemetery, the "Reed" spring and other necessities of the times.
As you view the kitchen, note:
Large cracks between the logs for summer ventilation
The gunport on the northside overlooking the family garden
Numerous peg holes for storage and hanging utensils, clothes and other objects
Chickasaw indian artifacts reminiscent of the early 1800's and the time young William and John spent with them on the property.
The children, Armintee (1802-1849), Polly Matilda (1803-1855), John Leverett (1806-1879), Joseph Jr. (1808-1863), and William (1810-1886) were all raised here.. The youngest son, William, continued to live here, care for his parents, fight in the Civil War and raise his family. Members of my family are direct descendants of this son , William, and have lived here continually since 1818. The rest of the family spread into the surrounding community form Shady Hill to Warrens Bluff and the area became known as "Reed Town."
The descendants of Joseph Reed (1746-1861) and Mary "Polly" Leverett (1768-1859) are many and scattered unto both oceans and most of us that are a part of this heritage are proud to be counted among the eight generations of Joseph Reed descendants and a part of Henderson County history.
Bobby Snider, 6th generation Joseph Reed descendent