SAMUEL HENRY ESSARY
compiled by Brenda Kirk Fiddler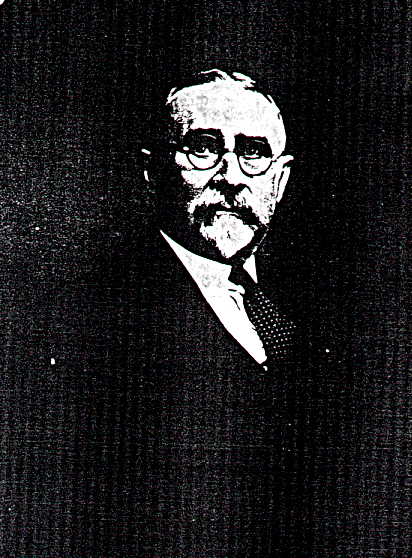 Samuel Henry Essary Dies in Trenton
May 3, 1935
Progress
Samuel Henry Essary, familiarly known as Henry Essary, suddenly died at the home of Florence L. Dennison, April 28, 1935, at about eight o'clock. He had come down from Knoxville, where he has been connected with the University of Tennessee as a teacher and an Agricultural Experiment work for the past 32 years, to the West Tennessee Experiment Station at Jackson, on one of his periodical inspection trips, and spent the night there. On Sunday morning he went up to Trenton to spend the day with his old friend and kinsman, Florence L. Dennison, and shortly after arriving there and while seated in a lawn swing, he was suddenly stricken and died without speaking. His remains were taken in charge by a local undertaker at Trenton and brought to Chesterfield to the home of his sister, Mrs. Florence Lindsey, that afternoon.
In the presence of a large assembly of kindred, friends and admirers, funeral services were conducted by Rev. Fleetwood Ball, assisted by Rev. W.F. Boren, after which interment was made in the family lot in Union Church Cemetery where rest his father, mother, and other members of his family.
Mr. Essary was born in the Chesterfield community, Sept. 23, 1870, to Larkin Essary and wife, Annie Essary. He received his early educational training in the common schools of the county, later entering Union University at Jackson where he spent three years. He then went to the University of Tennessee graduating from that institution, after which he took a post-graduate course in the University of Michigan. After his graduation, he was elected as a teacher in some college in Northern Missouri, later being elected a president of a girls' school in Georgia.
While in the University of Tennessee and in the University of Michigan, he specialized in Botany and in the growth of plants, and became one of the outstanding men in his line in the entire South. He developed what is known as Tennessee Lespedza No. 76, from a small sprig of common Japan Clover he removed from the banks of Brown's Creek, this county, which clover is now generally used all over the South as a land builder. He also developed a Wilt Resisting Red Clover, Blight proof Tomato, and other plants which are now in general favorable use.
During his presidency of the girls' school in Georgia, his former instructor, Samuel L. Bane, became ill and was forced to resign his chair of Botany at the University of Tennessee. It was then that Mr. Essary was called to take his place. Mr. Essary's health began to fail about two years ago, but he continued active at his work although he expressed a desire to retire at the end of the present session of school and come back to his home at Chesterfield to spend the remainder of his life.
He was never married, but leaves three sisters: Mrs. G.W. Frizzell and Mrs. Florence Lindsey of Chesterfield, and Mrs. Eula Jimmerson [ Mrs. Scatterday] of Ridgely, and a number of uncles, aunts, nephews and nieces.
Mr. Essary's untimely death was a great loss not only to Henderson County and a great host of friends who knew him intimately but also to the University of Tennessee and the entire county as well, for he was really and truly a great benefactor of plant life, and his services will be greatly missed.
Resolution on Death of Henry Essary
July 19, 1935
Progress
[Mrs. W. G. Frizzell, Chesterfield, received from the University of Tennessee information compiled about her brother, Samuel Henry Essary: In part:]
A graduate of Henderson County, he graduated from the University of Tennessee in 1897. He took his Masters at the institution in 1907, and also spent some time in study at the University of Wisconsin. He taught at LaGrange College, Missouri, 1899-1901, and at Brenau College, Gainesville, Georgia, 1912-1904; became associated in 1904 with the late Professor Samuel M. Bain, head of the Department of Botany of the University of Tennessee and the Experiment Station, was assistant in the department until 1919, and was then appointed to a position as station botanist, which he held until the time of his death.
Mr. Essary was recognized as one of the outstanding botanists of the South as a true naturalist and keen observer. He had a deep and abiding appreciation of the beautiful and the good--in nature, music and literature--and a strong sense of loyalty that endeared him to all who knew him.
One of the first achievements in plant improvement work was the development, in co-operation with Prof. Bain of Tennessee of wilt resistant clover, which continues to be the best variety south of the Ohio River. Before its introduction, the growing of red clover in Tennessee and other parts of the South had largely ceased because of the ravages of the plant disease. Two wilt-resistant varieties of tomatoes--Tennessee Pink and Tennessee Red--selected by Mr. Essary, have been of inestimable value to the growers of the trucking area of West Tennessee. Probably his most important contribution to agriculture in West Tennessee No. 76 lespedeza, developed from common Japan clover, and now grown throughout the state as a hay and pasture crop.
For a number of years he had given special attention to the improvement of cotton by selection and breeding, having made over three hundred crosses with seven of the most promising varieties, in an effort to secure superior strains--high yielding and of high quality staple. Thrice cotton, one of the best early varieties has grown along the Northern border of the cotton producing area, was improved and introduced to general use by him. In all his work he maintained a high scientific standard, while achieving results of great practical value. He will long be remembered by both botanists and farmers.
Mountain hiking was one of his hobbies. He was a pioneer in the blazing of trails in the Great Smokies. Pictures of peaks and studies of plant life made by him have been used in books that describe the Smoky Mountains.
Mr. Essary was a gentleman. His unassuming,helpful and sympathetic nature and genial personality won for him many friends. He was a well-loved figure at the University, and will be greatly missed, particularly by his associates in the Experiment Station and College of Agriculture.
East Broadway Now Essary Road
June 14, 1940
Progress
East Broadway is no more. In its stead by vote of Knox County Commission yesterday, the Fountain City residential street becomes Essary Road.
The name was bestowed in honor of the late University of Tennessee agricultural professor, Samuel Henry Essary, after 48 residents of the street and the adjoining Gibbs Road signed a petition setting out the confusion resulting from the old name.
The professor honored with the name recently had his name also applied to several varieties of plants of which he had developed improved strains at U.T. Experiment Station. He died several years ago.
It was pointed out that several duplication of names have occurred since the city and county eliminated more than 300 about 15 years ago. These could be changed by application to the City Council if in the city or by petition to the County Commission if outside the city.--Knoxville Journal (June 5th).
Henry Essary was a citizen of Henderson County and was long connected with the experimental department of the University of Tennessee. Two sisters, Mrs. Philip Lindsey and Mrs. W.G. Frizzell live in Chesterfield and vicinity.
SAMUEL HENRY ESSARY
(1870-1935)
From Scatterday and Anderson, Story of Chesterfield:
Samuel Henry Essary was the great great grandson of John Henry Essary and "Old" David Ingram both of whom were in the first caravan of covered wagons arriving in this community in 1820, in what is now known as Chesterfield.
He was the great grandson of John Essary, and the grand son of Nathan Crosby Essary (Known as 'Buck Essary').
His Great Great Grandmother, Hannah Ingram, was buried in the first grave at Union Cemetery.
Henry Essary was born in 1870, the son of John Larkin Essary and Annie Altom. His mother and small sister, Samantha, both died when he was a boy of 8 or 9 years.
His father's second wife was Annie's sister, Mary Ellen Altom, who reared Henry with the same devotion bestowed upon her own children, Dora, Claiborne, Florence, and Eula….