HISTORY HIGHLIGHTS, SCOTTS HILL, TENN. CHURCH OF CHRIST
by Gordon H. Turner, Sr. (circa 1960)
What is now the Church of Christ in Scotts Hill, Tenn., began in the summer of 1872 or 1873 when two couples of neighbors and relatives were the first in this whole area to confess their faith in Jesus Christ and be baptized (immersed) "for the remission of sins."
These were: Benjamin Franklin ("B. F." or "Uncle Ben") Austin and his wife, the former Lucinda Scott, and Jesse H. Holmes ("Uncle Jess") and his wife, the former Cynthia Austin, sister of B.F.Austin. Dissatisfied with the prevailing "Baptist" religion which discounted baptism as a factor in forgiveness, they, as many others were doing over the country, were reading the Scriptures for themselves to determine whether some of the prevailing doctrines were so!
In the early 1870's there were preachers of this "Christian Church," as the Church of Christ was known back then, holding revivals and mission meetings in many parts of West Tennessee. These two Scotts Hill couples about this time heard of a preacher "over north of Beech River" who was doing such preaching as they wished to hear. So they rode their mules, found the place and the man, heard perhaps their first truly "Gospel Sermon," made the good confession, and were baptized into Christ that their sins might be forgiven.
These first four Christians likely spent the night where they obeyed the Gospel. It is believed that the preacher they heard and who baptized them was Bro. John W. Johnson of Clarksburg, a godly man and a powerful early evangelist of the area. The place was most likely Roan's Creek church in south Carroll county or possibly at some "brush arbor" mission meeting even in north Henderson county.
Anyway, the kinsmen and neighbors rode their mules back home, happy to be just simple Christians, and with a determination to meet on each Lords Day for Bible study and simple worship and to urge their relatives and neighbors to come with them. They began meeting in their homes and from the start, their relatives and friends did assemble with them for study, in increasing numbers.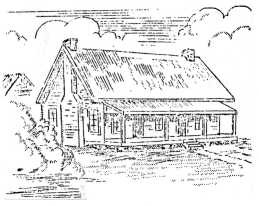 1872-73 til 1877
The pretty old B. F. Austin home 2 miles
south-east of Scotts Hill where early Christians
met for worhsip alternating with the Jesse Holmes home (below).
Later bought by the Maness-es and dismantled a few years ago.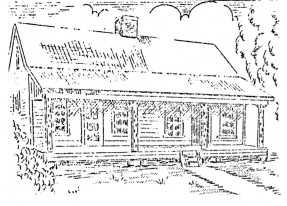 1872-73 til 1877
The Jesse Holmes where the early church met
part of the time. (Later bought
by Italy Austin -- a Deacon now -- and converted into a barn.
It may be that early in this effort, Bro. Austin baptized those who decided to obey the Gospel. Their little band grew from the start and in later years, this humble but powerful servant of God did much teaching and baptizing in the community, though he never thought of himself as a preacher.
It is interesting to study the coming of the New Testament plan of salvation to the "Western District" (now West Tennessee) of Tennessee. As early as l830-40,even before the Chickasaw Indians were all gone, there had been preaching over scattered areas. John H. Dunn preached much and established congregations. In McNairy county were several churches, some with 100 or more members, before 1840. Bro. Dunn preached some in 1840 at "White's Meeting House" in Henderson county. A Bro. Gillilan and a Bro. Holmes (likely related to our early Holmes) assisted him.
Roan's Creek congregation between Lexington and Clarksburg was established in 1825-27 as the very first in West Tennessee. Other early congregations in Carroll county were Crooked Creek and Reedy Creek, both also in the southern part. Peyton W. Smith, Allen Kendrick, and John R. Howard preached at all these places, even before Bro. John W. Johnson reached his zenith as an evangelist.
Other early preachers in West Tennessee, following those named above, were: R. B. Trimble, J. M. F. and A. J. Smithson. W. H. Dixon of Petersburg was preaching near us in the 1870's and E. G. Sewell had evangelized around Martin. By the Fall of 1879 West Tennessee had some 50 to 60 congregations and some 40 preachers. It was estimated that in the whole western area, we had about 2,000 members. Though one report says that there were several counties and at least twelve county seat towns without a Christian Church (later Church of Christ).
But back to Henderson county and our own Scotts Hill area. The county's first congregation was possibly Holly Hill (later Alberton) in the area now comprising Natchez Trace Park. Started possibly in the l840s or 1850s, it closed out when families were moved from the area to make way for the conservation project and park (1930s).
Second oldest congregation in Henderson county (now the oldest since the closing of Alberton) was likely Stray Loaf and then Christian Chapel, both begun before the Civil War....
From point of time, it seems that Scotts Hill was the fourth "Christian" Church in Henderson county (now the third). The very first four members had obeyed the Gospel about 1872 or 1873 and in 1877 the group, grown to 21 members, was "set in order" as a working congregation by Bro. J . R. Biggs of Trenton, likely assisted by Bro. Johnson of Clarksburg.
Preachers who labored greatly with us back in the first years of the church were: John W. Johnson, J. R. Biggs, Rufus P. Meeks Stantonville, E. C. L. Denton, J. L. Haddock, T. A. ("Roaring Tom") Smith, Bill Morgan and others.
Piecing together a few facts and much tradition and "guessing," we may decide how our first four members ever went so far (on mules) to become Christians. Well, it is known that sane Holmes-es came as pioneers from North Carolina to Perry county, possibly by 1820, During that decade, it may be that William Holmes and his family pressed on "west" to settle in Carroll county just south of Clarksburg, and that possibly his brother or kinsman, Ralph ("Rafe") Holmes and his family came on to settle in Scotts Hill by 1830,
Anyway, William Holmes and his wife and Miss Polly Holmes wore among the few members to establish the Roan's Creek congregation (1825-27) and doubtless they heard Gospel preaching before their kinfolks and friends in the Scotts Hill area did,
It could be that the families kept in touch with each other and visited occasionally. And always, back then, religion was a live topic! William Holmes or his descendents at Roan's Creek could have informed their kinsmen at Scotts Hill of their "New Light" and Gospel preaching just after 1870, resulting in the Jesse Holmes and B. F. Austins going from here to hear preaching and be converted. The news and invitation could have come to our Jesse Holmes (whose brother "Uncle William Holmes" here may have been named for his uncle William at Roan's Creck). However factual all this may be, it is interesting to surmise such!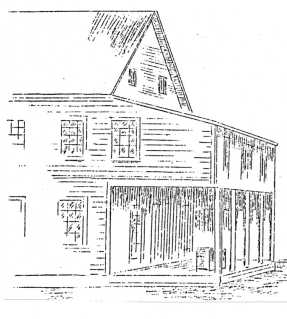 1877-1880
Front of the fine old Jesse Holmes Store here,
to a room of which (formerly used as a saloon!)
the little group of disciples moved their worship services
from homes, about 1877 when the congregation was organized
with Elders and Deacons. (In the late 1890's
the store porch was used as a stage for the old Scotts Hill
College graduations, the teachers and graduates "speaking"
from the porch to to the audience seated in the street!
The building and all other business houses and five residences all burned
in the big fire on the night of Oct. 16, 1917.
In 1877 (July 2-5) Bro. J. R. Biggs held the first meeting for the church here, assisted by H.C. Wesson of Fulton, Ky. There were 12 "accessions" (later, "additions") of mature age. Among those baptized were Mary Frances and Margaret Austin, daughters of B. F. Austin (Mary Frances married J. S. Turner a few weeks later on Aug. 18; Margaret married J. Frank Maness Feb. 20, 1878).
The young ladies and the others who became Christians before the church was "set in order" in the Fall (1877), always counted themselves as "Charter" members of this church. (Sis. Turner was the last to die--July 13, 1962).
It was on the 3rd Lords Day in Oct., 1877 that Bro. Biggs and Bro. John W. Johnson put this church "in working order" by the appointment of the first Elders and Deacons. The very first Elders were Bros. B. F. Austin and Jesse Holmes and at that time or within a few years, Jonathan Duck was added as an Elder. First Deacons selected then or within a short time, wore J. S. Turner and Sanders Brigance. Coming in a little later to serve with them was John T. Smith. Those men were thought of as serving until their deaths, or, as was the case with some, until they, moved away from Scotts Hill. Bro. Austin died in 1921; Bro. Duck, in 1912; Bro. Holmes, in 1928; and Bro. Turner, in 1947. Bro. Smith's family moved to Lavinia in 1903; Bro. Brigance moved first to Calhoun City, Miss., in 1908, then to Henderson in 1909.
During 1878 and 1879 Bro. Meeks was the monthly (first) preacher here and held summer meetings. The church grew from the start and in his reports to the Gospel Advocate, Bro. Meeks and others wore high in their praise of Scotts Hill.
Bro. John W. Johnson became the monthly preacher in 1880 and Bro. Meeks came back to "hold the meeting" when there were 21 "accessions."
About that time the Church had outgrown the "saloon" quarters in the Holmes store house. So permission was given to move the place of meeting to the old long frame schoolhouse which stood where the high school gymnasium now stands.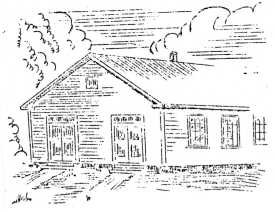 1880-1888
It was in the late 1860's or early 1870's that the first
frame school house was built in town (log houses were used earlier).
John H. Duck and L. L. Brigance were teaching a
"subscription school" in this house which stood where the
gymnasium now stands, even before B. A. Tucker came to
promote local education. Tucker began in this building
later transferring his "college" a half mile east
to "College Ridge." The church met here
from about 1880 until about 1888 when they built their own
framebuilding 100 feet west on a site donated by. Br. and
sis. Holmes. (This school house was later converted
to residence quarters as the town's first
"apartment house!" It burned in 1926.
During the early years of the Church, things were not at all as we know it today. All religious bodies have had their difficulties and problems .But these people were sincere and were quick to abandon wrong teachings and practices and to take up better ones as they became taught.
Since Restoration days (around 1800 and soon after), various ones had contended for "Conventions" and "Cooperation Meetings" when delegates would meet from many congregations to discuss questions and decide for the whole church.
"Sunday Schools" had come in earlier and then (as now!) some were for them and some against them. There was a strong demand for "Societies" to do the work of the church, such as Missionary, Welfare, etc. It appears that Scotts Hill accepted the Sunday School idea from the start and not to use the Societies to do the practical work of the church.
However, the congregation did go along with most other churches in the use of an organ in the worship, favored by the majority at first, possibly, but which became more and more opposed as time went on. Bro. Holmes had bought a nice little instrument and reports are that back then the singing accompanied by the organ, would compare for quality and zest with any in the country.
Some of our great preachers and many of the members here were strong "organ" members. Bro. Meeks and Bro. Haddock saw no wrong in using the organ, even until their deaths. Bro. Jesse Holmes was a leader of local forces for the organ.
However, by the century's turn the little instrument was doomed...in this church. David Lipscomb and E. G. Sewell with many other very great scholars opposed its use in "church" and more and more of those who came to preach for us, were against it. It was E. C .L. Denton's teaching against its use about 1901-03 that turned the tide and relegated the organ to a back corner of the old house.
Though no open break came as as result of abandoning "instrumental music" feelings were hurt and for a time the congregation was not as compact and congenial as in former days Over the country many "Christian Churches" kept on using instrumental music and, of course, retained con- trol of the meeting houses, forcing those against the "inovation" to obtain other places of worship. The "loyal" brethren retained the house hero, however, and gradually took on the name, "Church of Christ" rather than the former "Christian Church."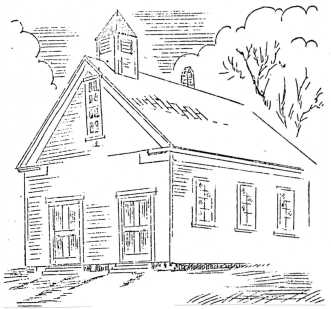 1888-1928
Our middle-aged and old-timers remember and love
this old 'yellow poplar" church house,
built largely by members in 1888--first meeting house
owned by the Church. Uncle Jess Holmes gave
the site and we still have the original deed. W. A. Austin,
later a great stalwart in the church, literally hand-planed
the weatherboarding and he and his father, B. F. Austin, largely
made the old benches--some of them used until recently
when they were given surrounding congregations...mostly
Austin's Chapel. The old house was twice wrecked by storms
and before it was replaced by our first brick structure (1928),
it was propped up with poles on the east! But it served
as a great purpose and saw the "golden age"
of the church from the standpoint of additions.
We spoke of the "golden age" of this church occurring while the congregation met in the house above. This was during the phenomenal meetings conducted here and in the area by such preachers as R. P. Meeks, J. L. Haddock, T. A. Smith, E. C. L. Denton, Bill Morgan, C. M. Gleaves, C. E. Holt, the Dunn boys and others--from 1890 till 1900 and on, some of them, through 1910 and after. Whole families obeyed the Gospel and it was not uncommon for 20 or more people to make the "good con fession" together. Bro. Haddock baptized over 100 people in each of several meetings in our general area,--around old Juno especially. Bro. E. D. Brigance (of Henderson) recalls seeing some of the touching baptismal scenes, witnessing the baptisms of his brother and sisters, the Helms, Bagby, Davenport, Turner children, the John Austins, the Charlie Austins, the John T. Smith children and others!
It was in the early 1900's and until they moved away following tho tornado (May 27, 1917) and the "big blaze" (on 0ct. 16, 1917), that we thought of such men as Henry P. Davenport, J. A. McClanahan, and others as the perfect Deacons here! They were good men; had excellent families, and wore every loyal to the church. For many years, Bros. Davenport and McClanahan, often assisted by Bro. J. S. Turner would "pass the emblems" during the Lords Supper service! (The Davenports moved to Lexington and the MeClanahans to Jackson...1917).
We must mention also two other very great Christians during these years and until their deaths; W. A. Austin ("Uncle Alf") and J. M. ("Jim") Brasher. W. A. Austin had been baptized with his brother, E. W. Austin by E. C. L. Denton in 1889 and from then till their deaths, were loyal Christians if there ever were any. W. A Austin shipped and worked mostly at Scotts Hill; E. W. mostly in his community.... W. A. Austin married Julia Holladay ("Aunt Julia" was beloved by us all till her passing in l955) in 1891 and until his death in 1934, was a leader here without peer. He was a great Bible scholar, teacher, Elder, and citizen. He was also a song leader of remarkable ability and could sing deep base as well as high tenor! Bro. Brasher married Cora Gammon about 1892 and by the turn of the century, had become a leader among us. Like Bro. W. A. Austin, he served as an Elder until his death (in1949). Few men and their families have had more or better impact on their communities than W. A. Austin and J. M. Brasher....Time and space forbid that we tell of many other good Christians among us back then and until yet.
T.A. ("Roaring Tom") Smith held out meetings, in 1900 and 1901. E. C. L. Denton and D. A. Ligon were with us in 1903. Gus (G. A.) Dunn held a meeting in the Spring of 1904 and his brother, Jasper Dunn, that Fall. Then came such early well-known preachers as J. D. Tant, W. Halladay Trice, C. G. Brewer, and C. M. Stubblefield.
C. S. ("Smith") Austin held his first (of eight) meetings here in 19th [1915] baptizing: Farris Austin, Gordon H. Turner, Joe Austin, Jim Swift, Mesdames Walt Eason, J .D. Farnsworth, Misses Madge McClanahan, Fannie Farnsworth, Lottie Austin, Bessie Eason, and the Eli. Austins. Again in 1915, he baptized Jesse (Jim Austin's Jesse) Austin and Ada Lockhart....In 1916 he baptized Clarence Jones, Edgar Creasy, J. A. Bobbitt, Hollis Scott, Mrs. Altie Jones, Garley Scott , and Toka Farnsworth...In 1917 he baptized: Asa Eason, Edgar Smith, Dora White Patterson, Bill Pratt, Mary Tucker, Alma Morris, Gladys Austin, and Mrs. Lillie Helms Ross. During his 5th meeting here (1918) he baptized: Loura Maness, Pauline Duck, Lester Crews, Earl Austin, Mrs. Will Hogue, Mrs. V. F. Grisscm, Ida Morris, Nettie Austin, Bessie Austin, Mertice Hansen, and Mrs. Garley Scott...Back in 1919, he baptized Will Crews, Festus Scott, Willie Lockhart, and Lizzie Scott...Back in 1926 he baptized Roy Smith, Mack Patterson, and Mr. Starbuck (his mother-in- law from Pope, Tenn)...In his 8th meeting here (1929--in a tent; assisted by Gordon H. Turner), he baptized: Leonard White, Opal Perkins, Perry White, Ellis Maness, "Rasberry ("Uncle Ras") Jones, John Pratt, and Stump Clenney...Bro. Austin preached many other times here and held meetings all around us, baptizing many He has held more meetings and perhaps baptized more people here than any other preacher, certainly since 1900.
Others holding our meetings on until we built the first brick church house were: 1920, Gus Brown; 1921, Ira A. Douthitt; 1922, Gus Brown; 1923, l924, and 1925, John C. Taylor; 1926, C. S. Austin; 1927, Dr. Leon T. Harding; 1928, Ben Hard ing. These wore all great and good preachers and many of our present members came into the church under their preaching.
John C. Taylor was a powerful pulpit orator and baptized many during the three years ho was with us, No one would even guess, by just looking at him, that he could speak publicly at all. But in the pulpit and on street corners he was an old-time orator. Ho had memorized much of the New Testament and he preached it!
Our first brick "meeting House" was completed in 1928 at a money cost of about $3000. When the last brick was laid, "the last dollar was paid!" and the congregation had no debt.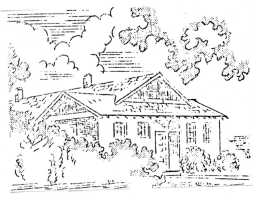 1928-1959
This cute little brick church house was
dedicated Nov. 4, 1928 and was used by the
church until transfer was made to a more commodius
new house two blocks west, in the fall if 1959.
Sunday School rooms and a basement were
added in the rear in 1942-43 when Bro. Harold Trimble
was our full-time Minister and lived here.
When it was decided to build a new house
a few years ago, this building was promised and
later sold to Henderson-Decatur counties to be
converted into a Home Economics building
for the high school on adjoining grounds.
Dedication of the pretty little structure which stood on the old location, took place on Nov. 4, 1928. Bros. C. S.Austin (preacher son of B. F. Austin) and Gordon H. Turner (his nephew and grandson of the elder Austin, both preached that day which was dark and cold. Bro, Larimore Austin led the first two songs (There Is A Fountain Filled With Blood and Nearer My God To Thee), and then Bro. W. A. Austin, brother of C. S. Austin, led Amazing Grace in an old tune. Bro. "Alfred" then led the prayer. After the sermons, Pro. Coy C. Johnson led I Am A Soldier Of The Cross as an invitation song. He also led I Am Bound For The Promised Land. Bro. Larimore Austin then made a talk appropriate for the Lords Supper service. After announcements and the song, When The Roll Is Called Up Yonder, the benediction was by Prof. Perry Murphy (high school principal then; deceased now).
A tent meeting was held on the church lawn in 1929 by Bros. C. S. Austin and Gordon H. Turner. Eleven were baptized. Preachers for the next several years who hold meetings in the summer time were: 1930, John R. Hovious; 1931, W. C. Cooke; 1932, Coleman Overby; 1933, C. P. Roland; 1934, W. H.Owen; 1935, N. B. Hardeman; 1936, L. L. ("Leonard") Brigance; 1937, A. S. Landiss; 1938, Claude B. Thomas; 1939, Claude B. Thomas; 1940, A. C. Dreaden; 1941, A. C. Dreaden; 1942, H. A. Dixon; 1943, Floyd Embree; 1944, Floyd Embree; 1945, W. Claude Hall; 1946, Stoy Pate; 1947; Stoy Pate; 1948 John Jarrett; 1949, John Jarrett; 1950, Floyd Embree; 1951, Boone L. Douthitt; 1952, Frank Van Dyke; 1953, H. A. Dixon; 1954, Ira A. Douthitt; 1955, A. C. Dreaden; 1956, Ira A. Douthitt; 1957, Ira A. Douthitt; 1958, Ira A. Douthitt. (There was no meeting in 1959 and plans have not been announced for 1960).
Our only other full-time minister (besides Bro. Trimble) was Bro. James A. Walker whose family endeared themselves to the whole town during their stay in 1951-52.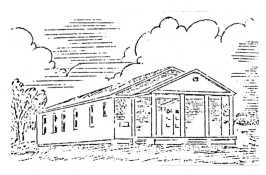 1959-
This beautiful and commodius new air-conditioned
building with several classrooms, baptistry, and
a 250-seat auditorium, we dedicate today--Sun.
May 29, 1960. Value $35,000 or more.
The Scotts Hill Church stands today with a pardonably proud past and with unlimited opportunities for the future. Actually, it has far more power and ability than it realizes. The membership runs approximately l35 who count membership here, though some are temporarily away in school or in jobs elsewhere.
The members generally have modest means but they are not poverty stricken by any means. There are good, sound Bible teachers and the attendance are contributions are fair. The new building is a credit to any church and town and, as the years pass, should become a great workshop for the Lord. Its doors should be opened much more than just brief Sunday morning and Sunday evening services.
The church might well support a full-time preacher. There is that much work to be done, and as seems to be the situation generally, Christians everywhere have come to want a "hired hand" to do most of the work they should be doing.
There are uncounted hundreds in the area who hardly ever attend a church service any place. Likely many people within a few miles have never heard a really Gospel sermon. Far too many who once obeyed the Gospel, later fell by the wayside and little is being done to restore them to their first love.
We take care of the urgent needs of widows and orphans--some of them--but we often neglect people of all ages and conditions who need more than food and clothes There are hundreds of children and young people within miles of us f or whom no planned effort is being made to help them religiously or even morally, to say nothing of their dire social and recreational needs What an opportunity for Christians!
We experimented for three years with a little church bulletin, THE REMINDER, as a means of news and announcements and as a laison with friends and members away from here. But we dropped it for no good reason against pleas of nearly all our members to continue and strengthen it. It ought to be started again.
And, like many other places, Scotts Hill needs some kind of Vacation or Summer Bible school for at least the children among us. Nothing of the kind has ever been tried here and it is so badly needed. The church must appeal to all ages and classes Jesus was so interested in children and adults and it grieved him when all efforts to reach them failed...even after strong efforts had been made. Can we do less today...than work hard at it?
This is the Church of our ancestors largely. Discounting human weaknesses and limitations, it has had a glorious history...rightly so for God demands it. Now, with our magnificent new physical quarters, let us renew ourselves spiritually as well as in body, and go forward and upward in the work of the Lord.
By all means, as soon as possible, let us plan a definite preaching program. The church and the people of the area need it. The present is the first time in over a half century that this church has not had an annual "big meeting" (1959), and temporarily we have no monthly or other preaching program to speak of. Let us hope that such a dearth of public preaching may be met before too long with teaching and preaching of the zealous kind which members in days gone by demanded and had. We've been busy in a big job of building but with this largely done, we confidently hope that we make as great an effort toward teaching and preaching the Gospel here. We believe this will be done. We ask the prayers, cooperation, and interest of all.
This church has not always had "monthly preaching," though for much of the time it has, regularly. Early preachers usually "sent appointments" and came in to preach when they could. Later, preachers were engaged usually for a year at a time to preach on the 1st Sundays or 2nd Sundays, etc.
Such "occasional" and "regular" preachers through the years have included: T. B. Larimore, J. M. McCaleb, A. G. Freed, E. P.Watson, C. N. Hudson, O. D. Morrow, W. A. Bradfield, Robert L. Witt. It was while the latter (Bro. Witt) preached for us monthly in 1945, that our present Elders and Deacons were selected. Bro. Witt assisted in this and these men are yet serving: Elders: J. C. ("Clint") Austin, Coy C. Johnson, Jesse B. Austin, and Oren Lockhart. Deacons are: Joe Boswell, Joe Minton, Ialy Austin, Howard Woody, and A. C. ("Asa") Durbn who also serves as Treasurer.
More recent preachers "monthly" have included: Conrad Steyn and his brother, Phillip Steyn (from S. Africa--students at Freed-Hardeman college at the time); Harvey L. Floyd (the J. B. Austins son-in-law); and Gordon H. Turner who came monthly in 1957; twice a month in 1958; and monthly in 1959. The church is not having regular preaching so far during 1960.
Bros. J. B. Austin and Coy C. Johnson have labored long and faithfully hero. Both have preached much through the years and taught Bible classes They have married our young people and buried our dead...many, many times Bro. Johnson has been and still is one of the great song leaders of the church. He and Bro. Austin have also been very faithful and effective in carrying the Gospel to nearby places. Bro. Coy has been of inestimable service at Liberty which congregation ho practically established and has nurtured since (in his home area), and at Red Walnut, Saltillo, Sardis, and around Doe Creek. Bro. Austin has also worked.
IN MEMORY OF
DR. R. L. WYLIE AND HIS WIFE MAZA TURNER WYLIE
MEMBERS OF THIS CHURCH WHOSE RESIDENCE
STOOD ON THIS LOT FROM THEIR MARRIAGE IN 1908
UNTIL THEIR DEATHS IN 1958
AND IN APPRECIATION OF THEIR SON
DR. PAUL E. WYLIE
AND HIS FAMILY
ALSO MEMBERS OF THE CHURCH OF CHRIST
FOR THE GIFT OF THIS LOT
AS A SITE FOR THIS CHURCH BUILDING
ERECTED IN 1959
THIS PLAQUE PLACED BY
FELLOW CHRISTIANS, RELATIVES AND FRIENDS
MAY 29, 1960
[The wording above is from] a pretty yet simple and dignified plaque placed in the vestibule today (May 31, 1960) by fellow-Christians, relatives, and friends of the Wylies. Dr. and Mrs. R. L. Wylie lived in a modest frame residence on this lot all their married lives (1908-1958). The Dr. Paul Wylies thought his parents would be happy for the lot to be given for the site of this pretty new church building. Designed by Bro. Larimore Austin, the aluminum plaque has block letters. The vestibule as we enter the auditorium, should remind us of our loved ones and benefactors.