"DOC" SUMMERS' BOYS MADE HISTORY
Elizabeth Caywood
This article probably appeared in the Henderson County Times circa 1982. This web page was made from clippings in a scrapbook labeled "Henderson County Historical Society 1982-1983" compiled by Virginia Butler, President 1982-1983.
This story was compiled from neswpaper clippings collected during World War II years 1941-1948.
Dr. Wilbur B. Summers came to Lexington following graduation at U.T. Nashville Dental College in 1905, and started his dental practice here, which continued until his death from a heart attack in 1946. In 1906 he married Anna Lou Gaston of Nashville and brought her to Lexington to establish their home. They had six sons and one daughter. The oldest son, Gaston, was electrocuted while working as a U.T. co-op student with the Knoxville Power and Light Company in 1928. Our story begins with the attack on Pearl Harbor, December 7, 1941, and the part that Julius, Paul Edward, Robert, Carey and James played during the next 5 or 6 years.
Julius Summers, who lived with his family in Somerville, Tenn., had served four years in the Marine Corps after he left High School. He volunteered for service in the Navy and was sent to Great Lakes Training Center where he served as an Apprentice Seaman until he had an operation for brain surgery. He received an Honorable Discharge in 1944.
Paul Edward Summers, a graduate of Annapolis Naval Academy and Submarine School, had left Hawaii for the Philippines when Pearl Harbor was attacked. He was Executive Officer on a sub patrolling in the South China Sea and was returning to Manilla where they found the Bay mined. The captain panicked and asked Pete to take the sub to port. This was the beginning of many long and dangerous patrols. He made seven war patrols with his first sub before he was assigned to the Pampanito, which he commanded on 11 patrols, one of which succeeded in the rescue of 73 Austrailian and British prisoners of war being transported from the Burma Road and River Kwai on Japanese ships, which had been sunk by U.S. subs. The men were on rafts made of scrap planks and had been on the sea for 5 days when Pete's sub spotted them and brought them aboard. In spite of their emaciated condition, the care his crew gave them in three days saved their lives and only 1 died. He was awarded the Bronze Star and his prize, the Navy Cross. He also received commendation from the Australian government. He retired a Rear Admiral.
Robert W. Summers was in training with the Tennessee National Guard on Pearl Harbor Day and was sent to Officers Candidate School in Lawton, Okla., and was commissioned as an officer on graduation. He was with the 3rd Infantry Division which was in the first landing on Oran, North Africa. His Division proceeding to make six other invasions from North Africa, Sicily, Italy (including Anzio Beach), France and Germany. He was awarded the Bronze Star Medal being cited for "distinguishing himself as an artillery observer during fighting in Italy. On one occasion he remained for eight days without relief at an exposed observation post, during which time he was subject to artillery, mortar, and sniper fire. Nevertheless, he directed effective fire which broke up numerous enemy formations, including a mortar thrust." Robert retired a Captain.
John Carey Summers chose the Air Corps and went to the Victoria Texas Air Corps Advanced School and received his wings there. Further training followed at MacDill Field in Florida under Paul Tibbetts for the big B-17 Flying Fortresses. He was a pilot in the first of the B-17 raids over Germany which proved that the fortresses flying at 20,000 to 30.000 ft. had pin-point accuracy; also, at this height when they were flying in formation German fighter planes were at a disadvantage. In his third raid over Germany they were attacked by F-190 planes with orders to "get one of the B-17's''. A 20 mil cannon shell made a direct hit on Carey's plane and ripped a hole in the stabilizer big enough for a man to stand in and almost put the rudder out of commission. As they returned over English soil, Summers gave everybody permission to bail out before they took the plane in for landing. Nobody did, but they were shocked when they saw how damaged the plane was.
Prior to the invasion of North Africa a "Take off'' air base was set at Gibraltar. Carey's plane was loaded with Gen. James H. Doolittle and 12 staff officers so his crew was short. They were flying off the cost of Portugal when 4 enemy planes were sighted. The gunners jumped to their posts. The pilot turned and the enemy gave chase. Carey took the plane down until it was just skimming the water with his plane's guns spitting fire. The first plane was hit and flew off, the second and third attacked and one bullet hit the co-pilot. He fell to the floor as the enemy planes flew off. The officers heard the bump of the co-pilots fall and pulled him out of the cockpit. Gen. Doolittle climbed in but refused Carey's suggestion that e pilot the plane. Everyone felt it was Carey's flying skill that had saved their lives. On reaching Gibraltar, Doolittle went to his headquarters and told Carey they would be flying to Oran the next morning. As planned, they flew in to the area which had a landing strip and the big B-17 landed in a sea of mud. Gen. Doolittle got out of the plane and told Carey he would be leaving in a very short time. Carey felt helpless as he looked the wheels of his plane buried to the hub-caps in mud. Someone standing by said he had noticed some artillery tanks not far away and he as sent to find them. Carey was still waiting frustrated when someone tapped him on the shoulder and asked what his problem was. It was his own brother, Robert, who had brought the tank to pull the plane out of the mud. Neither had any idea that they were the same area. It was a happy union. Carey made several sorties over the North African terrain and received the Air Medal for his success and for the ones he had made over Germany. When he returned to the States, he went to Staff and General Command School, later had duty in Tripoli, and the Pentagon, and as Air Attaché in the Embassy of Indonesia. He retired a Lt. Colonel,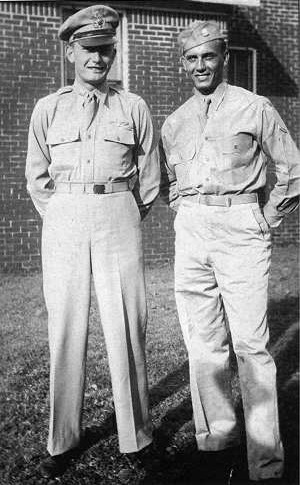 Capt. Carey Summers and PFC Robert Summers.
(Photo-John King Meadows, reproduced from
Henderson County, Tennessee: A Pictorial History,
by Emily Davis and Brenda Kirk Fiddler.)
James M. Summers, the youngest son, refused to wait to be drafted and left school at Middle Tenn. Teachers College to enlist in the Selective Service. Following basic training in Florida, he attended the Boeing Aircraft Factory School, Seattle, Wash. He served with the Air Force in Italy maintaining bombers. He retired a Sergeant.
Doc's son-in-law, Elizabeth's husband, Paul G. Caywood, was drafted from his Principal position at Lexington City School and received his basic training in Miami. He later was attached to the 812 Air Evacuation Squadron with base in Honolulu, and spent most of his service time flying in the South Pacific from the islands of Saipan, Leyte, Quagalain and Biak. They followed the troops into the island after they were secured an flew the wounded patients to hospitals in Hawaii and San Francisco. He was released from his duty by request of the Lexington City School Board upon the death of Mrs. Mary Paul Armstrong, who had substituted for him when he went into service. He retired a Staff Sergeant.
What about Doc? He served as the examining dentist for the local Draft Board.