MARSH CREEK-BUCKFORD METHODIST CHURCH
PERRY COUNTY, TENNESSEE PHOTO TOUR
This is the old Marsh Creek-Buckford Methodist Church building located just south of Marsh Creek on the road that goes to Cedar Grove Furnace. It has not been used as a church for many years and now houses rotting hay and broken furniture. These first photographs were made in April 1999.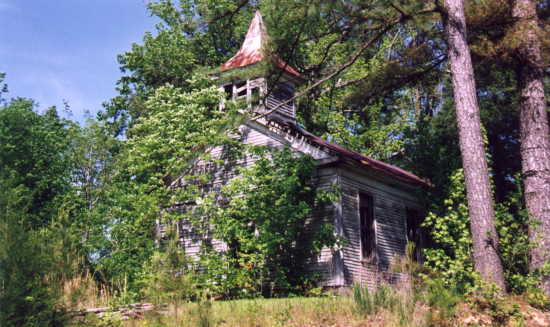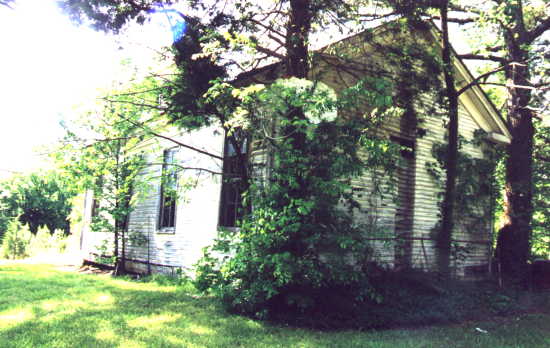 ---
When I asked for help in identifying this church, I received the following information from Geraldine Wilson:
Date: Mon, 4 Oct 1999 15:03:17 -0700
From: geraldine wilson <sadiemae@wanweb.net>
To: David Donahue
Subject: Old Church identified
Hi David
This old church is known to my cousin Boyd Warren who is site administrator for our Denton/Tate/Hufstedler/Warren/Bunch page on www.Family.com. I was there this July and here are 2 pictures I took of it.
Geraldine Tate Wilsonsadiemae@wanweb.net
Here are Boyd's comments:
Title: Marsh Creek-Buckford Methodist Church
Description: This old Church was school to children who lived in the area, as recent as the 1940's. I visited here during school on one day long ago. The older boys were responsible for carrying in the firewood, which was dumped in a large Woodbox near the iron heater in the middle of the floor. The teacher would ask different children to do chores, which they were all eager to do. Don't remember any specific people, but do remember a lot of Dabbs, Wards. I also attended Church and Sunday School here at times, with my granny Cora and Papa Boyd Hufstedler. Have been here to revivals where they baptized right in Marsh Creek just below the bridge. Has not been used since 1960. Probably built about 1900-Still stands in 1999.
Place Taken: Marsh Creek at Buckford Prong
Owner: Boyd Warren
Geraldine Wilsons got better photographs later in the day in July 1999: