RAYMOND HENRY MILNER
Bertha L. Spencer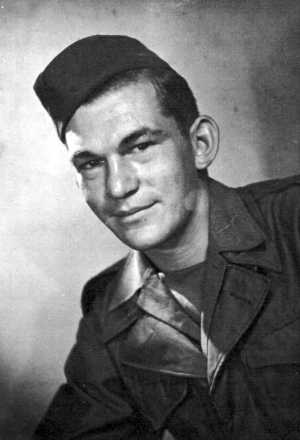 Raymond Henry Milner (1945)
Raymond, sixth child of Henry Clint Millner and Ertie Slina Redden, was born April 11, 1925. He grew up in Sardis, Tennessee and attended grades 1 through 9 at Sardis School. He worked on the family farm.
Too young at the outbreak of World War II, he enlisted as soon as he could, on April 18, 1943. He took his basic training at Fort Eustie, Virginia. While on leave at the end of basic training, he met his future wife Bertha Lorene Higgins. They corresponded for the following 25 months while he was in the war.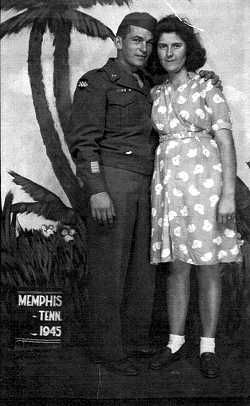 Henry Henry Milner and Bertha Lorene Higgins
Raymond went from the United States to England. He was in the second wave of troops landed on the beaches of Normandy. His combat experience took him across France, through the Battle of the Bulge, and across the Rhine in March 1945. He and his unit even went to Berlin after the fall of the city.
Raymond left Germany on September 1, 1945 and arrived home September 27. On October 1 he called on Bertha who was living in Memphis. They were married October 6, 1945.
Raymond and Bertha lived in Memphis after the war. Raymond worked in construction from November 1945 to August 1948. Their son James Donald Milner was born June 28, 1946.
Raymond rejoined the Army on August 11, 1948. He was sent to Fort Lewis, Washington, where Bertha and Don joined him in September. The family lived there two years. On August 4, 1950 Raymond was sent to South Korea. On December 1 he was captured by the Chinese. He remained a prisoner until August 30, 1953.
Raymond and seven other men were put in a hut just large enough for them to lay side b y side on the floor. To keep warm they had to forage for twigs, and grass, and other things they could burn. A firepit lay just outside one end of the hut with a tunnel leading into hut to provide heat.
The first nine months the Chinese fed the men cabbage soup, a half a bowl twice a day. The cabbage was not seasoned. Raymond weighed 185 when he was captured. At the end of the nine months he weighed 107. The only clothes the men had for those nine months were the ones they were wearing when captured. All the men got body lice. Raymond said he would pick them off himself any time he saw one. Raymond was sick twice. He got an infection in his ear. They gave him a sulfur drug in pill form for that. Then he got an infection in one of his toes. They gave him a sulfur drug powder for that.
At the end of nine months the peace talks started, and the Chinese began to treat the prisoners better. Every prisoner received pad clothes - jacket, pants, and padded boots. The Chinese also fed the men better. Raymond became first cook. Every now and then the prisoners received fish. The fish would have medgets (a parasite) in their eyes. Raymond said they would knock the midgets off and cook the fish which was very good. At one time the Chinese provided a barrel of salt that had been dug out of the ground. Raymond said he would fill a pot with water, put in the salt, and boil it. Then he let it cool. The dirt would settle to the bottom and Raymond would use the salt water for cooking. The salt sure made a difference.
Raymond was released from Camp No. 5 August 30, 1953, at Freedom Village in South Korea. He arrived home in Sardis on September 19, 1953 and was on leave until January 1954. He retired from the Army July 1, 1966. Raymond was diagnosed with liver cancer in 1968 and died December 3, 1983, in Memphis.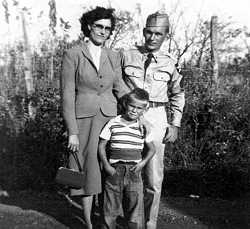 Bertha, Raymond, and Donald Milner (1953)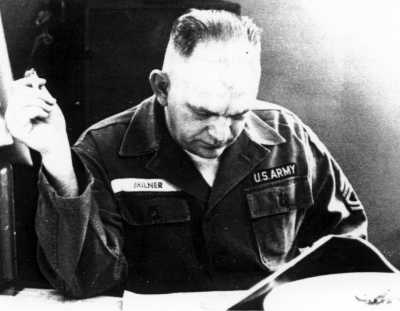 Sfc. Raymond Henry Milner in Frankfort, Germany (1965)
James Donald Milner, son of Raymond and Bertha, joined the Air Force right out of high school in 1966 and retired in 1988. He and his wife Marlene married in 1972 and have a son James Daniel Milner. They live in Narrane, Florida.
More Photographs
More about the Family of Henry Clint Millner and Ertie Slina Redden
See also Letters from a POW, compiled by Brenda Kirk Fiddler
Return to Yesterday (Henderson County, Tennessee History Page)