BETHEL SCHOOL
from the collection of William L. Chumney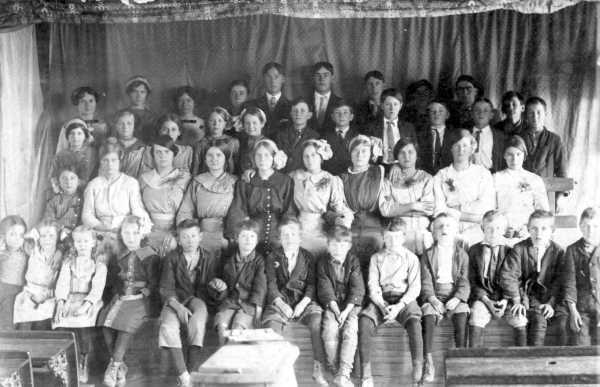 Bethel School, 1913-1914: (front, from left) Ida Anderson, Lenora Evans, Velta Fiddler, Clara Cagle, Bob Haggard, Elbert Anderson Parker Evans, Roby Maxwell, Eunice Johnson, Harlan Hawks, Clifford Fiddler, Andrew Wallace, Joshua Ivey, (second row, from left) Claydes Maxwell. Mary Taylor, Birdie Cottrell, Pearlie Gulledge, Odie Cagle, Ronnie Hendrix, Nola Cagle, Maudie Cottrell, Virgie Townsend, Mertle Townsend, (3rd row) Fannie Hendrix, Flossy Cagle, Ida Johnson, Barbra Bowman, Volta Evans, Dennis Patrick, Jimmie Wood, Neely Johnson, Elbert Cagle, rank Wallace, Eurie Townsend, (4th row) Minnie Johnson, Ollie Dennison, Genora Johnson, Albert Bowman,
Bedford Todd (Teacher), Nick Dennison, Glinnie Williams, Dude Bowman, Willie Renfro and Groden haggard.
Larger image available (138K)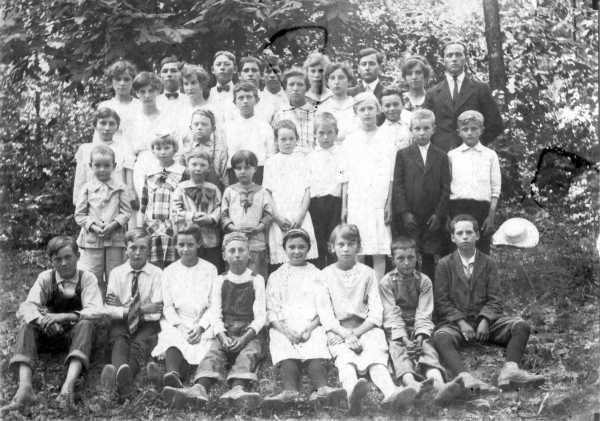 Bethel School, 1918: Students plus a visitor who just wanted to have their picture made at the "barbecue grounds," one half mile north of the school. The few identified include on the front row Clarence Fiddler Clifford Fiddler, Harley Hawkes, Clora Cagle and Roby Maxwell (2nd row) Ida Johnson, Ray and Velta Fiddler, (back row) Flossie Cagle, Odie Cagle, Claburn Fiddler and teacher Carlos Duke.
Larger image available (135)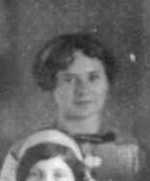 Minnie Johnson in the 1912-1913 photograph.
She was William L. Chumney's mother.
These are two of four school photographs owned by William L. Chumney. He did not know the identity of the schools but thought they would have been near the Prospect community of Decatur County. Two of the photographs had been published in the Lexington Progress in 1992 as part of an article "Dear Old Golden Rule Days" - Bethel School and the Safford Community by Brenda Kirk Fiddler. The Safford community is in northeastern Henderson County near the Decatur County line. Prospect community is just to the east. Student identification above comes from the 1992 article.
See other two school photographs
Return to School, Team, and Class Photographs