CONTENTS
THE WEST TENNESSEE FARM
Marvin Downing, Editor
Published by The University of Tennessee at Martin, 1979.
WEST TENNESSEE'S FARM HERITAGE EVIDENT IN POPE CENTURY FARM
By Bob Sugg
FARM LIFE POETRY
By Mrs. Joyce (John) Billingsby
TENNESSEE FAMILY LAND HERITAGE CENTURY FARM PROGRAM
Mrs. Lissa Clarke
AS IT WAS ON A MARTIN FARM IN THE EARLY CENTURY
THE PLACE — THE ECONOMY — WORK AND PLAY
By Holland McCombs
THE KIMBALL-MYERS DIARIES 1883-1973
By Polly Stone Glover
THE FLY FAMILY FARM
By Bob Parkins
THE MITCHELLS AND THEIR SHEEP
By Mrs. Rebecca P. (Robert) Thompson
UT'S FARM
By Earl Knepp
WEST TENNESSEE ARTIFICIAL BREEDING ASSOCIATION
By Earl Knepp
DYNAMITE BALING WIRE FARM
By Walter Darrell Haden
LAKE COUNTY AGRICULTURE
By Norman L. Parks
STEAMBOATS LOADED COTTON HERE
By Emmett Lewis
A HEN PARTY
Submitted by the Fayette County Historical Society
FAYETTE COUNTY AUTOMOBILE TRIP IN 1927
Submitted by the Fayette County Historical Society
GOOD GARDEN (IN THE 1920's) BRINGS $584 INCOME
Submitted by the Fayette County Historical Society
AWASH IN ASHPORT
By Jan Taylor
THE EXPERIENCE OF LAND BETWEEN THE LAKES
By Wanda Waller
PRESERVING OUR AGRICULTURAL HERITAGE
By Bob Duck
ACKNOWLEDMENTS

I want to thank Marvin Downing, Professor of History and The University of Tennessee at Martin for permission to convert The West Tennessee Farm to web pages. It has been almost impossible to find anything on the web about the history of agriculture in West Tennessee.

I want to thank Athalia Taylor, Librarian, Decatur County Library for allowing me to borrow that library's copy for the scanning.

This book was produced as part of The West Tennessee Farm project in 1979. The project was partially funded with a grant from the National Endowment for the Humanities through the Tennessee Committee for the Humanities.

David Donahue, March 2002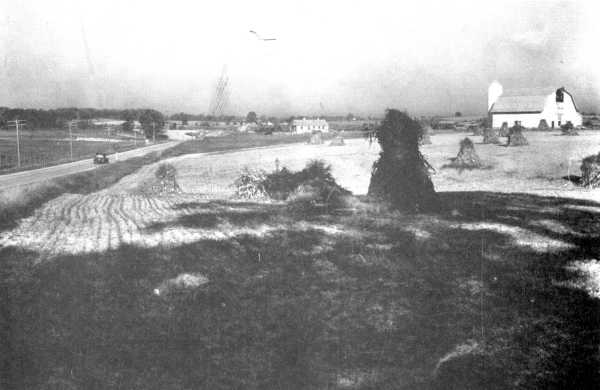 COVER: A scene from the University of Tennessee farm before 1936. Photo courtesy of the UTM School of Agriculture.
Special note: These web pages were made by scanning a printed copy. Photograph quality is marginal. The collection of photographs assembled while compiling this book is available as a manuscript collection, MS 091, in Special Collections, Paul Meek Library, The University of Tennessee at Martin.