THE ALBERTON NEWS AND MRS. JOHN L. HARE
Brenda Kirk Fiddler
The LEXINGTON PROGRESS has long enjoyed and actively sought community news. The tradition began with founder W. V. Barry, in 1884, with a simple goal: to publish a country town newspaper. In his column, "Locals and Personals," he wrote of the comings and goings of the town people as well as writing of the county residents who stopped by the newspaper office on their infrequent trips to Lexington. He eventually expanded his memories and opinions into a regular feature entitled "My Column," which he continued to write until shortly before his death in 1948 at the age of 90.
Mrs. John Hare, Alberton resident and school teacher, at the request of Mr. Barry, in 1908, became a regular contributor. In 1947, a former student of Mrs. Hare's wrote an article on her, prefacing the piece with the following comment: "Over a period of nearly 40 years, the readers of the PROGRESS have read with interest about people and events in the Alberton community until we feel that we are next door neighbors. Mrs. Hare, the faithful reporter with the facile pen, in sharing with use the news of marriages, births, deaths, and social activities of her community has done her part, and will continue to do so for a long time we hope, in strengthening the tie that binds us all together in common interests. She has told us much concerning others, but very little about herself. In spite of her modesty, however, she is well known to hundreds of people because of her good works, and her long career in the teaching profession."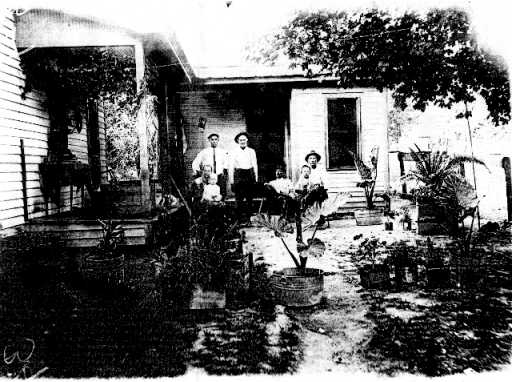 The spacious veranda to the rear of the John L. Hare home prior to the first World War
was a relaxing spot to visit. Pictured are Mr. and Mrs. John L. Hare with their sons,
Mr. Albert and Mr. Lem. Photo furnished by June Rhodes.
Mrs. Hare continued to write the news of the community for another sixteen years, until shortly before her death in 1966 at the age of 87. Now that we are in the last decade of this century, this remarkable woman's chronicles of 55 years give a compelling and unique look back. Mrs. John L. Hare, known as "Miss Birda" to her students, taught at Alberton from 1907 until 1946, teaching most of the school terms. She regularly informed the community of the activities of the school located near her home through her Alberton news. In August 1919, she wrote of the school's opening with more than 50 students in attendance. "If our school law is enforced, Miss Joyce will have a splendid school." (Miss May Joyce, sister of Mrs. Hare, taught several terms at Alberton before 1920.) In 1919 the school attendance law was tightened to require children between the ages of 7 and 17 to attend school for the entire term. Often Mrs. Hare exhorted parents to send their children to school regularly, as she did in October 1930. After writing of the cleanup at school, "The teacher and pupils have cleared from the grounds all brush, undergrowth, and bushes and vines," she adds, "There is one child who is of school age, and who is supposed to enroll, but has not done so." Every parent and every student in the community knew she was concerned about their education and respected her for it. Often Alberton News included names of students who had excelled in their books. In January 1924, designated as school leaders in their respective grades were: (1) Alean Gilliam, Lytha Watson, Obbie Wood and S. Watson; (2) Waverly Lindsey & Fleetwood Jowers; (3) Emma Grey Watson; (4) Sam Overman & Vernon Cozart; (5) Tom Hare, Idell Lindsey, Lizzie Gilliam & Martha Hatchett; (6) Reece Hatchett (7) Cleo Burton, Elbert Jowers & Carmack Jowers; (8) Etta Gilliam. The August 1933 honor roll included: (Primer) Ray Jowers; (2) Wyla Evans & Norene Maness; (3) Ben Jowers (4) Eva Lewis, Jewell Hays & Jewell Fortner; (5) Mary Bedwell; (6) Naomi Hays; (7) Louise Overman & Violet Woods; (8) Robert Lewis & George Lewis.
Knowing that decisions made in Lexington affected the county schools, she protested the abbreviated school terms in 1921. The school year was divided into the summer and winter session, with some schools having only the winter session. In 1921, the county court pleading no money shortened the winter session to two months and paid the teachers using warrants, which sometimes were discounted.
Many of the correspondents lamented the short term, but only Mrs. Hare actually "discussed" it: "School began here last Monday for just two months. Is it a square, fair deal for we rural people to have only four months in the whole year while the County High School is for nine months? We know 'tis all on a credit but if our taxes are only half--and the teachers teaching on TIME? If the county can pay out on the High School warrants, why not let our rural schools be taught the same way. The county men have to pay taxes to support the high school...It seems a very one-sided and unjust arrangement...Understand we are not opposed to any school but do think that equality in schools should be given. We have been in the school at Lexington and believe it to be a splendid one--and the county should be proud of it, but when we think of all the comforts furnished there, we can but ask, why can't we have nine months school also? We do not ask the county to furnish walks, electric lights nor drinking fountains--we will take natural walks and water if we may only have an equal length. If each taxpayer in this county would claim his equal rights, this school question would be settled, and we in the rural school would not be deprived of all our just rights...."
In 1919, the school board paid $5,000 for the William Fesmire property of 45 acres and constructed a high school building at a cost of approximately $43,000. The large three-story building burned to the ground on the night of August 14, 1927. Mr. W. L. Bobbitt climbed through a window and saved the school records. There was ample insurance and a new building costing $51,000 was soon under construction.
In 1921, the Lexington Athletic Association raised money for a gymnasium by private subscription. (The basketball teams organized in 1915 had played on an outdoor court.) People out in the county suspected that their tax dollars had gone to fund the gymnasium, and Mrs. Hare voiced that concern, questioning the need for a "playhouse." "If the town of Lexington is meeting the expenses, we county tax payers have nothing whatever to say, but if it is being paid for by county school money, we should rise up against such, for our rural school children need a school badly." (The gym was more like a large barn with a dirt floor and no seats.) Lexington High School, under the guidance of Prof. J.O. Brown, continued to upgrade its facilities and expand its curriculum and sports program. (A tennis court had earlier been built in 1921.) In 1923, the Yellow Jackets football team was organized; the school colors were green and gold. Again there was opposition, but by this time an enlightened Mrs. Hare was an ardent supporter of LHS and its sport program. "We admire the high school faculty's firmness in not doing as the knockers and objectors suggested. "Let's have ball games. We think the county should be proud of its high school work." The county worked to improve the quality of education by the mid 1920's. Additional teachers were hired so that even the smaller schools had two teachers. Schools at Central, Poplar Springs, Bargerton, and Alberton offered two years of high school. Mrs. Hare's assignment at Alberton was expanded to include 9th and 10th grades.
Alberton School was one of the first schools to benefit from the county's effort to provide transportation with the use of school wagons. George Lewis, was one of the first school wagon drivers, when as an 8th grader, he drove the route to Alberton from the Brown's Creek area. Another student driver was Vernon Cozart, who daily hitched "Kit and Diner" to his father's covered wagon for his route in 1932. The county paid $8.00 a month per wagon. In May 1933, Mrs. Hare invited the community to attend the free performance of a play, "Happy Days" by the 7th and 8th grade classes. Practice was held on Friday afternoon AFTER all the week's lessons were completed. She used the plays and ball games as motivators to encourage regular attendance. Alberton Items in Feb 1934 included basketball news: "Mrs. Jessie Fisher (of Unity School), with her assistant teacher (Benson Travillion), several patrons, and a bunch of boys came to our school Friday for a basketball game. Our boys won by one point. That was one of the nicest bunches of boys we have ever seen." Alberton's team included Lloyd and Floyd Lindsey, James and Paul Roberts, Grover Bedwell, and Bob and George Lewis. The boys would crowd in Thomas Albert Hare's Overland car and travel to another school to play ball. Cars in the early 1930's were scarce, so Martin Joyce and Thomas Albert, sons of Mrs. Hare, were the envy of the community as they always had a new Overland to drive. The car with its four-wheel drive was very popular with local drivers since it could plow right through the muddy roads. Pearson Auto Agency in Lexington advertised the Overland as getting 20 miles to the gallon, so the owner was buying mileage instead of gasoline.
As the nation geared up for the war effort in World War II, price controls and rationing became necessary. The government turned to school teachers to do the initial registration of heads of households for the distribution of the rationing books. At Alberton Mrs. John L. Hare and Mrs. Martin J. Hare were assisted by Mrs. Bette Hays and Mrs. Tom Stanford. Sugar was the first food item to be rationed, and the stamps needed for its purchase were distributed in War Ration Book One. Later the purchase of meats, butter, fats, oils, and canned goods also required stamps.
Soldier boys from the Alberton area stationed in distant places often wrote Miss Birda. She corresponded with them both in personal letters and in her column. She wrote in Feb 1943: "The following former pupils of mine, from the Alberton School are in some branch of the armed forces, somewhere, and to each one I send Valentine greetings--Hal Overman, George Lewis, F.L. Jowers, Sam Overman, Robert Lee Wood, Wilbern Scott, Paul Roberts, Carl Jowers, Ray Small, Floyd Lindsey, James Roberts, Bud Davis, Charlie Jones, Carrol Hatchett, Maurice Blankenship, Tom Hatchett, Grover Bedwell, Fleetwood Jowers, Meffie Bedwell, Ray Von Jowers, Bill Bedwell, and Thomas Albert Hare. I want to thank each one for his kind remembrance." In Sept. 1943: "To everyone of my boys, in the air, or on the sea, we salute you." In Nov. 1943: "To Pvt. Sam Overman, Pvt. Howard Roberts, Sgt. Paul Roberts, and Seamen James Roberts, Howell Overman and Earnest Wood. It is an honor to any teacher to be so pleasantly remembered by her students."
The last year of teaching for Mrs. Hare was 1946, when she retired with the distinction of being the first county teacher to receive the teacher retirement pension. Her teaching extended over a period of 45 years. Her first school was at Darden.
In Oct 1958, Mrs. Hare in her column described a visit from a former student, Mrs. Scatterday of Chesterfield: "I have known and loved Eula since her second grade in school and can truthfully say, precious memories, how they linger." In the same issue, Mrs. Scatterday wrote in the Chesterfield news: "It was our great pleasure to visit a beloved former teacher, Mrs. Roberta Hare. Many years have passed since I was a raw recruit in her schoolroom, but there's still a zest for life and a youthful outlook in 'Miss Roberta' that time can not dim." Mrs. Scatterday, who recently celebrated her 98th birthday, has that zest for life. Also a school teacher, she announced in 1952 that she had "closed the schoolroom door after 32 years and was becoming a retired school teacher."
Mrs. Hare in the spring of 1949 reported bittersweet news: "School at this place will close Friday of this week. If I'm any judge of a school, this has been one of the most successfully and carefully taught schools I've ever seen. The cooperation between teachers and parents has been great." (Teachers assigned to Alberton include May Joyce, Orris Smith, Pearl Helms Rena Denison, Lucille Hancock, Henry Kolwyck, Cora McPeake, Jewel Jones, Edna Holmes, WilliamScates, Major Scates, Juanita Wallace, Virgina Sisson, Goldie Montgomery, Irene Segerson, Lula Hare, Mrs. James Hamlett, Mable Albin, and Avil Grissom.)
After Mr. Johnny's death in 1954, Mrs. Hare continued as the resident reporter at Alberton. She faithfully reported the news: "I feel complimented when my friends encourage me in my "items" in the paper. I do my best to do a clean, honest job. Her fine sense of humor was always evident--even on the rare occasions when she had to retract some items, as in August 1923: "Several weeks ago we wrote your paper about the marriage of Mr. Scott and Miss Lewis, which was a mistake. Mr. Scott asked us to correct it through the paper--that he was not married but wanted to. Miss Lewis, we are sure, will be just as anxious as Mr. Scott that the mistake be corrected." In April 1920, she reported on the Saturday night wedding of Miss Josie Scates and Alvin Watkins and on the wedding of Herbert Wood and Ethel Wood. "Both of the above weddings were 'runaways,' and another young lady said so many girls were being stolen that she was afraid to leave home."
On April 3, 1956, the tornado that ripped across Lexington also hit Alberton. Mrs. Hare wrote of the damage in her column, saying that the great blessing was that "no one was hurt at this place, so much to thank God for." She reported damage to several homes including those of Bell Overman, Floyd Maness, James Maness, and her own house, with "the roof on my house badly damaged... and our orchard left without a tree standing...Because of the loss of our school house the election was held at Reed school house." The building, which had been kept as it was when school was last held there, was completely blown away.
Upon the occasion of a special day in June 1961: "I attended the annual memorial day service at the Hare Cemetery. There were many beautiful flowers, a large crowd of people and dinner for everyone who would eat. I can not tell how much I enjoyed the day. So many friends of the past, those I knew so many years ago and each one did so much to show that they recalled those bygone days..."
May 1964: "To the Ed., his helpers, and all my other friends. I am yet in the nursing home and I get good food well prepared and all the kindness one could hope for in any place. I will appreciate any visit, letters, and telephone calls that my friends send to me. We have a large number of friends calling here...We never forget friends and what they mean to us. So keep messages coming and remember that I thank our Father for each of you. Mrs. John L. Hare."
Mrs. Roberta Hare died in 1966, but her legacy lives on through her source of joy: "the bright faced boys and girls in the schoolroom."